The food and agriculture supply chain is one of the most extensive supply chains in the market. Bringing sustenance from farmhands to our dinner tables encompasses a long, tedious network of producers, manufacturers, suppliers, and retailers. The direct implication of innumerable links in food supply chain management is an overload of inventory and courses of communication. It is here that Blockchain technology, a decentralized, distributed digital ledger for all supply-chain transactions, comes into play. Connecting multiple stakeholders on an unvarying, shared, yet distributed network allows data sharing, traceability, and transparency in the supply chain.
Handicaps of the Food Supply Chain
 Food Tampering/Adulteration
The global food supply chain is a complex system. Due to its extensive nature, adulteration and substitution of ingredients and products sometimes go unnoticed. Be it dairy, fruit-based beverages, tea and coffee, olive oil, maple syrup, and honey, or spices and condiments, food safety has been compromised on various occasions.
Visibility of edibles from origin to end-products on the supply-chain can appreciably fix this problem.
Another impediment to a sound food supply chain is illegally produced commodities. Particularly prevalent in the seafood market, it's not just an environmental hazard but affects all stakeholders including governments. It permeates supply chains in such a way that it may also affect brands that are otherwise legitimate. Food traceability can effectively save consumers and firms from such predicaments.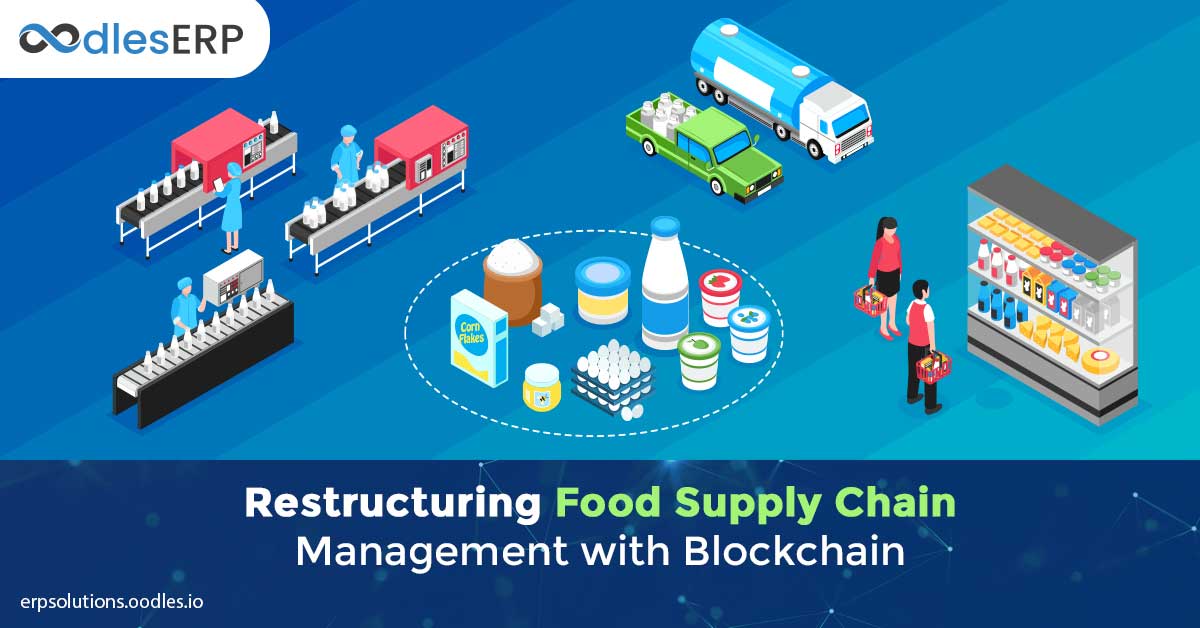 Restructure Food supply chain management with Blockchain
Product withdrawal/recall
There are times when administrative agencies like FDA, CDSCO, and the like issue a product withdrawal or food recall. While it may be to test potential allergens or unwarranted ingredients, the food industry incurs significant losses upon recalls. This may disrupt the food supply chain and affect brand image. A traceable and auditable supply chain powered by predictive analytics would create a proactive system that is ready for crises.
Applications of Blockchain to reform the Food Supply Chain
Using Blockchain coupled with ERP software solutions in a supply chain improves the efficiency and operational capacity of the food supply chain. Here's how blockchain can be applied to reform the food supply chain management:
1. Improved Tracing
Traceability is central to food supply chains owing to the perishable nature of most products. Quick tracking and evaluation of product age and quality can trigger a reverse supply chain for unsafe products. This saves the cost of a product recall as well as transportation costs. At the same time, it helps detect disruptions just as they occur and take quick troubleshoot measures. Such is the make-up of blockchain that every stakeholder along the food supply chain can create and share data securely, thus increasing accountability.

  2. Transparency and Auditability
It is beyond doubt that Blockchain adds value to product market as it establishes a log in the network. It also impacts pricing dynamics as it replaces traditional price mechanism controlled by stakeholders with analytics and logistics based value. It equips the supply chain with transparency as transactions are verified and shared with every participant.
3. Establishing product-specific supply chain markets
An opportune attribute of blockchain is the ability to provide one platform for a whole network of stakeholders catering to a specific market. This means bringing together more growers and manufacturers on a single, secure database and allowing buyers and growers to connect directly. Increasing profits to farmers from increased direct investment on the commodity is just another facet of what Blockchain brings to the table for the food supply chain management.
4. Food safety and waste reduction
It is the responsibility of every supply chain in the food industry to deliver safe, graded products to the consumer. Food Supply Chain Management Solutions sourced from Blockchain and machine learning tools can effectively take care of that. IoT tracking of goods through RIFD sensors enables evaluation of the quality and remaining lifetime of products at all levels of the supply chain. It's possible to remove the product from the chain at any stage of manufacture and shipping to maintain safety standards.
Also Read :  Improving Supply Chain Productivity with Barcode and RFID Solutions
Building a food supply chain management system with Oodles
We are an ERP Development Company that uses the latest technologies to come up with profitable solutions for varied enterprise requirements. We design and integrate ERP with Blockchain to develop scalable systems with increased mobility to overcome supply chain complexities and fulfill warehouse requirements. Our food supply chain management software caters to the requirements of growers, manufacturers, and stakeholders with a SaaS platform. Not only do we fix up the supply chain with innovative management methodology but also ensure they flourish through their core operations. Improve your food supply chain management with blockchain courtesy Oodles. Talk to our experts NOW!
Tags:
food supply chain management