A trading and distribution business can achieve success, improve efficiency, drive profits and remove bottlenecks by investing in an ERP software. Mainly, every distribution company requires keeping an eye on stock, inventory and sales and distribution in real-time. In this sense, an ERP software for trading and distribution businesses can help you improve customer experience, improve visibility, empowers your sales team to identify trends, improve demand planning and provide improved accuracy in reports.
Here, are top advantages of investing in an ERP software for trading and distribution businesses.
1. Easy inventory management
With an automated ERP software for distribution planning, wholesalers can streamline their inventory and stock management operations. A great deal of time is wasted in manual work for managing inventory. In this matter, ERP for distribution controls and handles inventory processes efficiently. ERPs give a complete visibility of stocks available in real-time, which helps in providing replenishment options. ERP software let you keep track of every movement of inventory.
2. Purchase management
Through ERP, you will be able to track the purchase order status of an item or product. ERP software not only brings you the ability to generate sales order and quotation through purchase order but also let you identify potential suppliers.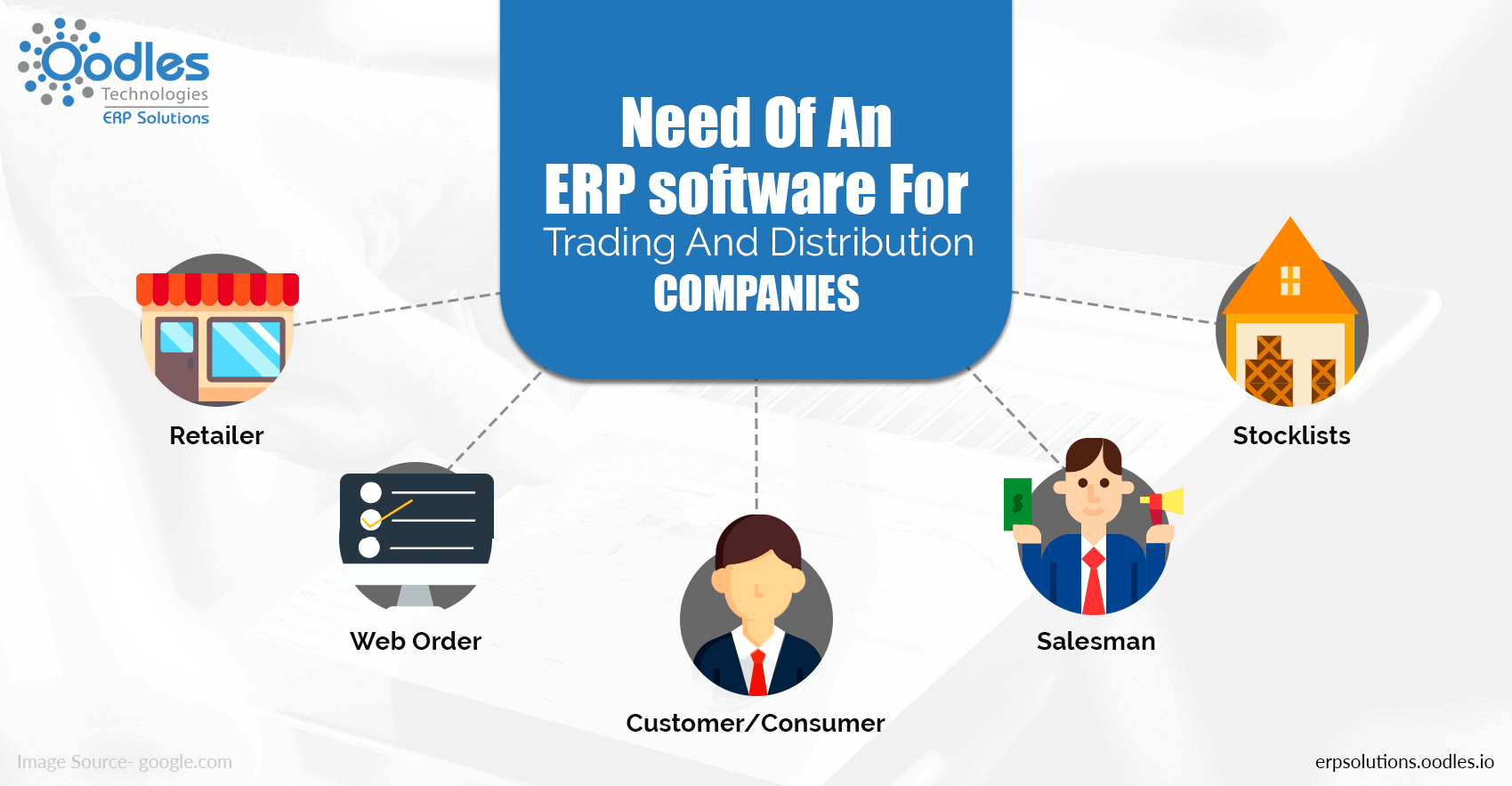 Need of an ERP software for trading and distribution businesses
3. Improved Visibility
Distribution companies can make use of an ERP software system to have a complete real-view of inventory flow which is coming in and going out of the company. This way, these companies can make accurate demand decisions by predicting demands based on historical data trends. So, businesses have complete visibility in their supply chains and can also reap benefits from insights they have.
4. Accurate demand planning
One of the prudent benefits that your trading and distribution company can get from an ERP software solutions is the power to do demand planning. Using predictive analytics, a business utilizes past trends and can get accurate demand analysis. Therefore, it can get a clear view of stock and inventory. Like, how much is needed? Demand patterns extracted through predictive analytics can help you to run your business smoothly.