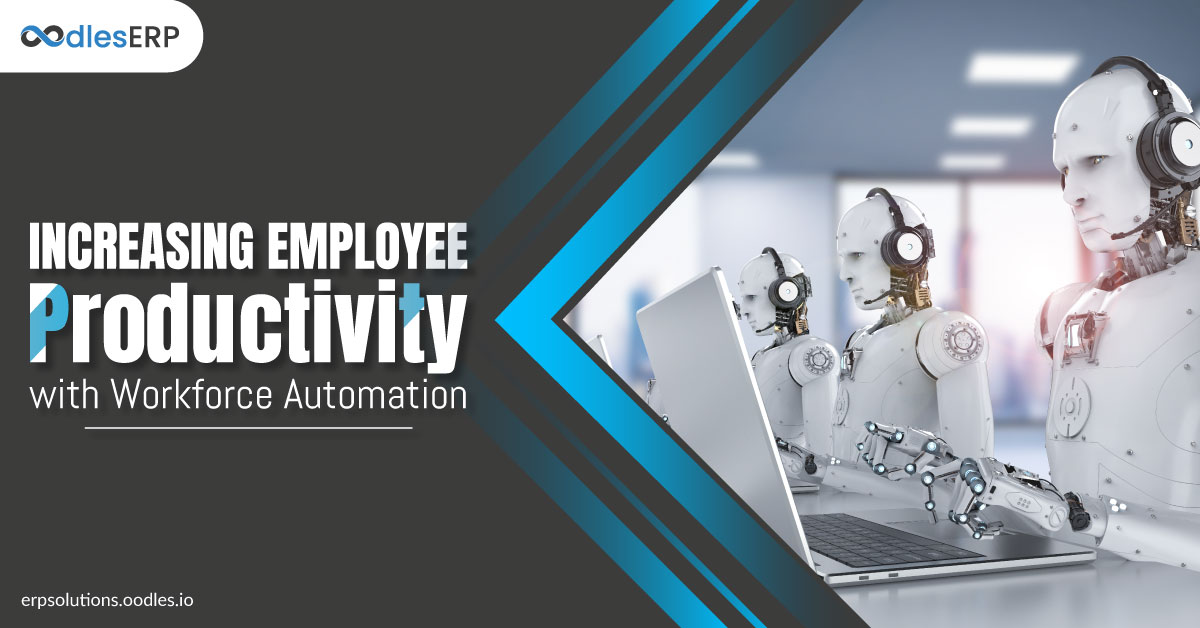 Tracking time and attendance, administering absence, creating best-fit schedules and managing leaves are critical for increasing employee productivity. A high-performance workforce enables businesses to achieve their strategic goals. Read this blog to explore how workforce automation can increase employee engagement, efficiency, productivity, and performance.
We provide workforce management development services that enable businesses to drive business outcomes, increase employee productivity, control labor costs and minimize compliance issues. Our ERP developers are seasoned at fulfilling workforce management requirements for various business domains. 
Benefits of Workforce Automation
Streamlines HR Processes:
Streamlining and automating HR processes eliminates unnecessary tasks including cross-referencing information and duplicating data across various platforms. Smarter and streamlined HR workflows are easier to navigate for everyone. 
Enhances Data Accuracy:
Workforce automation enhances data accuracy by reducing the risk of inconsistencies that occurs when data is handled manually.
Improves Reporting Capabilities
Workforce management software has numerous reporting features that enable organizations to use the data in the right way. Evaluating information including absence levels, recruitment method effectiveness and performance ratings by line managers will enable business managers to make informed decisions and changes based on facts. 
Reduces Costs
Workforce automation will enable businesses to reduce costs by minimizing human input into repetitive tasks. It will enable HR professionals to focus more on other administrative activities. In addition, businesses can also witness reductions in costs due to improvements in data accuracy.
Saves Time
Workforce automation saves time of HR professionals by automating administrative tasks. It enables HR administrators to focus on more value-adding activities that contribute to business growth and success. In addition, they can spend more time on planning HR strategies and staff training.
Workforce Automation: Core HR Tasks that can be Automated
Alerts:
Workforce management systems alert managers if the employee is working unauthorized overtime and ensures each employee is aware of new procedures. Managers now don't need to meet every employee for collecting signatures and assure their employees read a procedure. Instead, employees can receive an alert and link to the procedure. They can be provided with an electronic signature for compliance purposes. In addition, workforce management software enables managers to disseminate information to employees while giving them guidance.
Payroll:
Business managers and HR professionals can use workforce automation software to ensure that labor laws are met for all employees. Workforce management system consolidates employee timekeeping with managerial approval of time off to calculate overtime hours, vacation and sick days of employees so that their wages can be calculated automatically. In addition, it will save HR administrators time so that they can focus on other essential tasks like interfacing with employees. 
Timekeeping:
Sifting through paper timesheets can be a time-consuming and tedious task. There is a lot of risks involved because if a timesheet is lost, there will be no record of how many hours of work an employee should be paid for. An automated system can track employee hours by enabling them to clock in and out through software.  In addition, it enables HR professionals to calculate the wages of an employee automatically at the time of processing payroll. 
Reports:
Managers and HR professionals often spend extra hours every month to prepare reports, develop graphs and charts to present at meetings. No doubt the data is beneficial for managerial staff, but the time spent on preparing these documents is unnecessary. Workforce automation systems enable managers to track this data, generate reports automatically and print them for monthly or quarterly meetings. 
Developing Workforce Management System with Oodles
HR administrators are now using workforce management systems combined with integrative solutions to streamline their tasks and increase customer retention. Implementing workforce management software will enable business managers and HR personnel to enhance the productivity of employees by eliminating menial tasks. 
We are an ERP development company that provides workforce management solutions to simplify complex HR administration, payroll activities and compliance issues. Our workforce management services include applicant tracking and onboarding, absence management, fatigue management, payroll integrations, planning and forecasting, biometric integrations, and intelligent automated scheduling. 
Connect with our ERP development team to avail benefits of workforce automation.