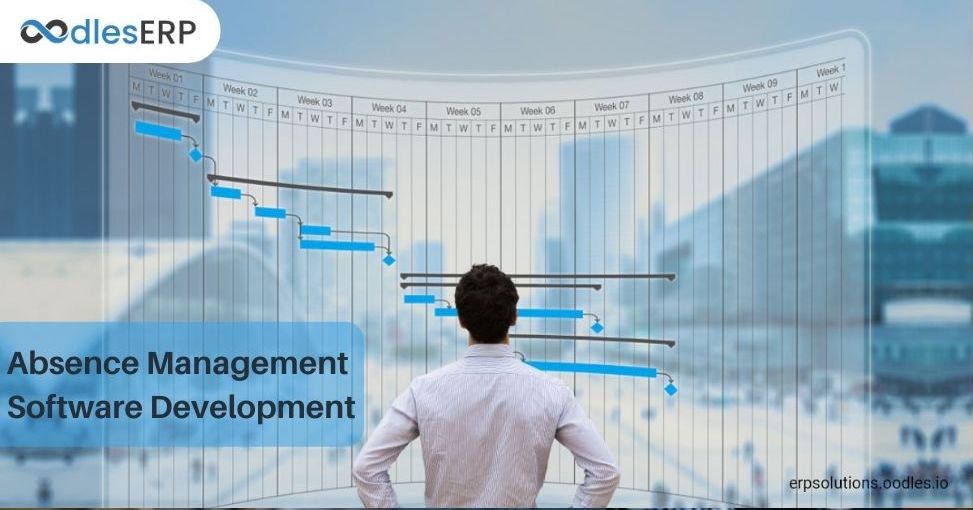 Every business or enterprise has to cope up with employee absenteeism that may hamper their overall productivity in some cases. As the company grows in size and numbers, the employee absences also become recurrent.  Therefore, it is essential for enterprises to have a reliable employee absence management software to accurately track employee absenteeism. 
An absence management software aids employee workforce management and streamlines human resource operations by automating repetitive tasks. At the same time, it enables enterprises to detect anomalies, track work hours, manage leaves, and gain real-time visibility into employee data. 
We, at Oodles ERP, have years of industry experience in absence management software development for enterprises. Our development team seamlessly integrates employee absence management systems with CRM, HR, and Accounting modules to automate payroll processing. Our end-to-end workforce management software solutions are conducive to increasing enterprise productivity and operational efficiency. 
Read further to learn more about our employee absence management software development services. 
Also read Employ Workforce Management Software Suite for Managing Remote Employees
Benefits of An Absence Management Software
An employee absence management software significantly reduces business complexities and streamlines the operations of HRM and CRM. It reduces employee absenteeism and enables organizations to boost their productivity with effective task planning and employee scheduling. Let's explore the main benefits of developing an enterprise-based employee absence management software. 
Reduces HR Complexities
Developing an enterprise-grade absence management system enables businesses to streamline their human resource operations by automating repetitive tasks. Instead of manually tracking employee absenteeism, the HR executives can directly obtain the absence reports from a centrally-managed software system. As a result, they can focus on their core operations and more efficiently manage their mission-critical business processes.
At Oodles ERP, we build performance-driven absence management solutions that enable enterprises to accurately track attendance, leaves, work hours, and employee absenteeism. Our workforce management software solutions significantly reduce HR complexities by providing a centralized system for employee tracking and management.
Reduced Absenteeism
Businesses of all sizes are bound to face employee absenteeism. However, unauthorized or unplanned absenteeism can be detrimental to a business'. When absences happen sporadically, they may cause unwanted delays in production pipelines and hamper the overall productivity. 
Developing an absence management software lets you curb unauthorized employee absenteeism by maintaining a real-time employee attendance record. It further aids in detecting anomalies in attendance data and facilitates accurate leave management and workforce planning. 
Improved Planning and Forecasting
Absence management software solutions facilitate effective task planning, forecasting, and aids decision making. These software systems can be integrated with AI-based planning engines to automatically schedule enterprise tasks based on the availability of employees. It enables business owners and managers to fill productivity gaps, maintain consistency, and streamline workflows with maximum labor coverage.
We, at Oodles ERP, have considerable experience in building and deploying AI-based planning engines to enhance enterprise productivity with efficiently managed workflows. We seamlessly integrate attendance tracking systems with planning engines to automate employee rostering and task scheduling to achieve maximum efficiency.
Effective Time Tracking and Leave Management
A comprehensive absence management software provides a simplified interface for time tracking and leave management. It enables managers/supervisors to centrally manage leave requests from their subordinates and take appropriate action. The software automatically generates weekly reports and datasheets to monitor work hours, absence records, and spot inefficiencies. 
We build insightful dashboards and employee self-service portals for the manual login of employee work hours. Our development team ensures this data is readily available to managers through intuitive administration panels. 
You may also be interested in reading Workforce Management Software- Development Time, Cost, Features, and More
Conclusion
Developing an absence management system has become an inevitable need for every business. As the business grows in size, it becomes increasingly important to achieve an organized workflow. Employee absence management software development is a sure-shot way to boost productivity, improve efficiency, and drive growth across different verticals. 
We, at Oodles ERP, provide end-to-end workforce management solutions that include absence management software development solutions. Our development team builds custom enterprise solutions to drive organizational growth by simplifying HR operations and automating compliance and payroll processes.