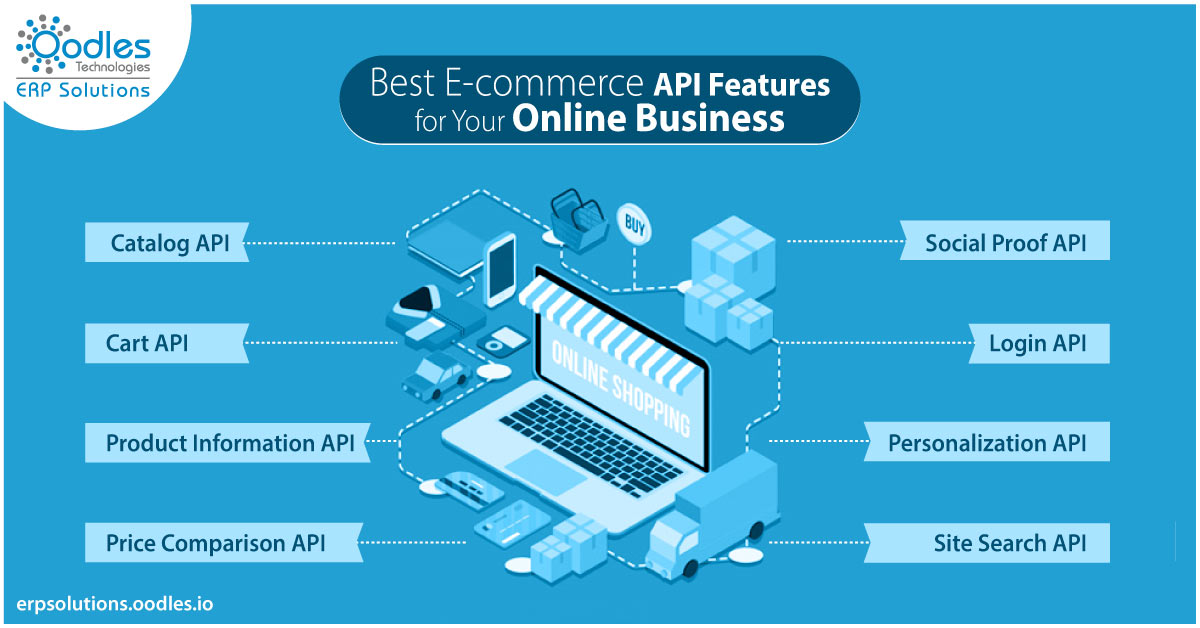 E-commerce API Features: An Overview
In today's information age, an organization's website is the key to their entire business. If you ignore this fact and online marketing, then it's just like you opened a business but you didn't tell anyone about it. But, with the advancements in technology, the competition among the online businesses to stay ahead has become tougher. Technology has influenced customer behavior very much, especially in their choices of purchasing things online. To cope with the competition, there are various e-commerce API features to keep your customers engaged and satisfied. The aim of these API features is to enhance the customer shopping experience.
API and its Benefits
API (Application Programme Interface) is a software that transforms data into practical, useable business intelligence. It is a method of communication which allows different applications to share data between them easily and seamlessly. For instance, Slack API allows a team to collaborate and stay on the same page no matter what application they are on.
Popular APIs:
Google maps

Youtube API

Social media

Dropbox

WordPress

Google analytics

Weather channel
Benefits of API
Offers evolving functionality

Internet-based connectivity

The end product of API connection offers user-friendly experiences

Automation

New data available

Efficiency and integration

Personalization and adaptation
Best E-commerce API Features for Your Online Business
1.) Catalog API
Catalog API allows you to update thousands of products within a few minutes and helps retailers to create, edit and manage their catalog products. It also supports integration with numerous e-commerce systems such as inventory control, point-of-sale, reporting, and analytics.
2.) Cart API
It is one of the most popular e-commerce API that allows you to integrate customer features. These features personalize the customer experience at checkout. Cart API also includes coupons, discounts, and B2B centric attributes such as quote generation and invoicing. It also enables retailers to peek into the shopping carts of their customers.
3.) Product Information API
This is one of the most popular e-commerce API features to maximize your online business. This feature allows retailers to extract product information such as product description, product ID, pricing information, quantity based discounts and so on from any database of products and shopping site.
4.) Price Comparison API
Linking your product catalog to a price comparison API helps you receive automatic reports, which compares your product pricing levels to your competitors. Now, with the help of this information, you can select the right price to increase your sales and also match your competitor's sales price.
5.) Social Proof API
This type of API feature is in the form of the number of likes on Facebook, comments on twitter and product reviews. For instance, BaubleBar, an online jewelry retailer, used Instagram photo feeds of customers wearing their jewelry to give shoppers more confidence in purchasing products from them.
6.) Login API
This is one of the most popular e-commerce API features that helps an online business retailer with identity management. Through this feature, you can allow your customers to log in to your e-commerce site using their existing systems such as Facebook, Amazon, G-suite and so on.
7.) Personalization API
This feature helps you to organize your website content according to the needs of the customers and site visitors. Personalization APIs can be used in two ways:
It helps you order what content you want to promote, based on consumers buying history and previous visits on the website.

It helps you understand customer's interest from their social media behavior.
8.) Site Search API
This is one of the must-have API features for massive e-commerce sites with a wide range of products. It makes drilling down to a particular product, brand or model easy for the customers. It also helps customers to discover those brands which they might be unaware of.
Closing Thoughts
Whether it's about providing security or simplifying payments, API features have revolutionized online shopping in numerous ways. API features integrate a number of services and make use of data to personalize consumer experience.