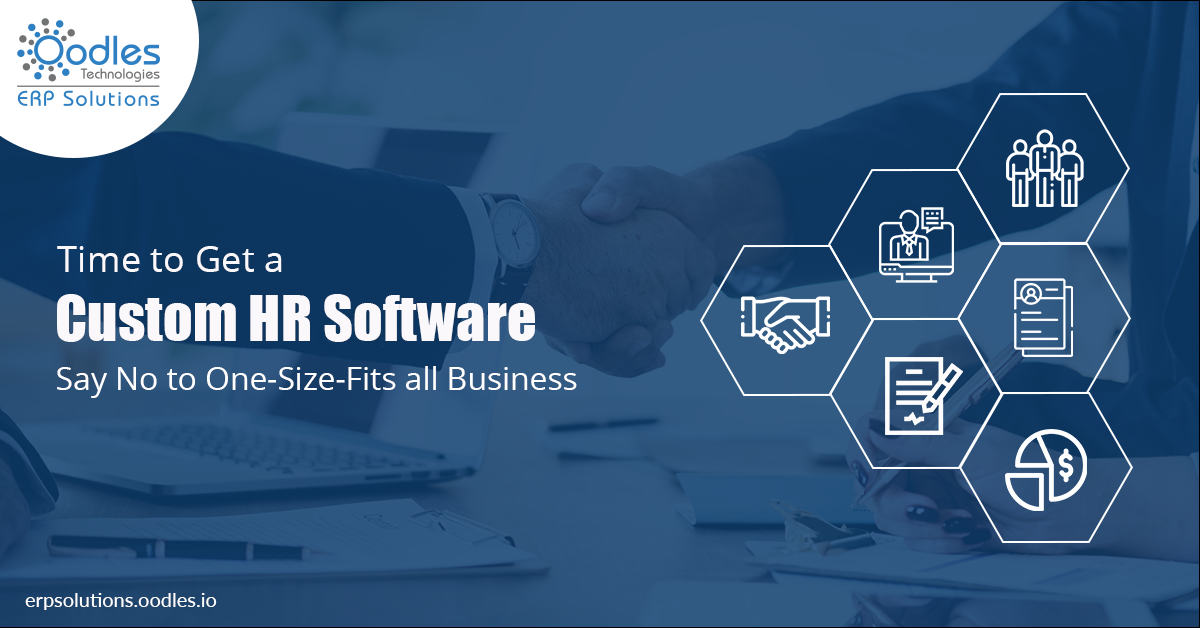 Custom HR Software
Earlier, organizations used one-size-fits HR software to meet their basic requirements. However, with the ever-growing technology and changing trends, it has become necessary for organizations to adopt the latest versions of HR software. Businesses now need custom HR software to specifically meet the existing process of the business. It fulfills a wide array of business demands. Then, no doubt, it time to say a big 'no' to one-size-fits-all business HR software.
Oodles ERP offers HR software solutions with customizable functions that suit every business type whether a start-up or global brands. We are here to help you cut down unnecessary expenses, streamline HR processes and centralize HR management.
Benefits of Custom HR Software
1.) Secure Data Management:
Traditionally, the HR department used to store sensitive data of employee data in the office files. Clearly, it is not a safe option as anyone could easily access those files with wrong intentions.
Cloud-based custom HR software stores vital data and prevents unauthorized attacks. It gives full visibility of who viewed particular business information and when.
2.) Efficient and Result-Oriented:
Efficiency and results are necessary for success in business. Custom HR solutions help businesses to manage their day-to-day operations with ease. It focuses on producing results with higher efficiency.
3.) Multiple Visibility and Access Controls:
Custom HR solutions customize visibility permissions and access for different user roles depending upon the specific needs of the business.
4.) Monitor Leaves:
Custom HR solutions can easily manage leaves and absences without giving you the trouble of long messy email trails. It keeps track of employee leaves and handles holiday request.
5.) Saves Time and Improves Productivity:
HR perform numerous time-consuming tasks such as planning holidays, booking, allowance calculation, training, employee data update, expense logging and so on. Custom HR solutions automate all these processes and reduce time and effort. It offers amazing features such as email alerts, task checklist and reminders, which saves time and encourages overall productivity.
List of Free and Open Source Custom HR Software
1.) Factorial:
It is one of the best suited free HR software for small companies. Reporting and compensation management are real highlights of factorial. It functions for employee benefits administration and centralized document management.
Factorial has no limits on employees and storage and is completely free.
Pros: It is a good choice for less tech-savvy businesses as it has a simple and intuitive user-interface.
Cons: It does not have time-tracking features. It only offers payroll and administration features to Spain based companies.
2.) Bitrix24:
It offers more than 35 tools for business needs including project management, marketing, CRM (Customer Relationship Management) and HR. The free version of Bitrix24 include:
Org chart functionality

Employee directory

Customizable employee profile
Bitrix24 is one of the most diverse and robust free software. It allows users to manage documents, track worker tasks, set up email marketing campaigns and plan projects.
Pros: It offers employee engagement features such as badges, which are generally not available in free software.
Cons: It has less storage and absence management feature is missing in this free software. It does not provide customer support.
3.) Teamdeck:
The primary purpose of Teamdeck is resource allotment and project planning. It also provides the functionality of time, attendance and absence management.
Teamdeck has a start/stop timer feature which helps employees to automatically track billable hours on projects. Employees also use Teamdeck to request PTO (Paid Time Off) or set their work availability.
Pros: Schedules employees based on skills, availability, and workload.
Cons: Free version can only be used by limited users. You need to purchase additional software for payroll and personnel tracking.
4.) Odoo:
Whether accounting and project management or CRM and inventory management, Odoo includes the functionality for everything. It supports recruiting, absence management, expense tracking, and employee directory.
Pros: Odoo offers varied functionality for free. It has a free help forum as well to solve troubleshooting issues.
Cons: It does not provide high-level dashboards.
Oodles, At Your Help!
Oodles offers the best custom HR software solutions to cut down your unnecessary expenses, increase revenue and drive amazing customer experiences with your brand. We consolidate recruitments, career management, payroll management, and other HR roles with one powerful and effective custom HR solution.
A glance at the services we offer:
Seamless Integrations:
We provide a wide range of HR integrations to increase the capabilities of your existing HR systems.
Streamlined Workflow and Processes:
Oodles custom HR solutions boost the workflow and processes by enabling employees to access data, applications and other analytics.
High Scalability:
Our HR solutions are highly scalable and customizable. We provide new features and functionalities as per your business requirements.
Better Workforce:
Oodles ERP empowers your workforce with powerful HR solutions that take care of all the employee management functions.
Let's Wrap it Up!
Custom HR software solutions have now become an essential need for business. It allows customers to design a custom solution according to their unique needs. The spectrum of custom HR solution ranges from equity awards, retiree benefits to global mobility.