Companies operating in all major industries keep exploring new ways to automate their business processes, mitigate expenses, and stay competitive. With the advent of next-gen technologies like AI, big data, and IoT, it has become possible to efficiently manage complex business operations with reduced manual strain. Besides, the fourth industrial revolution paved new ways for companies to leverage automation in all crucial aspects and business areas. The construction industry, like every other industry, requires dedicated software tools to track, monitor, manage, and execute day-to-day tasks. Having their main focus on infrastructure development, construction companies can leverage ERP software solutions to significantly improve their business productivity. 
ERP for the construction industry aids in streamlining project management activities, improving construction planning, and accelerating the project completion lifecycle. Above all, it significantly reduces overhead costs and plays a critical role in driving steady revenue growth. 
This blog post sheds light on the significance of ERP for the construction industry. Subsequently, we'll talk about the benefits of custom ERP application development for construction-based and real-estate projects.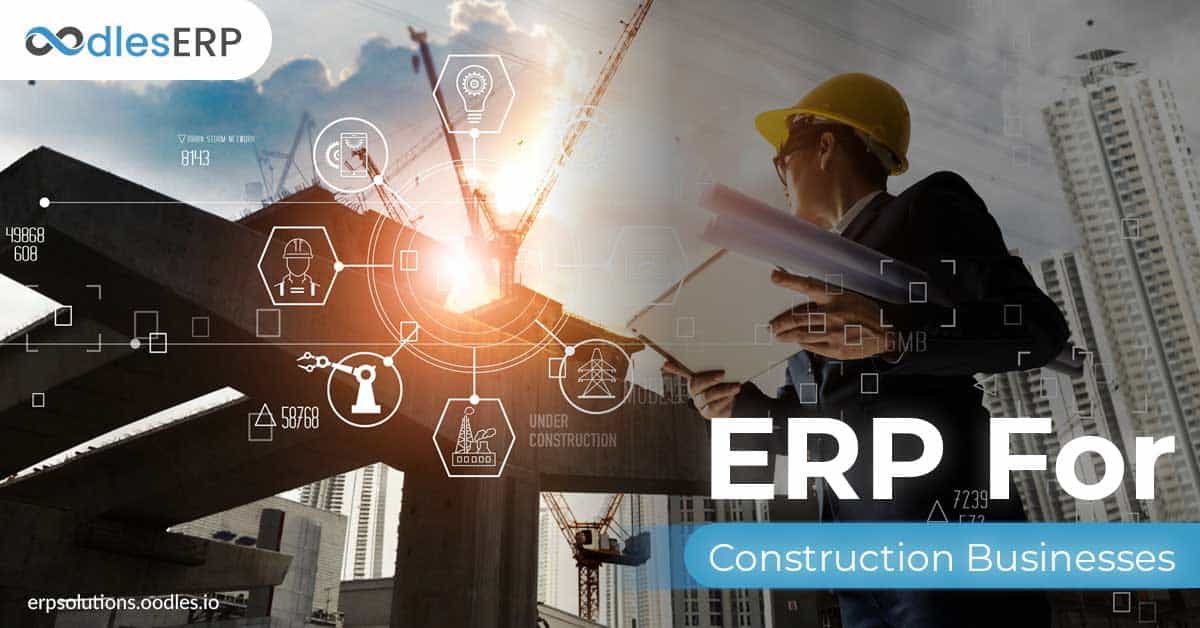 Also read Custom ERP Software Development For Ceramics Manufacturing
What Is Construction-based ERP?
A general-purpose ERP software renders technical support for managing mission-critical business functions such as inventory management, accounting, and business process management. A construction ERP software, on the other hand, gives you access to several additional tools to manage large-scale construction projects. The most common features of a construction-based ERP include management of general contractors, subcontractors, construction accounting, payroll management, and more. Besides, ERP for the construction industry incorporates several dedicated modules that are different from other enterprise systems. 
The most commonly used construction modules include contractor/subcontractor management, logistics and transportation, payroll/financial management, workforce management, and fleet management. 
Benefits of Custom ERP For The Construction Industry
Now let's talk about the main benefits of custom ERP application development for construction-based businesses. 
Improved Construction Planning
Lack of business intelligence in construction planning can lead to disastrous results and heavy losses. Ineffective planning ultimately results in substandard completion of projects and in worst cases, a bad decision may lead to permanent disintegration of construction companies. Developing and implementing ERP for the construction industry can significantly improve planning efficiency with the virtue of BI tools. Besides, construction companies get access to advanced data analytics features like predictive analytics, predictive forecasting, risk analytics, and decision management. Also, there are separate ERP modules for computer-aided design (CAD) integration for improved infrastructure design and analysis. 
Effective Project Management 
ERP for the construction industry gives you access to integrated management tools to streamline contractor/subcontractor management activities. Implementing ERP modules in construction projects enables contractors to track on-site progress, create milestones, manage timesheets, and assign tasks to their workforce. Besides, it significantly improves resource management and allocation based on the availability of engineering skills, construction equipment, and manpower. 
Project Cost Estimation
A custom ERP solution enables construction companies to accurately predict project costs and get a ballpark estimate in hand. At the same time, it predicts the estimated timeline for a construction project with sheer accuracy. In doing so, enterprises may ensure that they have the right software tools, construction equipment, resources, and manpower at the disposal for timely completion of the project. Besides, custom ERP application development enables construction companies to adopt the most efficient approach to utilize the available resources. 
Real-time Project Tracking
As already mentioned, ERP software solutions provide advanced analytics features that enable contractors to track project progress in real-time. At the same time, it allows them to monitor on-site activities from anywhere and take necessary measures in case of a discrepancy.  Therefore, custom ERP application development not only enhances workforce productivity but also provides effective risk management capabilities. 
Ease of Integration and Customizability
ERP solutions are highly flexible and thus, can be easily integrated with a variety of enterprise systems and disparate software applications. For instance, construction companies can link their custom ERP software with the accounting system to automate billing and invoicing. Similarly, an ERP software seamlessly integrates with CRM module, inventory module, logistics, and HRM applications. 
You may also be interested in reading Developing ERP Software For Warehouse Management
Closing Remarks
These were the main benefits of ERP for the construction industry. In addition, ERP software solutions significantly reduce the overall project costs and aids in mitigating overhead expenses. At the same time, it boosts business productivity, increases ROI, and accelerates the project completion lifecycle. However, to extract maximum benefits from custom ERP application development, it is critical to choose the right software platform as well as a reliable ERP vendor. The choice of modules for the construction business also matters because you don't want to use unnecessary modules that only increase overhead expenses. It is advisable to consult a custom ERP development company beforehand to ensure that you're on the right track. 
Avail Our Services To Develop Custom ERP For The Construction Industry
At Oodles ERP, we provide 360-degree ERP software solutions for cross-industry business use cases including manufacturing, eCommerce, construction, and real-estate industries. Our developers specialize in using open-source platforms like Odoo, OFBiz, Opentaps, and ERPNext to streamline complex business processes through automation. We also provide a free consultation to Our custom ERP application development services for the construction industry enable businesses to boost their productivity at reduced operational costs. We have successfully completed several full-scale custom ERP projects for 100+ customers from across the globe. For more information, please visit our website or reach out to us at [email protected].
Tags:
ERP Development For Construction Businesses
,
ERP software solutions