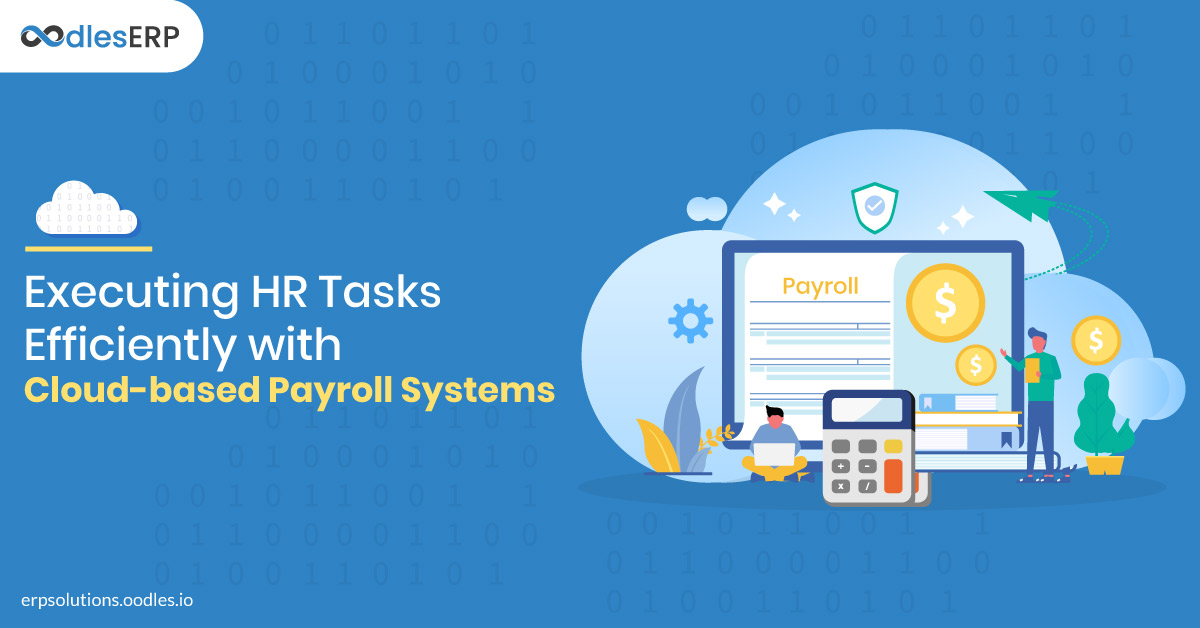 Cloud-based Payroll Systems: An Overview
Payroll management is one of the most critical business operations performed by an organization. It is a process of administration that deals with the financial aspects of employee salaries, allowances, net pay, gross pay, bonuses, and incentives. Disbursing payments involve complicated and time-consuming activities, for which organizations require payroll software. It is a type of software that is now becoming a crucial component of integrated and multifunctional Human Capital Systems (HCM). It automates various tasks such as calculating payments, depositing monthly payments in banks and withholding tax. 
An increasing number of organizations use cloud computing technology to manage human resources.  It is a strategic and reliable means for accelerating HR processes and aligning people initiatives of an organization with business goals.
Organizations switching to cloud-based payroll system gain more flexibility in terms of features, costs, and control compared to using an on-premise system. Here are some benefits of cloud computing.
Scalability

Real-time data

Employee access

Single solution

Regulatory compliance
Features of a Cloud-based Payroll System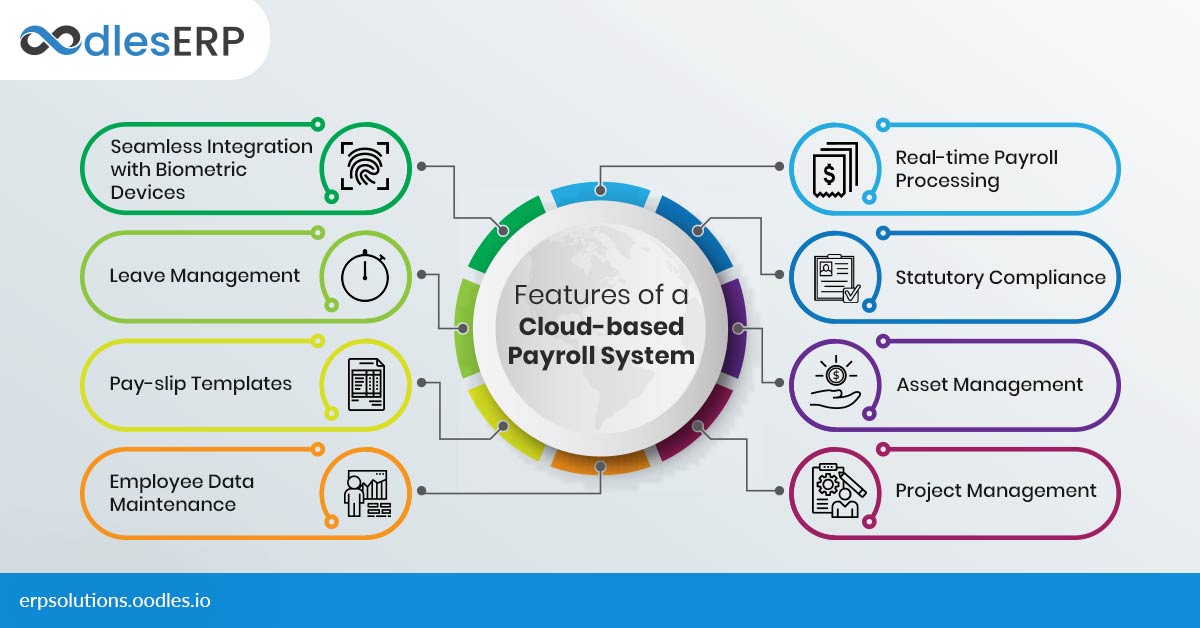 Cloud-based payroll management software accomplishes numerous operations including leave management, expense management, calculation of wages and planning employee benefits. It protects confidential data from unauthorized access.
How Cloud Computing Streamlines Payroll Management
Increased Data Security:
Payroll data stored in an on-premise server is more vulnerable to natural disasters, system crashes or corruption in the storage device. It can lead to significant expenses to retrieve the lost information. Cloud-based payroll software securely stores all organizational data such as punch in/out data, tax information, deduction amounts, pay rates and schedules. Additionally, they encrypt data with regular backups.
Remote Operations:
Cloud-based payroll systems enable HR personnel and other employees to fulfill essential HR tasks remotely. It is extremely useful for businesses that operate across different time zones. Cloud computing makes it feasible for employees to access personal information and seek necessary approvals from remote locations.
Free and Timely Upgrades:
Essential updates for cloud-based payroll systems are available routinely at minimal or no cost. The updates include software enhancements and security patches to ensure efficiency and reliability. Cloud computing saves time and investments required to maintain servers and software.
Efficient Collaboration:
Cloud computing makes team collaboration easier and simpler. It allows work to be done anywhere and anytime. For small enterprises, the ability to share information and work on projects from a distance can transform the business. With cloud computing, employees can easily collaborate and have a detailed overview of the progress on various projects in real-time.
Easily Scalable:
Organizations experiencing rapid growth can use cloud platform to effectively scale up their administration. Operational agility is one of the key advantages of cloud computing. It is now being welcomed by the top tech giants of the world.
How Cloud-based Payroll Solution Enhances Productivity and Efficiency of an Organization 
Cloud-based payroll solutions enable organizations to be more flexible and collaborative. It increases the efficiency of businesses and decreases the ownership costs. Cloud-based payroll software let users avail greater flexibility and enhance employee productivity.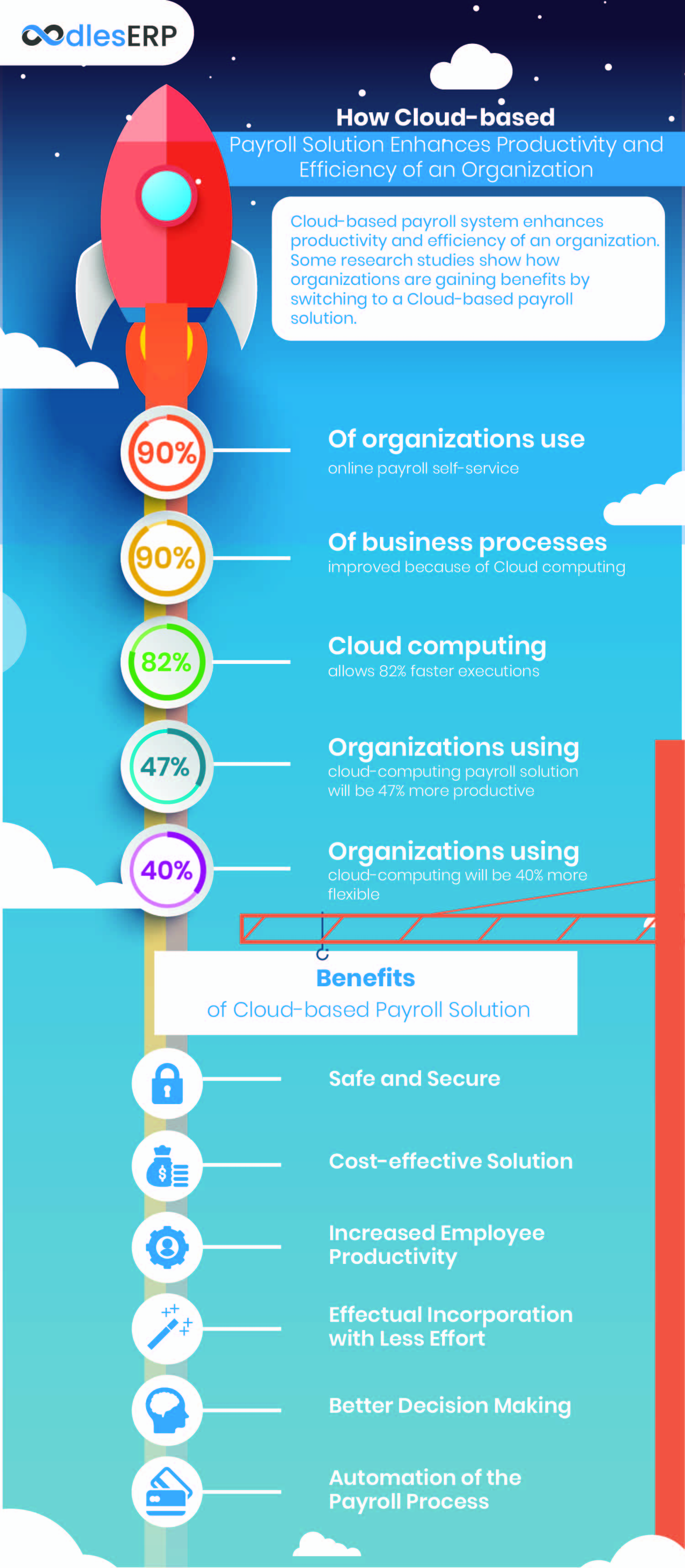 Gain Benefits of Cloud-Based Payroll Processing with Oodles
We have experience in developing and integrating custom payroll software solutions such as Acumatica to ensure accurate salary payments. We develop an employee payroll management system that can easily be integrated with any biometric device or GPS enabled devices like mobile phones.
Our custom payroll software integrates with other software like Quickbooks, Shopify and ensures company employees are paid accurately. Our professionals have experience in developing custom payroll automation including wage calculators, time and attendance tracker.
We have extensive experience in cloud-based payroll software services including stub generation modules and programming of the paycheck.
Concluding Thoughts
Payroll management is a complicated and time-consuming process when done conventionally. It involves maintaining details of the working hours of employees and paying as per their working hours. Cloud-based payroll software simplifies these tasks and reduces errors with invoice and paycheck. It maintains the organization related and employee-related documents safely.