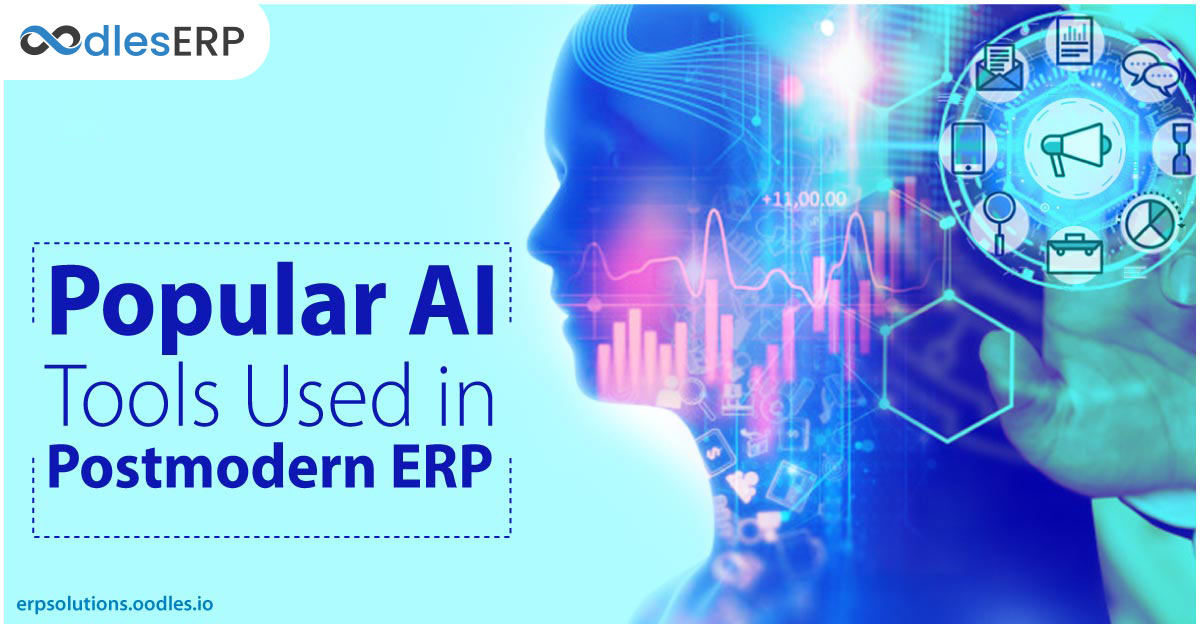 Postmodern ERP: An Overview
Artificial intelligence is no more any science fiction. Instead, it is taking a realistic form. It is going to transform the world in the next few years. According to research, by 2025 approximately 95% of customer interactions will be supported by AI technology. Whether its manufacturing, finance or any other business, AI technology is now being used in almost every aspect of numerous business verticals. But, do you know that artificial intelligence is also transforming the world of Postmodern ERP.  In this blog, you will find the popular AI tools used in Postmodern ERP to give your business new growth opportunities.
Benefits of AI in Postmodern ERP
1) Enables organizations to derive better performance from the given asset
2) Allows Postmodern ERP deployments to deliver value
3) Use of automation and analytics allow people to perform value-adding activities
4) Increases the process efficiency and effectiveness
Best AI Tools Used In Postmodern ERP
1.) Conversational AI Platforms
Conversational AI platforms play an important role in smoothening the user experience structure (UX) for all those who are involved. It enables businesses to create more responsive and engaging UX in less time.
Now, there is no need for users to learn an additional user interface because voice-driven conversational AI has taken the responsibility for learning what is required by the users.
2.) Sensors and Smart Objects
The integration of a wide range of technologies such as smart buildings, intelligence, and robotics with the Internet of things (IoT) applications has the capability to disrupt traditional ways of working in Supply Chain Management Solutions and enterprise asset management. It also facilitates logistics, production and maintenance capabilities.
3.) Procurement
It is one of the best AI tools used in Postmodern ERP. AI is one of the best features of the digital application in procurement. It is basically for automated inbound processing; contract analytics or spend analysis.
It helps in improving the end-user experience and guide them to buy the preferred products. The tools also identify and deliver appropriate spend policies based on the history and complexity of the procurement journey.
4.) Chatbots and Virtual Assistants
Virtual assistants and Chatbots are among the most popular Postmodern ERP strategies. It is one of the best tools for casual users who need a self-service experience that is easy to use as  UX is a bit daunting for them.
Some of the common deployments include expense reporting, supporting time and attendance, recruiting, HR service delivery operations and calendaring functions.
5.) Analytics
AI-driven analytics is closely embedded within ERP, financial close applications, analysis, and financial planning to support human decision-making and automation. It is one of the most popular AI tools for Postmodern ERP as it provides real-time predictive, descriptive, and diagnostic analytics.
6.) Human Capital Management
Human capital management helps an organization to recruit, develop, deploy and manage talent. AI tools play an important role in this domain. It helps in recruiting, sentiment analysis, chatbots, theme detection and so on.
Closing Thoughts
AI has now become the fourth era of ERP. An era which focuses on data and information. All these AI tools given above are offering organizations an opportunity to improve business processes and operations.
Also Read: Benefits of Using Machine Learning in Supply Chain