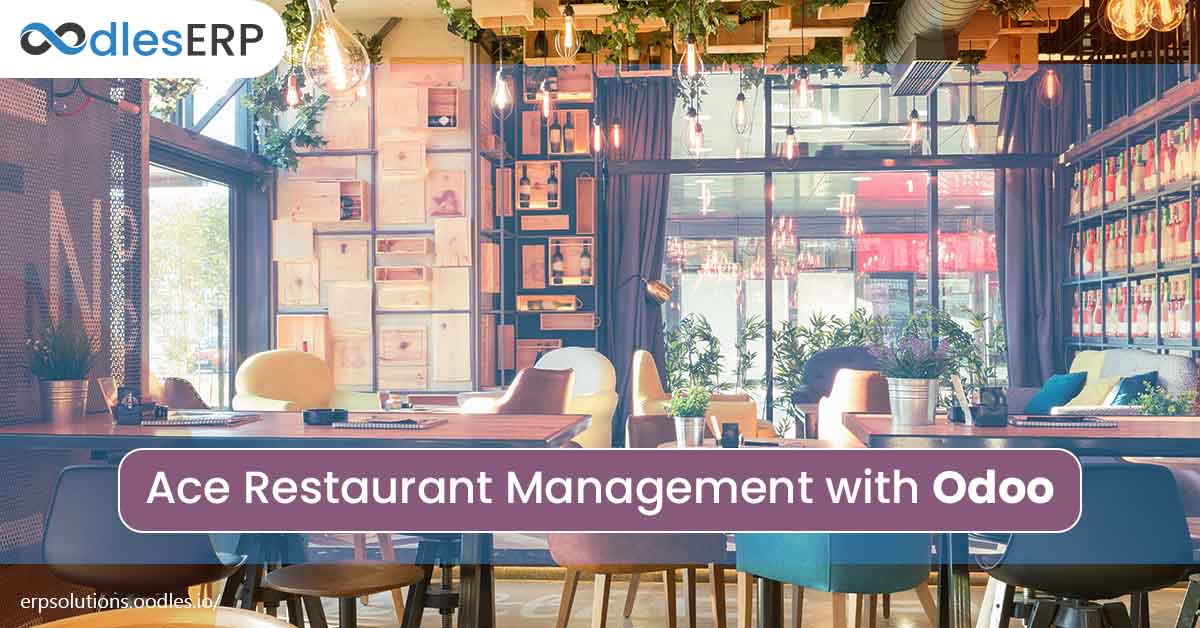 Managing restaurants can be difficult and challenging as it requires consistent efforts, and comprehensive planning to ensure smooth operations in various departments. In addition, managers need to proactively monitor services, finance, employees, stock, and regulatory procedures. The operations get more complex and cumbersome for restaurant chains spread across multiple cities and countries. Restaurant managers face several challenges along the way from stocking ingredients to reducing waste by observing customer behavior. Manually handling these operations can be a tedious and backbreaking task. Besides, manual restaurant management methodologies can be more prone to errors. That being said, a robust ERP software places all restaurant data in a single database and enables centralized management of operations.
With Odoo's POS restaurant management module, you can manage restaurant activities like sales and inventory in real-time. At Oodles, we provide Custom Odoo ERP development  and Odoo implementation services for integrating its restaurant management module into your ERP. Let's take a look at Odoo's restaurant management module, its features, and its advantages.
Features of Odoo Restaurant Management 
Odoo's restaurant management module offers various features that aid the effective management of a restaurant as well as restaurant chains. Let's list a few of them.
1. Table Management
The restaurant management module contains tools for managing table reservations, table number-wise orders, and view of table order on the POS screen. This is perfect for fulfilling dine-in orders in an organized and swift manner.
2.  Order management
Not only is it possible to view table orders with this module, but managers can also easily fulfill orders in a quick fashion. It has options for accepting and managing online orders through the eCommerce store as per inventory levels. These products can also be aligned for transport to multiple locations.
3.  Inventory
Odoo restaurant management system contains a robust inventory control module that ensures the elimination of waste by monitoring the consumption of raw materials and product demands. It offers real-time details about stock inventory and synchronizes warehouse and kitchen stock.
4. Payment
This system also consists of a point of sale integration with accessibility through various devices. Placing orders thus becomes more quick and accurate. It also offers multiple payment methods set up and invoicing connected to the main printer.
5. User interface
Odoo restaurant management module effectively manages multiple restaurants with a centralized database through a simple and intuitive user interface. Its implementation and use are easy to learn too.
6. Reporting
This module augments the process with a comprehensive sales report and helps in cash control and replenishing stocks. This is due to an insight into what sells best and selecting products accordingly.
Benefits of Restaurant Management with Odoo
 Odoo Restaurant management module benefits restaurants in various ways. Here are a few:
1. Be it customers who dine in or those that the restaurant delivers to, the restaurant management module's efficiency results in customer satisfaction.
2. It makes analyzing your business easy with its accurate sales reports that you can access in real-time.
3. The software is scalable, requiring few changes as your business expands.
4. As it aids waste reduction and maintains tight scrutiny, it lowers the overall operational costs.
5. As it makes processes more efficient, it helps restaurants increase revenue.
Odoo restaurant management is thus a one-stop solution for restaurant businesses. It looks after inventory, finance, sales, employees, and eCommerce processes for a restaurant. Odoo's robust ERP platform and integration with POS and other Odoo modules make it a reliable and effective solution.
Ace Restaurant Management with Oodles
We are an ERP development company with the goal of streamlining enterprise operations to maximize growth and profit. Our Odoo development services range from end to end ERP implementation to developing custom modules, and providing maintenance and support. Overcome all operational hiccups in restaurant management with our expertise in integrating the Odoo restaurant management module int your ERP. Get in touch with us now.