The call center industry remains at the forefront of customer service and caters to the diverse needs of cross-industry enterprises by handling millions of customer interactions every day. According to Zipdo, the annual call center support costs for businesses may reach up to $1.3 trillion. It clearly indicates the significant financial impact that most businesses face in this area. Such a staggering figure is a testament to the massive scale of this industry, but at the same time, it also highlights the pressing need to optimize call center operations. 
As the demands on call centers continue to grow, the need for efficient and effective management of the workforce becomes paramount. This is where workforce management software comes in handy. Workforce management software development and implementation provides call center companies with essential tools to optimize their operations. Using these software tools significantly enhance employee productivity and aids in delivering exceptional customer experiences. 
In this blog post, we shed light on the significance of workforce management software development for call center companies as well as the benefits it delivers.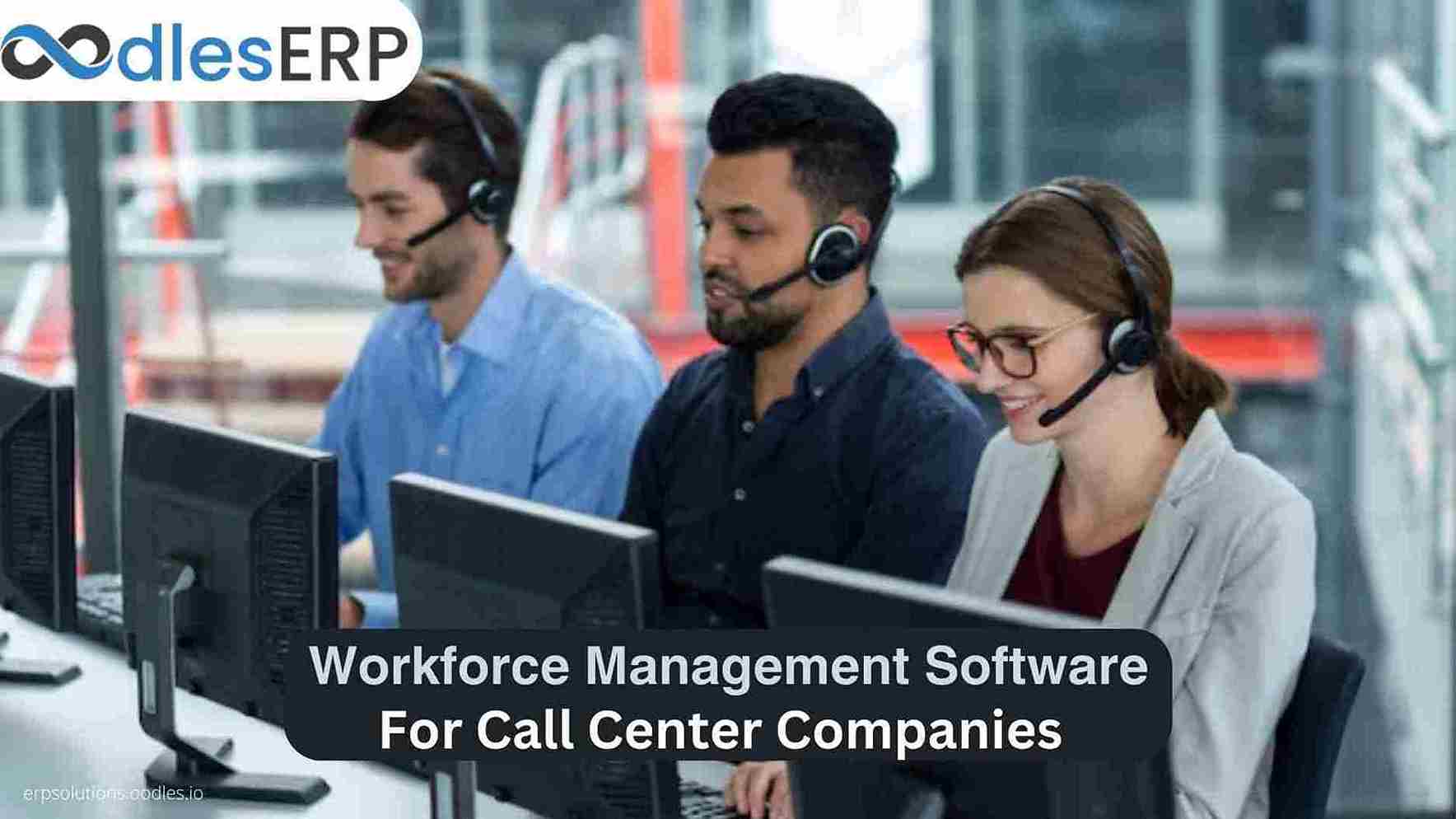 Also, Read Workforce Management Software Solutions: The Top Benefits For SMEs
The Growing Importance of Workforce Management Software
In today's hard-pressed business environment, customer expectations have increased more than ever before. That said, a majority of businesses rely on call centers to handle their customer interactions and deliver exceptional customer service. Call centers are an essential part of a business's brand image; they are more than just support centers. Therefore, call center companies must ensure that they have experienced agents and the right tools to effectively handle customer interactions. Having appropriate tools and resources for workforce management goes a long way toward strengthening customer relationships. It is, therefore, essential to have feature-rich workforce management systems in place to maximize customer satisfaction through improved customer service. 
The Features and Benefits At a Glance
Workforce management software is a comprehensive solution designed to streamline resource allocation, track agent performance and facilitate customer demand forecasting. Besides, it includes a number of features and technologies that when used together allow call centers to run as efficiently as possible. Let's move ahead and take a closer look at some of these crucial features of workforce management software:
Scheduling and Shift Management
Call centers often operate around the clock, which means scheduling and shift management are complex tasks. Workforce management software automates this process, taking into account agent availability, skill sets, and service level agreements to ensure a well-balanced and efficient schedule.
Demand Forecasting
Accurate demand forecasting is crucial for ensuring that call centers have enough staff to handle expected call volumes. Workforce management software utilizes historical data, seasonality, and other variables to create forecasts that help call center managers plan their workforce effectively.
Also, Read Workforce Management Solutions To Boost Business Productivity
Performance Monitoring and Workload Balancing 
Supervisors can keep track of agent performance in real-time, allowing them to identify areas for improvement and offer immediate feedback. This results in improved agent productivity and a better overall customer experience. Workforce management software can distribute work evenly among agents, reducing the risk of agent burnout and ensuring that customer inquiries are handled promptly.
Data Analytics and Reporting 
Detailed reporting and analytics tools provide insights into call center performance, enabling data-driven decision-making. Call center companies can analyze key metrics like average handling time, service level adherence, and customer satisfaction scores.
Conclusion
Workforce management software development is a critical component of the call center industry's evolution. As customer expectations continue to rise, call center companies must embrace modern solutions to optimize their operations and deliver excellent customer service. Workforce management software is the linchpin that allows call centers to achieve this, offering a wide array of features that enable efficient scheduling, demand forecasting, performance monitoring, and more.
With the right workforce management software in place, call center companies can achieve improved efficiency, higher agent engagement, increased customer satisfaction, and significant cost savings. However, the development of such software is not without its challenges, including integration with legacy systems, scalability, data security, user-friendly interfaces, and the need for constant updates.
Also, Read The Importance of Workforce Management Software Solutions
How We Help You With Workforce Management Software Development?
We, at Oodles, provide end-to-end ERP application development services to solve complex business problems of our clients. Our development team is skilled at using the latest tech stack, toolkit, and open-source technologies to build custom enterprise solutions from scratch. Also, we specialize in building scalable workforce management software solutions with custom features for varying business needs. Our team adheres to the global technology standards and agile methodologies to build high-quality enterprise applications that are easier to scale. We holistically analyze your business requirements and formulate effective strategies to overcome your business challenges through innovative software solutions. Reach out at [email protected] for more details. 
Tags:
Workforce Management
,
workforce management development services
,
Workforce Management Software
,
Workforce management software development services for call center agencies