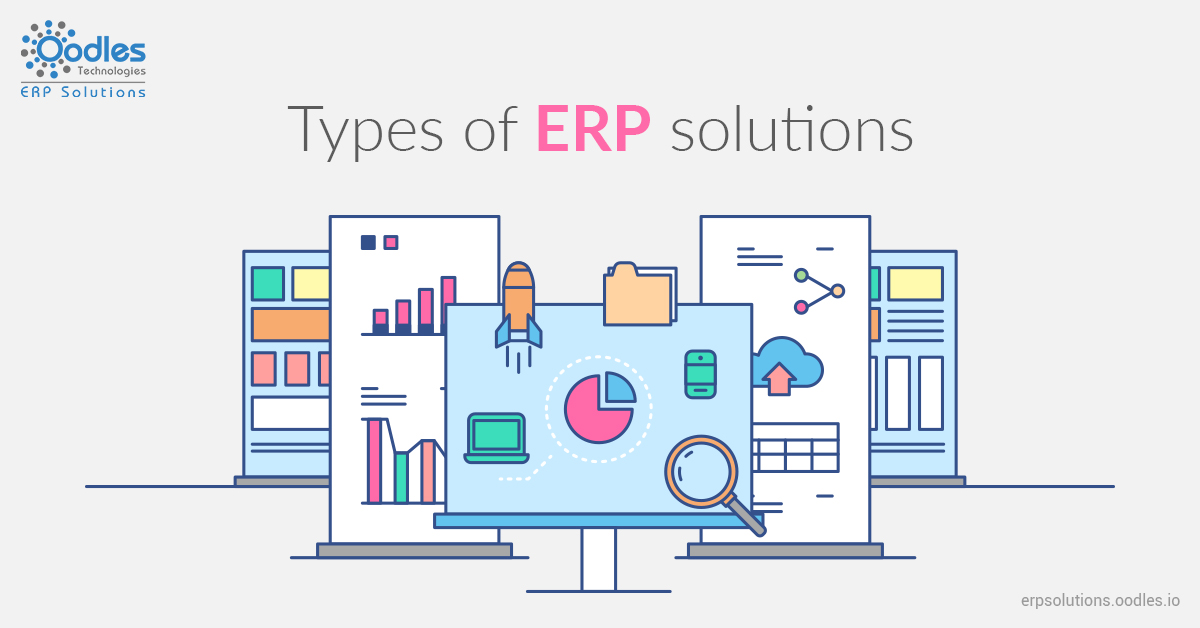 There are several types of ERP solutions available in the market but selecting a right ERP system out of these is easier said than done. Cloud ERP systems are the hot trends in ERP landscape for companies. However, it is not the best choice for every company. On-premise ERP solution can be cost-effective when compared to cloud ERP solutions. But perhaps a hosted ERP solution is the best way to go. Conclusively, there will be merits and demerits of every ERP kind. No matter which type of the software it is, selecting a software that matches your requirements and future needs will make you do the best decision.
Here is the description of all the types of ERP solutions
Cloud ERP solution
A cloud-based ERP is hosted by ERP vendors and can be accessed from remote locations from any device. Cloud ERP solutions are flexible and less complex in installation. Smaller companies prefer to invest in a cloud ERP solution as it can solve software issues by itself. Even if you have a limited workforce, cloud ERPs are easy to manage. One of best advantages of having Cloud ERPs is that companies are free from troubles of upgrading or maintenance fees. It has a monthly or annual subscription charges, and all the upgrades and installations are taken care by vendors.
Not every business needs to go for cloud ERP solutions.
Here are some reasons to avoid cloud ERP solutions
1. In spite cloud-based ERP systems provide greater mobility and accessibility options, their customization is not as easy as an on-premise software.
2. It fails to provide complete control over software updates or changes. All the charges of upgrading cloud software are upon a company. Therefore, it has more limited customization.
3. Several ERP system buyers felt reluctant in investing in a cloud-based ERP system for the reason of security breaches. However, prominent ERP vendors have strict models in place to provide data security. They appeared more poised and confident about collecting their data on their own on-premise ERP servers.
On-Premise ERP Solution
On-premise ERP solution might seem more secure but organizations have to invest in its security. However, in cloud ERPs, vendors implement their own security measures.
When investing in on-premise ERP, companies need to buy all the infrastructure, servers, operating system, security protocols, etc. You need to purchase a license of ERP software from a vendor. If you have already invested in an infrastructure and want to keep it, an on-premise solution is probably the best plan.
In this scenario, companies should discard the idea of migrating to the cloud. Because, after investing hugely in on-premise ERP and there is no reason to opt for the cloud. Moreover, on-premise ERP systems offer advantages in customization and control but are higher up-front expenses. Many systems don't support mobile too.
Hybrid ERP Solution
Many ERP vendors offer hybrid ERP solutions that have the capability to easily meet most companies' specific industry requirements. These systems can provide the features of both cloud and on-premise ERP systems to create the right mix for your business. The hybrid solutions offer far more flexibility which is focused around providing expanded access for your users while still maintaining some on-premise infrastructure.
For instance, a company can maintain your own servers but pay Hosting fees to support Web ERP access for users from any device. This hybrid approach is applicable to both the in-house server or an off-premise server hosted at a data center.
Also Read: Why Are Cloud ERP Solutions In Huge Demand?
A Hosted ERP Solution
A hosted ERP solution comes under a SAAS solution that allows users to use the application by paying recurring subscription charges. You can access the software solution over a Remote Desktop Connection. With a hosted ERP solution, you can have the features of both cloud and on-premise ERP software. It also provides greater flexibility over future ERP setup. In addition, it comes with security and disaster recovery options.
key reasons to opt for hosted solutions :
1. Move to On-Premise easily
It is much simpler to move hosted solutions to on-premise than to bring a cloud-based platform back in-house because of differences in system architecture.
2. Security
Organizations may appear reluctant to have put their data hosted in the cloud, which makes a dedicated server the preferred option if an on-premise solution isn't possible.
3. In a hosted ERP solution, it works as a Software as a Service (SaaS) approach. It means you need to pay subscription fees for your software. Companies need to pay a subscription per user, per month, and, have no need to deal with any of the hardware, nor are they needing to find a data center.
4. In a nutshell, companies should carefully examine all the types of ERP solutions. They should assess these points such as how much they are willing to invest, what system would be best to meet their specific needs and what is their goal of ERP system implementation.
I hope the description of the types of ERP solutions will help you do make a right ERP choice.