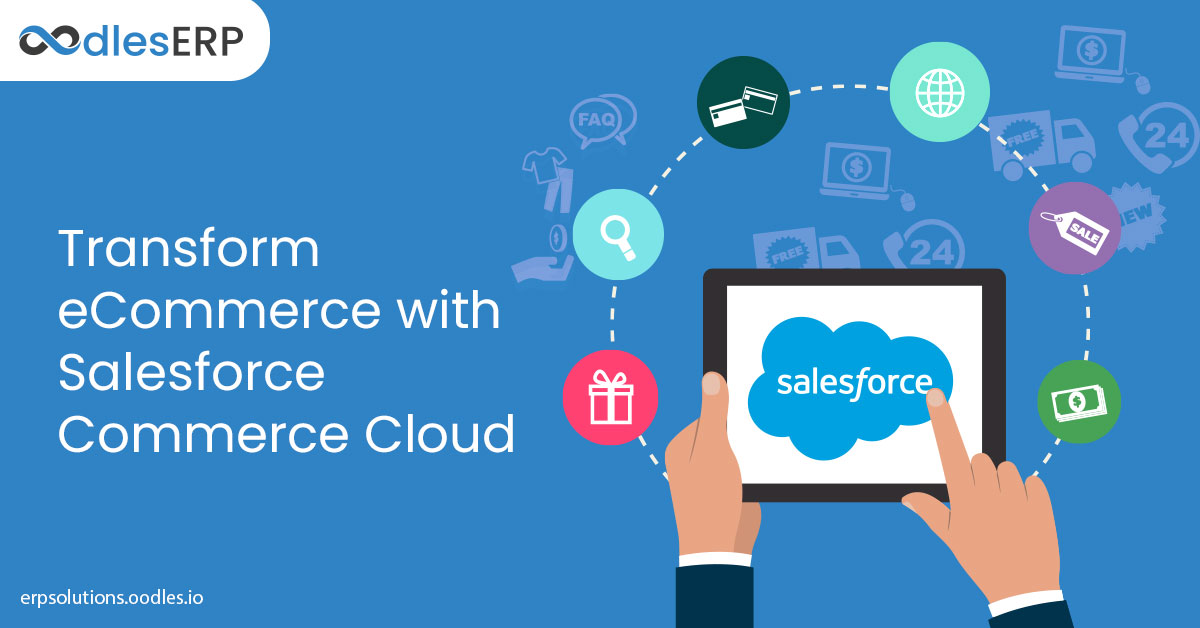 Today, eCommerce applications and platforms are widely used for sales transactions and are of the essence to any business and industry. Salesforce Commerce Cloud is an AI-powered eCommerce platform for B2B and B2C transactions that creates unified, smart buying experiences across multiple channels. It's easy to use and seamless interface, powerful analytics tools, multi-tenant architecture, and mobile POS systems make it instrumental in transforming the way businesses interact with their customers.
At Oodles, we provide you Salesforce development services  for implementing Salesforce commerce cloud into your system. With an easy conversion from one channel to another, it gives enterprises an enhanced control over transactions, engagement, analytics, services, and relationship building.
Benefits of Salesforce Commerce Cloud
Let's list out the benefits of implementing Salesforce Commerce Cloud for eCommerce.
Unified buying experience
Salesforce Commerce Cloud enables businesses to communicate with customers and clients across different touchpoints. At the same time, it also provides a bird's eye view of all operations ranging from orders and inventory to customer profiling and relationship.
Omnichannel functionalities
One of the defining features of Salesforce Commerce Cloud is its ability to imbibe multiple processes into a single SaaS solution. It fosters data integrity and flexibility and saves resources otherwise employed on individual processes like sales, order management, marketing, conversions, and more.
Mobile Shoppers-friendly
The Salesforce Commerce Cloud has mobile-first capabilities like a responsive interface, micro-moments, and one-touch payment via multiple payment methods. It aids businesses in building mobile intuitive eCommerce stores that enrich the overall shopping experience. Thus, its extremely suitable for mobile commerce and widens customer range and conversions with the same.
Personalization and Customer Satisfaction
Salesforce's Einstein and Einstein Analytics are powerful AI algorithms that manage all the infrastructure, modeling, and data required for forecasting models across Salesforce applications. They help pull real-time insights from client data dashboards that inspire and convert more customers with highly personalized, AI-powered experiences.
Enhanced Marketing
With its Omni-channel functionality, Salesforce Commerce Cloud makes it possible for merchants to manage and share product data across catalogs, websites, and in several languages. Its customer profiling makes targeting the right consumers with the right product and price easy. Also, it enables enterprises to manage stores across the world with a single backend platform. Thus, it has the capacity to support a global marketing campaign for a brand without much hassle.
Employ Salesforce Commerce Cloud for eCommerce with Oodles
We are a Salesforce Development Company that provides Custom CRM development services. Our certified salesforce development services enable clients to maximize their sales benefits by implementing the Salesforce Commerce Cloud. Get in touch with our experts to avail our Salesforce development and implementation services.