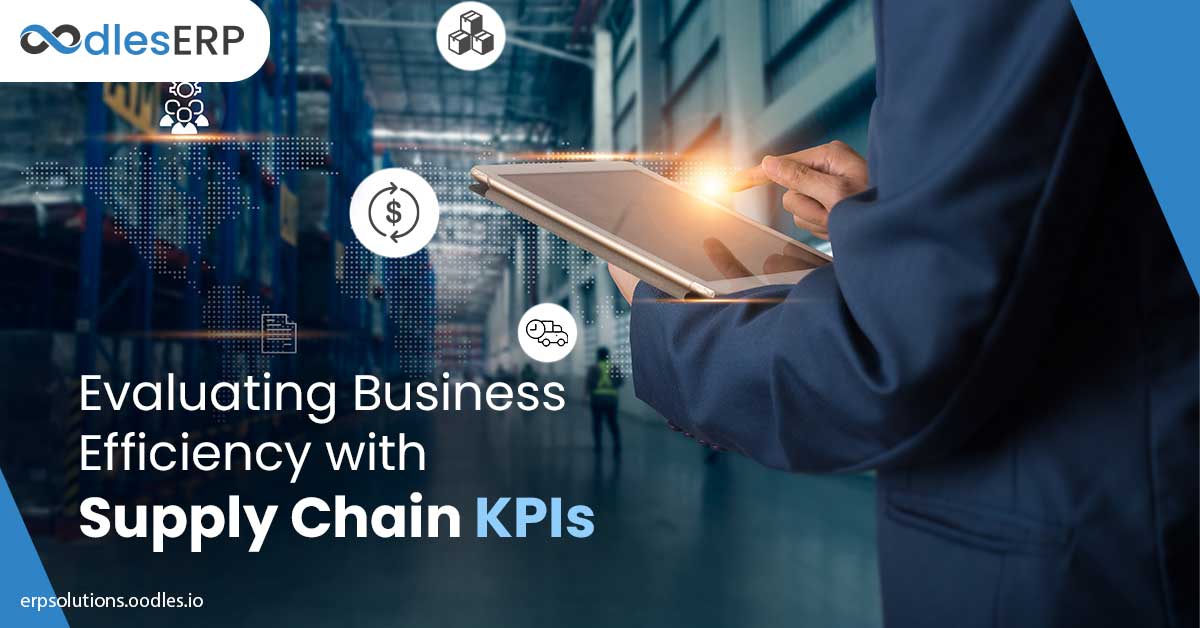 Managing the various parts like inventory, shipment, warehouse, and on-time delivery involved in supply chain processes can be challenging if businesses do not have access to the right supply chain KPIs and metrics. Read this blog post to explore the different supply chain KPIs to measure the performance of the supply chain.
We provide supply chain software development services to streamline traditional supply chain, transportation, and warehouse management processes. Our supply chain solutions ensure businesses to track inventory, manage orders and monitor sales. 
Key Supply Chain  KPIs to Measure Performance
Selecting the right performance indicators is essential to measure the performance of their supply chain systems and improve the entire process. Before choosing the indicators, businesses need to identify their goals to track their progress. 
Inventory Accuracy
Inventory accuracy KPI compares the items that are in the stock with the items stored in the ERP database. It bridges the gap between the two numbers. Errors in inventory tracking lead to added costs, additional stock-outs, unnecessary orders, and reduced customer satisfaction. For instance, an eCommerce storefront might be selling items that can't be fulfilled because order and inventory data might not be updated in the ERP system. 
Cash-to-cash Cycle Time
The cash-to-cash cycle measures the amount of time for which the operating capital is tied up. During this period, cash is not available for other purposes. A fast cash-to-cash cycle indicates a lean and profitable supply chain. 
The cash-to-cash cycle time is calculated by adding the number of days that inventory is on hand, to the average number of days that customers take to pay for their orders. The number is finally deducted from the number of days an organization takes to its purchases. 
Cash-to-cash cycle KPI time will enable businesses to increase the efficiency of their supply chain. With the ability to track the average cash-to-cash cycle, businesses can make improvements and free up resources for other essential tasks. 
Freight Bill Accuracy
Shipping and freighting items from suppliers to warehouse and warehouse to the consumer is critical for the success of the entire supply chain process. Any issue or error in the freight bill can waste time and investments. 
Freight billing accuracy is key to profitability and customer satisfaction. Tracking this metric will enable businesses to spot detrimental trends and improve overall shipping accuracy. 
Return Reason
The return reason supply chain metric provides businesses an astute insight into various motives causing customers and clients to return their orders. It enables businesses to showcase the primary reasons for return, thus enabling them to assess the areas of weakness, analyze the quality of critical areas of supply chain processes and make improvements to enhance the reputation and overall service levels significantly. In addition, it decreases returns, boosts profits and improves cash flow. 
On-time Shipping
It is one of the most critical supply chain KPIs that enables businesses to calculate how much time is needed to ship a particular type of order to a client, partner or customer. On-time shipping KPI will enable businesses to set a benchmark shipping time relative to each product.  It will enable businesses to optimize their shipping and delivery processes, reduce turnover time and boosts customer satisfaction levels. 
Inventory Turnover
Inventory turnover is one of the essential supply chain KPIs that measures how efficiently an organization is able to move its inventory. It enables business managers to gain a better understanding of supply chain efficiency, the buying practices of the company and the gauge demands of products. 
In addition, the ability to move inventory is important. It significantly reduces storage costs and enables businesses to sell products at a premium range instead of creating promotions to clear stock.
Gain Benefits of Supply Chain Solutions with Oodles
We are an ERP development company that provides custom supply chain solutions to enhance delivery capacity and automate procurement management. Our comprehensive and flexible software solutions will improve process transparency, save resources and reduce vehicle downtime. 
At Oodles, we use open-source frameworks like Helical Insight and BIRT to build relevant supply chain KPIs. These open-source business tools provide regular and advanced features like email-scheduling, visualization, user-management role, multi-tenancy, and exporting. Based on these features, business managers can make decisions that which supply chain KPIs will improve the overall productivity of businesses. 
Connect with our ERP team to avail the benefits of our supply chain solutions!