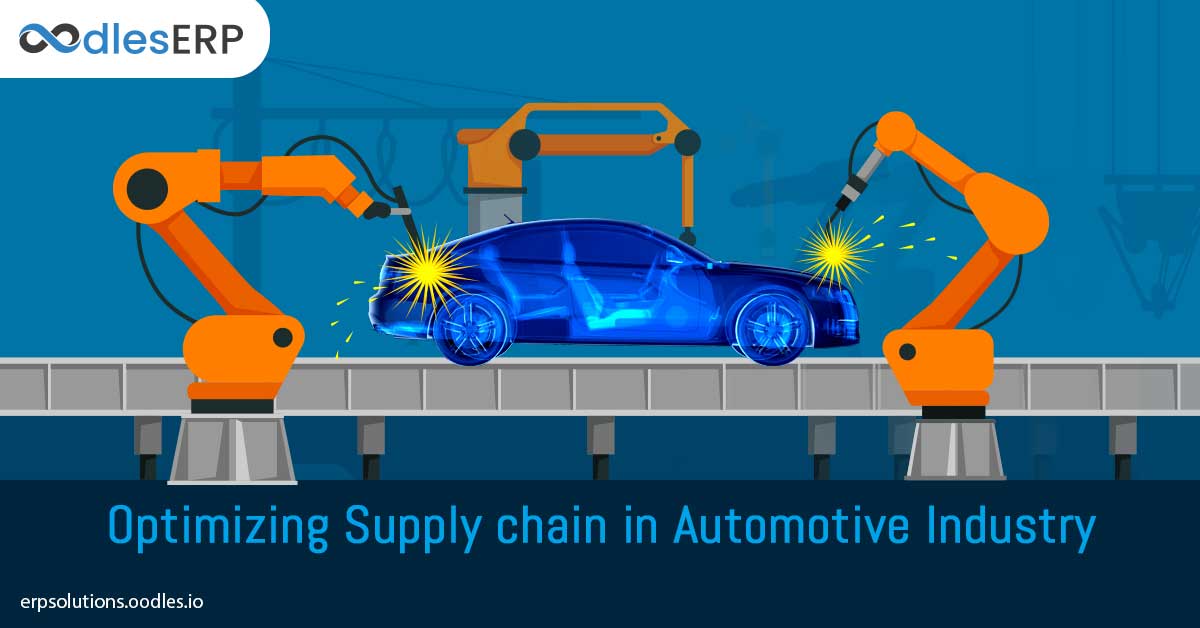 As trade and commerce industries dominate the market, it is critical that supply chain undertakings meet customer requirements without any hiccups. While it adds a multifaceted nature to the automotive production network, globalization makes practical solutions from automobile manufacturers and brands a necessity. The automotive supply chain is an aggregate of supply, manufacture, and dealership networks in the automobile industry. Each discrete unit involved in the system may be sourced from different distributors. New additions in assembly, requests from buyers, change in distribution networks are some of the organizational challenges that the industry faces. On the cloud, various stakeholders can access all network data and take part in transactions in real-time. Let's explore how to optimize the supply chain in the automotive industry.
Demands of the automotive supply chain
1. Real-time visibility
A basic automobile has thousands of individual parts that are either produced in one place or outsourced. A single delay can hinder the whole process of putting together and distribution of parts critical to the vehicle design. A situation like this could bring production to a halt. To avoid this, it is necessary for managers to have real-time access to an integrated database for all operations.
2. Integrating distributed supplier and manufacturer data
As original equipment manufacturers (OEMs) become more competitive, on-time component delivery and quality finished products from tier 1 suppliers become prerequisites. The automotive supply chain consists of tier1 suppliers who sell raw materials, tier2 and tier 3 suppliers that build and assemble automobile parts respectively. Order data is distributed both in allocation and management. To achieve top-of-the-line performance, OEMs need to implement lean replenishment and logistics strategies. The only way to do this is by taking advantage of a network-based supply chain with integrations across the chain.
3. Insight into consumer needs and market trend
An understanding of consumer needs and the money they're ready to invest in various automobiles is key to stabilize production and demand. Conventionally, vendors and dealers access customer data directly while OEMs and suppliers are deprived of the bare essentials of information. In order to stay in the global game, an enterprise in the automotive industry needs smart networks that aid greater data sharing, thus interconnectivity.
4. Mitigating external risks and disruption
Any kind of disruption in the supply chain results in a standstill in an operation. Better management through informed stakeholders and analytical tools is indispensable. At the same time, OEM data needs to flow through secure channels.
5. Quality assessment
In order to win and maintain customer loyalty, product quality needs to remain intact. Without proper surveillance of data, quality issues may damage the reputation of an enterprise. Any automobile not functioning as it should damages revenue and creates waste. Enterprises need quality assessment measures at all levels of the supply chain to save time and capital.
6. Cost control
Throughout the supply chains of automotive industries, OEMs come across high fixed as well as variable costs. They include expenditure on new machinery, utility costs, insurance for machines, health and pension plans for employees, and external costs from suppliers, manufacturers and production lines.
Oodles' contribution to a smooth-running supply chain in the automotive industry

We are an ERP Software Development company that designs custom solutions for supply chain management, warehouse, CRM, eCommerce, accounting and finance management. We work with businesses of all sizes and cater to every industry. We build supply chain management systems tailored to an enterprise's needs in the automotive industry. Our solutions aid in overcoming challenges and putting your business in an advantageous position. Our goal is to equip businesses with the smartest tools on the most scalable platforms in the market. Here's a list of attributes we furnish your automotive supply chain with and how it fosters the growth of your enterprise:
Central control and Connectivity
A system as distributed as the automotive supply chain requires central management to run profitably. To make this possible, we integrate all suppliers and manufacturers onto a single platform, using a microservices-based architecture. We accomplish an absolutely mechanized tracking through IoT and similar technologies to mitigate delays by transferring data on to the platform. Through a role-based access system, we make sure stakeholders can control the supply-chain centrally while maintaining the transparency of the chain. An integrated supply chain ensures the most economic use of inventory, operations, and marketing to maximize profit.
Supervised Access and Security
We employ two types of access models to protect enterprise data as well as organize within the hierarchy of the company. Role-based authentication is permission-base and determines only employees deployed in a specific project get access to its data. Rule-based authentication gives modular access to respective stakeholders, governed by their trading contracts, to interact with the supply network. SCM Development Services by Oodles protect OEM data through cyber risk assessment and corrective action plans in the automotive supply chain.
Data accuracy and Analytics
Our Logistics and supply chain software development machine learning analytic tools and AI modeling for market insights and prediction. An automated system zeroes down data errors as data is collected and stored through intelligent systems. Another function of these systems is forecasting and planning the usage of spare parts and design-essentials demands. This saves the enterprise a lot of money from inventory and risk management.
Through integration and analytics, we optimize supply and distribution networks with streamline operational efficiency. By essentially transforming a reactive supply chain network to a proactive network, enterprises remain prepared for uncertainties and glitches. As the visibility of automobile parts, their routing and record are optimized, the enterprise can reduce supply-chain disruptions.
Closing Remarks
As the automobile industry innovates and brings smart vehicles into the picture, it is about time automotive supply chains upgrade their systems to intelligent systems. Talk to our experts to select from our SCM Development Services to optimize the supply chain of your automotive enterprise.