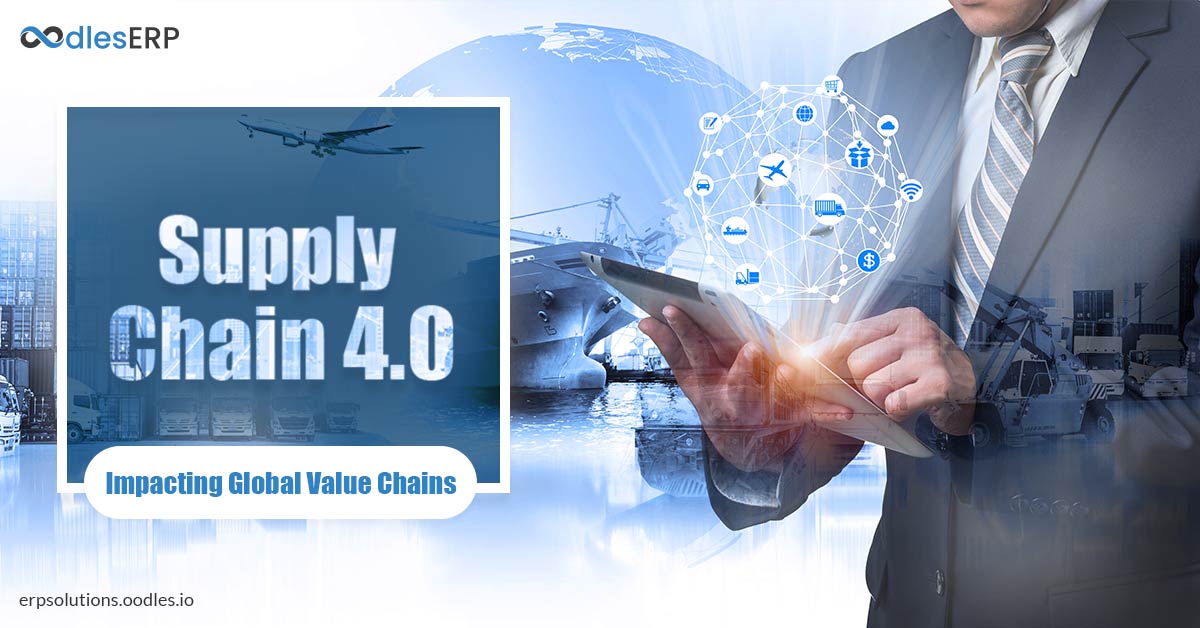 Supply chain 4.0 is fast transforming how businesses manage their warehouse and inventory operations. Next-gen technologies like Machine Learning (ML), Blockchain, IoT and Artificial Intelligence (AI) are improving supply chain processes including planning, production, distribution and reverse logistics. Read this blog post to discover how supply chain 4.0 can make processes more flexible, accurate and efficient.
Salient Features of Supply Chain 4.0
Enhanced Transparency and Accuracy
Global supply chain processes involve thousands of suppliers operating within the supply chain ecosystem of an organization. Ensuring end-to-end transparency and real-time asset tracking is critical in this scenario. Gaps in supply chain risk management can lead to reduced sales, unnecessary costs and supply chain disruptions. 
A digitalized supply chain enables businesses to track entire supply chain processes in real-time like finding the exact location of goods (in transit, on order or in a warehouse). Businesses can easily track inventory by combining updates from supply chain partners and IoT data. With supply chain 4.0, businesses can improve order accuracy and ETAs, optimize inventory, enhance lot and batch control and reduce associated costs. 
We are an ERP development company that builds custom asset tracking software for seamless tracking experience across mobile and desktop devices. Our software enables end-users to gain real-time visibility of goods. 
Improved Warehouse Management
Digitalization improves warehouse management capabilities related to supply chain inventory logistics. For instance, supply chain managers use IoT sensors and RFID tags to track location and predict the delivery of goods in real-time. Information gathered through IoT sensors enable managers to provide location-based instructions to workers and reduce their hours consumed per order. 
At Oodles, we have experience in warehouse management development services using IoT architecture. With our IoT-based warehouse solutions, businesses can gain more control over their data storage. Our solutions enable real-time traceability of products with RFID tags containing product information and sitemaps.
Enhanced Collaboration and Interconnectedness
Supply chain 4.0 enables a seamless flow of information between manufacturers, suppliers, and customers. A fully integrated supply chain software transforms planning into a continuous process. It enables businesses to build greater trust specifically in cases of non-competitive relationships. 
An interconnected platform reduces lead times through enhanced communication. Suppliers can provide early warnings to increase a company's responsiveness to risk. Another important feature of such closed-loop planning is that pricing decision is integrated with demand and supply planning. It means prices can be changed as per the expected demand, replenishment capacity and stock levels. The continuous planning process enables businesses to boost revenue and optimize their inventory.
Enhanced Customers Demand at Granular Level
The demand of customers for more individualized products is continuously rising. Businesses are using more techniques like micro-segmentation and mass customization to meet customer-specific requirements. With these techniques, customers now have a choice to select one of the multiple 'logistics menus' as per their individual requirements. 
New transport concept like drone delivery has enabled businesses to manage last-mile deliveries for high-value orders. It fulfills the customer's requirements while delivering their orders fast. For instance, Amazon is using drones for the delivery of their products. Drones autonomous vehicles ensure faster delivery and reduce the chances of a product return.
Impact of Supply Chain 4.0 Across Industries: Use Case 
Supply chain management is not just about delivering the right quality of products at the lowest costs. With the emerging technological trends, a successful supply chain is about increasing sales and profits. Let's explore how Adidas used supply chain 4.0 to increase their sales.
Adidas: Doubled its Sales with Supply Chain 4.0
Adidas is a leading sport's shoe brand in Russia and has more than 12,000 stores. Adidas uses RFID identification chips, a digital 'click and collect' solution and 'endless aisle' technology to satisfy its customers and double its sales. It implements an omnichannel strategy to ensure the on-time delivery of products. Adidas' omnichannel strategy enables customers to buy products available anywhere in Russia in multiple ways (online or physical store).
Initially, Adidas implemented a trial of digital 'click and collect' in Moscow to get an overview of how many consumers would choose this option- to buy a product online or collect it from the store. The company expected around 10 to 20 orders per week but surprisingly customers liked this idea and orders reached 1,000 per week. Adidas then stopped this experiment and created a new supply chain infrastructure to support this demand. Today, up to 70% of its online sales are through 'click and collect'. 
Similarly, its other supply chain initiatives which increased its sales and profits were:
Endless Aisle: It enables customers to order products that are out of stock in the nearest local store. 
Ship from Store: Customer receive the products ordered online from a store and not from a distribution center. 
Accelerate your Supply Chain Processes with Oodles
We are a digital supply chain management company that develops supply chain management solutions to improve operational efficiency. Our developers use next-gen technologies like blockchain, IoT, machine learning and AI to make SCM operations seamless. We have experience in developing customized supply chain management solutions with open-source platforms like Odoo, Opentaps, and Ofbiz. 
Get in touch with us for a free consultation!