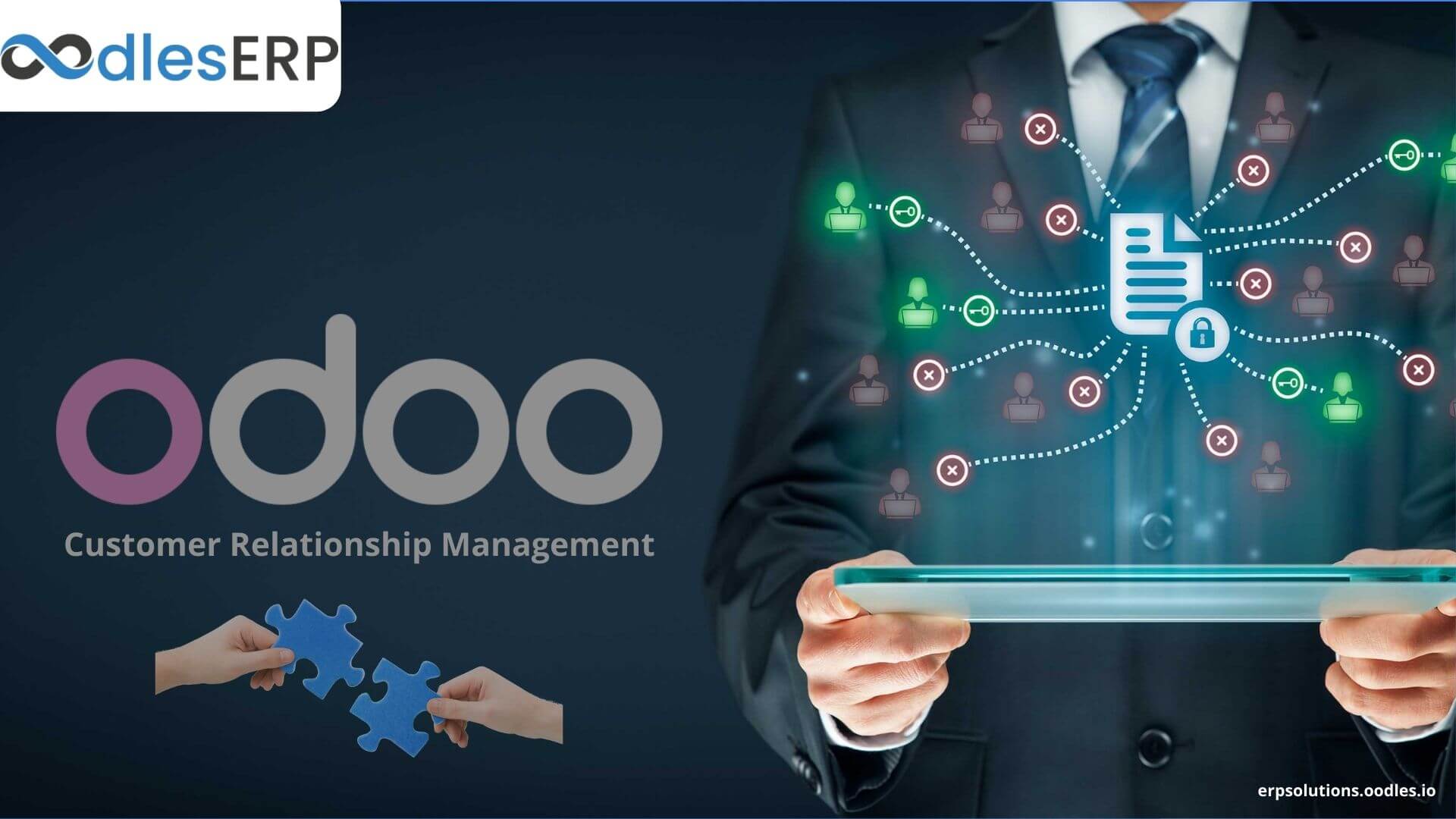 In today's competitive landscape, maintaining healthy customer relationships has become increasingly crucial for businesses to stay afloat. Several companies in all major industries spend millions of dollars every year to improve their customer experiences. While there is a number of ways to gain customer loyalty, CRM software development definitely tops the list.
An effective customer relationship management (CRM) software not only improves your customer services but also helps with sales, marketing, analytics, and lead management amongst many similar functions. Besides, it captures every consumer touchpoint and web interaction, enabling enterprises to strengthen marketing strategies. The modern-day CRM systems use artificial intelligence and machine learning algorithms to track and analyze customers' likes, preferences, and buying habits. 
Odoo is one of the best open-source ERP platforms available in the market that also provides a fully customizable CRM module. Odoo CRM software development enables businesses of all sizes to efficiently manage their existing and potential customers. It combines 8+ apps and plugins to offer a comprehensive CRM suite that focuses on strengthening customer service efforts and streamlining sales operations with minimal complexities. The Odoo CRM module includes the following plugins:
1. Customer Relationship Management
2. CRM Gamification
3. Survey CRM
4. Marketing Campaign
5. Resellers
6. Lead To Issue
7. Contact Form
8. Opportunity To Quotation
Let's move ahead and delve into more technical details of the Odoo CRM module with a focus on its key features and benefits to enterprises. 
Also read A Technical Comparison Between Odoo and ERPNext
The Key Features of Odoo CRM Module
Odoo CRM software development gives you access to several unique features including sales intelligence, lead scoring, business reporting, and more. Let's explore the most valuable features of the Odoo CRM module and the benefits of Odoo CRM software development.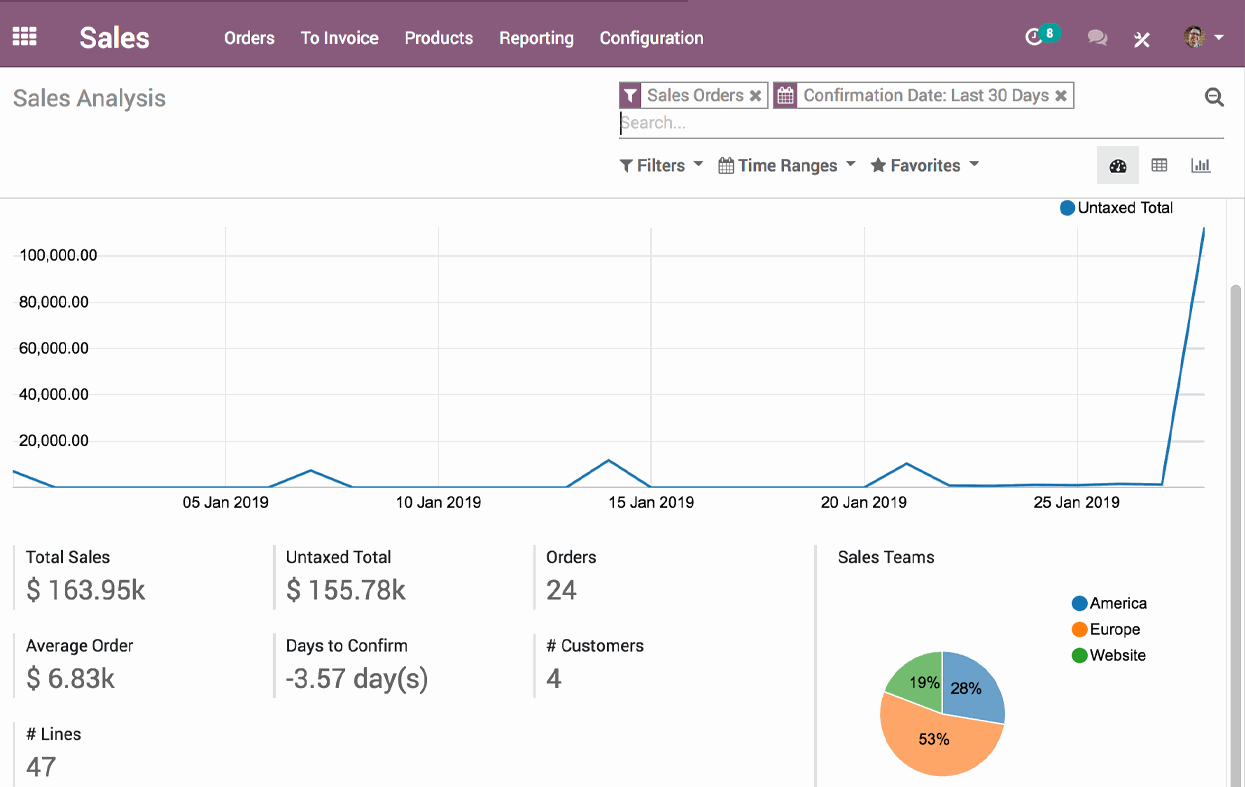 Improved Sales Support
Odoo CRM provides an intuitive sales dashboard to easily track various activities across the sales pipeline. It automatically filters relevant leads from your mailbox and lets you manage your sales pipeline with ease using drag and drop features. Besides, you can send personalized quotations to your customers in just a few clicks.  
Lead Management
Lead management is one of the core functions of the Odoo CRM suite. It offers extensive support for lead management from lead generation and monitoring to automatic follow-ups with clients and customers. 
– Lead Nurturing: You can set automated lead campaigns to pitch customers based on the lead segment.
– Lead Scoring: It lets you filter out the prospects that are most valuable to your organization by assigning a lead score.
– Online Acquisition: Odoo CRM gives you access to upto 30 different marketing apps to foster online lead acquisition.
– GeoIP: It lets you track and segment inbound leads from different states, countries, cities, and geographical regions. 
Customer Service Management
With Odoo CRM module, you can gain valuable insights into your customer data and manage routine customer queries. It offers powerful tools to identify your customers' likes, preferences, and buying habits as well as language, delivery methods, and financial data. As a result, you can optimize your products and services accordingly to deliver personalized customer services. Odoo CRM module also gives you a neat and organized addressbook to manage your customers' sales records. Above all, you get one-click access to your customers' order history, outstanding dues, and sales invoices.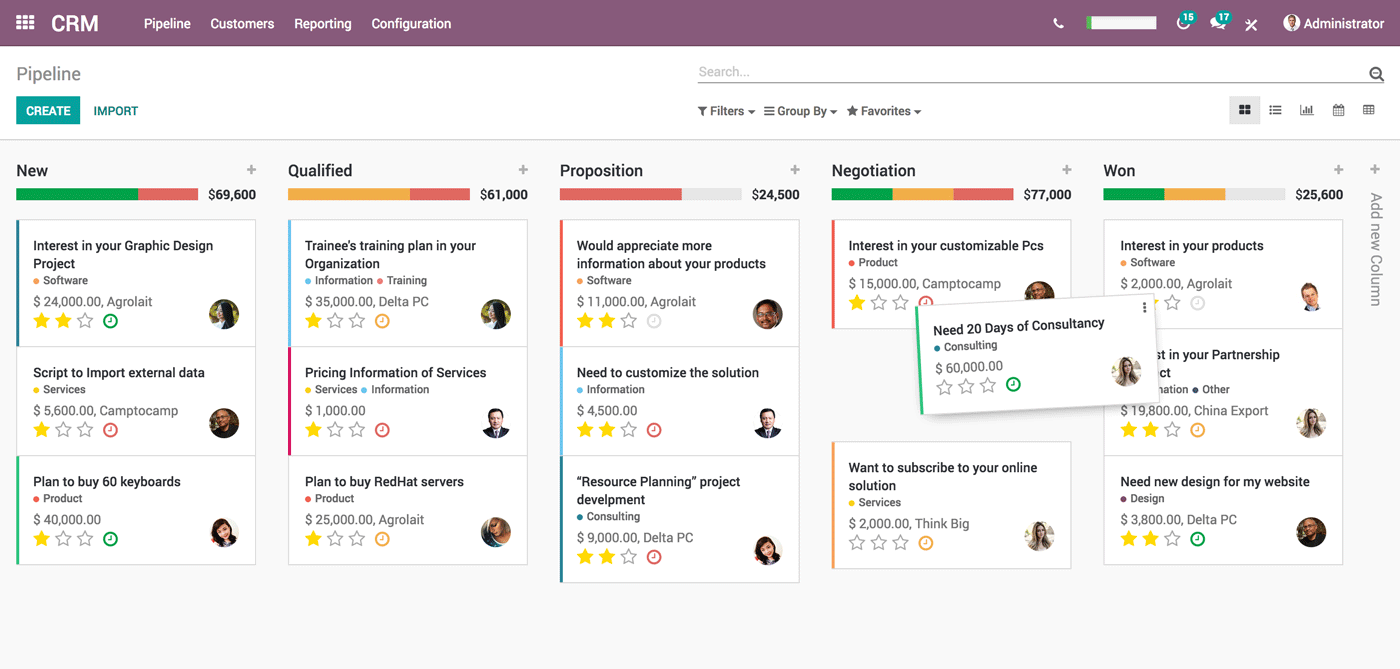 Reporting and Analytics
Odoo CRM software development lets you track and monitor your dynamic business KPIs over different time intervals. You can track the daily/weekly/monthly performance of your sales team and the hours invested by each team member. Odoo CRM gives you access to diverse analytics features to track and monitor various sales activities in real-time. Besides, you get advanced filters and segmentation features for analyzing the opportunities pipeline. 
Ease of Integration
It is easy to integrate the Odoo CRM module with your existing enterprise applications and third-party services. For instance, you can connect it with your inventory module, SCM software, workforce management software, as well as accounting and financial management tools for increased convenience. Besides, it is easily customizable through a variety of powerful APIs from Odoo.  
You may also be interested in reading Odoo ERP Development For Pharmaceutical Industry
Closing Thoughts
ERP-based customer relationship management systems have become a requisite need for all types of enterprises from diverse industries. It has become even more important for B2C companies that thrive on fulfilling their customers' needs and expectations. According to Gartner, CRM is poised to be the largest source of spending in enterprise-specific software tools by 2021. It is, therefore, the right time for startups and small-to-medium enterprises to consider investing in CRM software development in 2021. 
Avail Our 360-degree Odoo ERP Development Services To Boost Business Productivity
We are a seasoned Odoo ERP development company that builds performance-driven enterprise solutions for cross-industry enterprise needs using Odoo ERP suite. Our development team is skilled at implementing the Odoo CRM module to address diverse customer service needs of cross-industry enterprises. At Oodles ERP, we have a powerful stack of 10,000+ Odoo supported apps to solve the complex business challenges of our clients. We have successfully completed several full-scale Odoo ERP development projects for 100+ customers from across the globe. For more information, reach us out at [email protected].
Also read:  Odoo CRM Software Development: Features and Benefits