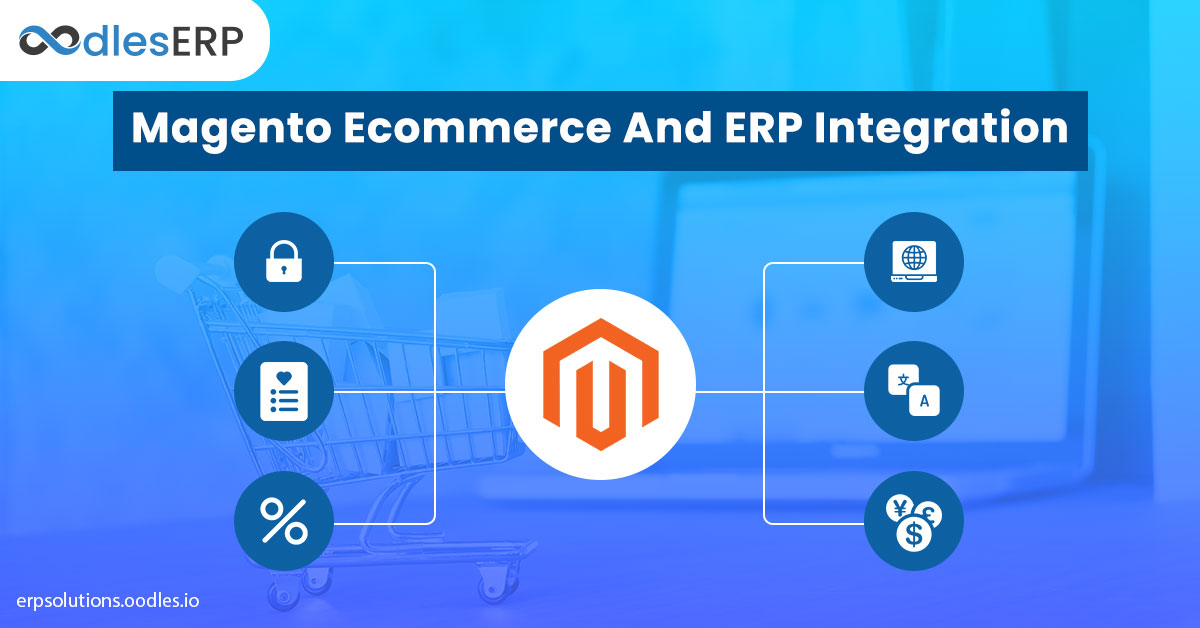 Enterprise Resource Planning or ERP is a business management software that facilitates real-time management of business processes in a centralized manner. Being a system of integrated applications, it integrates business strategy, manufacturing, and development with sales and marketing in a single database. Essentially, an ERP-based software application uses a common interface accessible to managers and operators. It comes with secure authorization channels to provide hierarchical access to enterprise data. Magento eCommerce and ERP integration remolds existing systems for greater efficiency. It eliminates double data entry for inventory, orders, shipping, customer data, and sales. With eCommerce growing at a swift pace, its necessary for businesses in the retail sector to have a well-integrated ERP and eCommerce platform with robust backend infrastructure. At Oodles, we provide Magento ERP integration services that aids in smoothly running a web-based retail channel, while lowering operational costs. Let's take a look at how Magento ERP integration is good for business and what are the best practices to follow while implementing it.
Advantages of Magento eCommerce and ERP Integration
Real-time Visibility into Inventory
As ERP handles data for the entire business, integration with Magento results in real-time data access and modification. It gives a bird's eye view of orders, prices, customer profiles, consignments, stocks, thus enabling better decision making and implementation. At the same time, customers get a correct representation of product information as well as cost and tracking.
Costs Management
In an integrated platform, there's no need to store more safety stock than required. It can be programmed to notify lowering stock levels as well as report customer behavior patterns regarding products and product types. This saves expenditure on overstocking as well as ensures stocking of profitable products and services.
Customer Satisfaction
With the ERP's tracking systems in place, the status of their shipment can be easily viewed by customers. This eliminates customer queries regarding where their order is and how long until it reaches them. Also, it puts customer support teams in a better position to provide support and answer customer queries.
Compliance
Magento ERP integration ensures that pricing on eCommerce purchases are aligned with tax regulations. As tax data is stored at one place, there's no need to manually synchronize data.
Best Practices for Magento ERP integration
1. Identify all the contact points for integration as warehouse locations, payment gateways and authorization, promotions or discounts, and a central customer database, inventory, and logistics.
2. Enable a smooth customer interaction through alerts, notifications as well as interface-based querying channels. Also, configure options to provide order data, tracking ID/information, and payment confirmation. Comfortable customer experience determines customer loyalty.
3. It is important to integrate accounting software into the ERP or utilize an exiting accounting module in the ERP system. This keeps sales, margins, depletion, and returns in check.
4. Make sure your ERP employs the available automation tools. This increases ROI in the long run.
Retail Businesses can successfully establish hassle-free, profitable eCommerce platforms with Magento ERP Integration. We are an ERP Development Company with an objective of strengthening business infrastructures with technology. Our services range from building full-fledged ERP systems to developing SaaS models for WFM, CRM, HRM, Accounting, eCommerce, and Finance software. We implement Magento, Odoo, ERPNext, Opentaps, Salesforce, Microsoft dynamics, and more for businesses as per their requirement and business strategy. Contact us for custom development, integration, and implementation services NOW!