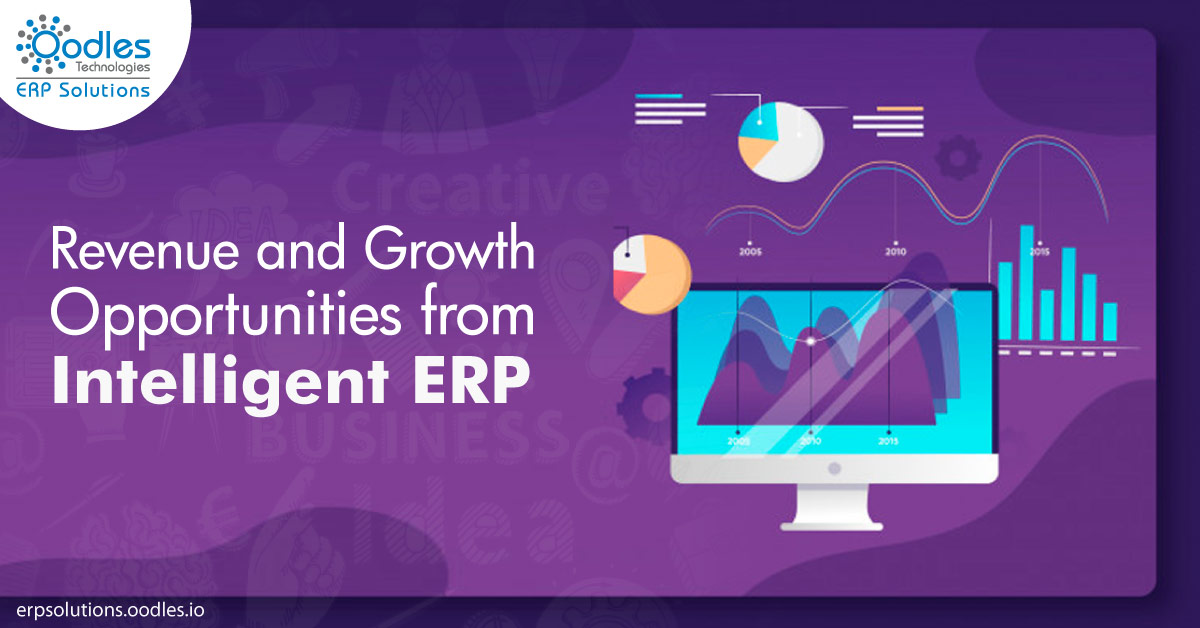 Revenue and Growth Opportunities from Intelligent ERP: An Overview
Marketing and innovation are the two core functions of a business. Adapting the new innovative business models is key to stay ahead in business and unlock the value of information. Intelligent ERP (Enterprise Resource Planning) is one such innovative technology that is now the backbone of the digital transformation. ERP is the next phase for enterprises which is replacing today's system of records with the new systems of intelligence. In this blog, we have covered the best revenue and growth opportunities from intelligent ERP.
Intelligent ERP differs from the legacy solutions because they are specifically designed to optimize and automate business processes. It handles customer demands and modern manufacturing in a far better way. Not only this, but it is also opening new revenue and growth opportunities for enterprises and preparing them for the future. Here are some of the best revenue and growth opportunities unlocked by intelligent ERP.
Intelligent ERP incorporates machine learning on leverage cloud deployments and massive data sets to manage data and computing. Before going further, let's have a look at the benefits and growth opportunities of Intelligent ERP:
Resource Optimization

Real-time analysis and decision making

Minimize operating cost

It will not only save time and money but will also produce better outcomes.

It will meet the needs of the customers and boost organizational efficiency.
Dimensions of Intelligent ERP:
User Experience Dimension: Conversational and Assistive

Data Dimension: Personalized, in-context access

Process Dimension: Automation, augmentation, and redefinition
Top Revenue and Growth Opportunities from Intelligent ERP
1.) Purchasing and Finance Revenue
From the evolution of ERP to Intelligent ERP, there comes an opportunity for better financing, cash management, and purchasing. There are massive savings for banks, buyers and suppliers. Enterprises are able to negotiate discounts and hence they count the savings as revenue. Sometimes enterprises also use the saved money for other efficiencies.
2.) Product Improvement Revenue
This is one of the best revenue opportunities from intelligent ERP. Intelligent ERP systems help the enterprises to make their product offerings more efficiently. This is done in two ways:
It gives automatic suggestions for improvement in terms of design changes or manufacturing adjustments.

These ERP systems make more data available to employees which certainly leads to development. Now, a user can directly ask a question to the computer and the computer will determine the context of the question and respond it with an appropriate answer.
3.) Field Service Revenue
Intelligent ERP improves equipment servicing like whether the machines are of the company or clients. Most of the manufacturing companies have been performing machinery maintenance based on certain time schedules. ERP systems with intelligence and machine learning will allow the servicing of their equipment on the basis of data that it is sending through its sensors and will not be time-based. Hence, it will reduce the major equipment failure.
Also Read:  Intelligent ERP – The Rise Of New Opportunities For Businesses
4.) Market share Revenue
Bigger businesses that have an intelligent ERP framework setup are enjoying numerous benefits coming with this latest technology. With the well-developed resource planning schemes, enterprises now introduced business intelligence that is helping them to build the infrastructure. It gives real-time information, which is a massive transformation because now there are no delays in data reporting. By analyzing and synthesizing relevant data, businesses have increased swiftness and improved decision making, which is a necessity in this competitive era.
5.) Protection from Revenue Interference
Manufacturing ERP functions at a high velocity and multiple work streams. For the execution of businesses schedule timely, it is necessary that all moving parts are precisely coordinated. If any part encounters a disruption, it can be very expensive for the company.
Relax! Intelligent ERP has all the solutions. ERP system with intelligence and machine learning can auto-correct any disruption issues that occur in the supply chain. It can also predict interferences even before they occur.
Let's Sum it Up!
Intelligent ERP offers machine learning and analytics that is making a huge difference in how businesses grow and reach to the next level.