This blog focuses on the impact of GDPR on ERP applications. 25 may 2018 is the day when GDPR came into effect in the European Union. GDPR stands for General Data Protection Regulation.
Firstly, Let's understand the term GDPR
GDPR is a set of new rules designed to provide EU and EEA citizens more power over their personal data. GDPR gives consumers the right to know when their personal data has been hacked. Under the terms of GDPR, a citizen has the right to know what data an organization has stored, and the right to get that data deleted. A company that is complying with GDPR, is obliged to inform a citizen if any breach happens to their data. This will help EU citizens to take appropriate steps to protect their data from the misuse.
How GDPR affects countries outside of EU?
If you are an organization that requires access to the EU citizens' data, then you need to comply with the rules set by GDPR. Any business with EU customers will get affected by GDPR. It may have a vital effect on the way the data is collected and used, how it is stored and protected to maintain the privacy of data.
Under GDPR rules, a company has to ensure that they are collecting personal data under legal and strict conditions. Also, the company, which is storing and managing it, is obliged to protect it from abuse and misuse. If failing in complying with GDPR rules, it can result in a fine up to 20 million euros to 4 percent of the company's annual global turnover.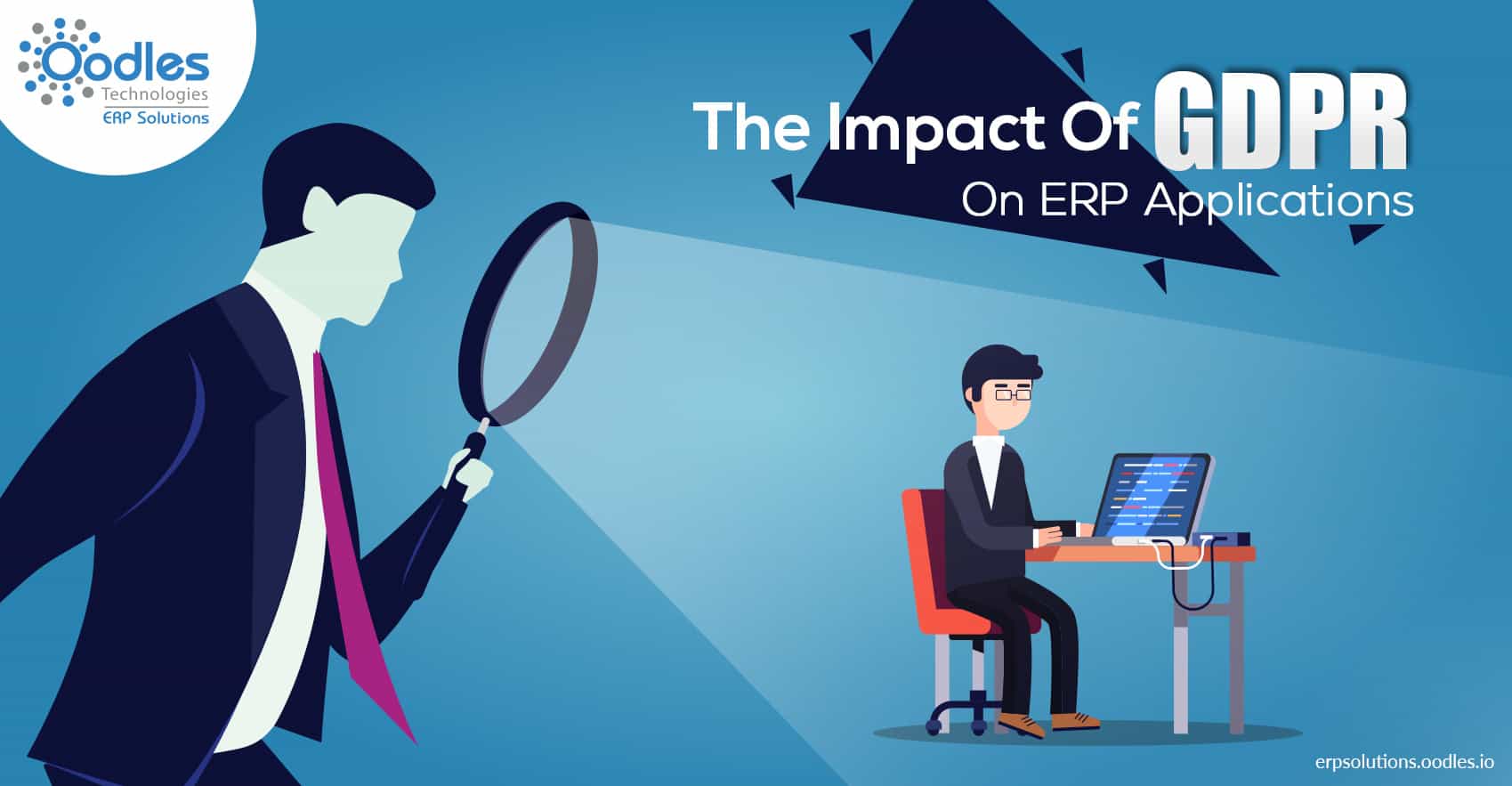 The Impact Of GDPR On ERP Applications
ERP systems are used by a large number of companies in today's business world. ERP maintains a database of customers as well as employee' information. All companies that are using ERP systems must have to examine how they are securing data. They need to look at what they need to change when complying with GDPR. It's time to be prepared for the influence of GDPR on ERP applications.
Let's look at some areas where GDPR will affect the way you manage ERP data :
The  effect of GDPR on ERP applications:
Data Management
An ERP system collects and manages massive data including customer data, employee data, and business data. If any kind of personal information is being collected into your ERP database system, especially that belongs to EU and EEA citizens, then your company has to inspect that GDPR compliance is in place.
Also, your company has to examine the methods and defensive measures that are being used to keep data secure. Under GDPR law, an organization must report to the relevant supervisory body within 72 hours when any data breach happens. It defines the policies which say that the data protection is the responsibility of a person or company who is using it. Thus, it will have a direct impact on the methods you are using to collect data and securing it.
Customers have rights to move their data as they want, the right to delete it and have it modified when it is not accurate.
Human resource and Human capital management
Human resource department deals with a lot of personal data. GDPR rules will have a profound impact on the personal data collected by your ERP software. If that data refers to EU citizens, it will come under the new GDPR legislation. This simply implies that you need to review your system and have to make modifications if needed for ensuring GDPR compliance. According to new regulations of GDPR, companies have to make sure that they keep data secure. In addition, you also need to take consent from the person whose data would be collected and utilized.
So what comes from personal data? The data stored by ERP systems that need to be protected under GDPR compliance includes identity information such as name, address, IP address, cookie data, health and genetic data; biometric data; racial or ethnic data, etc.
CRM
As you all may be aware of the fact that CRM software contains a vast amount of sensitive data (personal). It is vital that all organizations that have EU (European Union) customers are compliant with GDPR new rules right away as 25th may 2018, is the deadline for GDPR.
So, the current CRM systems used by companies should be ready to comply with new GDPR requirements. You might have to change your current ways of keeping and managing data to ensure compliance with the GDPR rules on privacy, security, transparency, and accountability.
Customers will trust your systems when they know their data is safe and that someone is responsible for it. Consequently, it will improve customer satisfaction and give them certainty that data is protected in the best way possible. In an incident of data being lost by a company, be it as a ramification of human mistake, cyber assault or anything else, the company is obliged to send a breach notification.
Conclusion
All companies that have ERP system installed must be prepared for GDPR. It's because it changes the whole way how you manage personal data of a person in your ERP systems. Since we have come to know the impact of GDPR on ERP applications, it's time to get serious about it. To deal with GDPR, you can start taking help of ERP vendors or consultants.