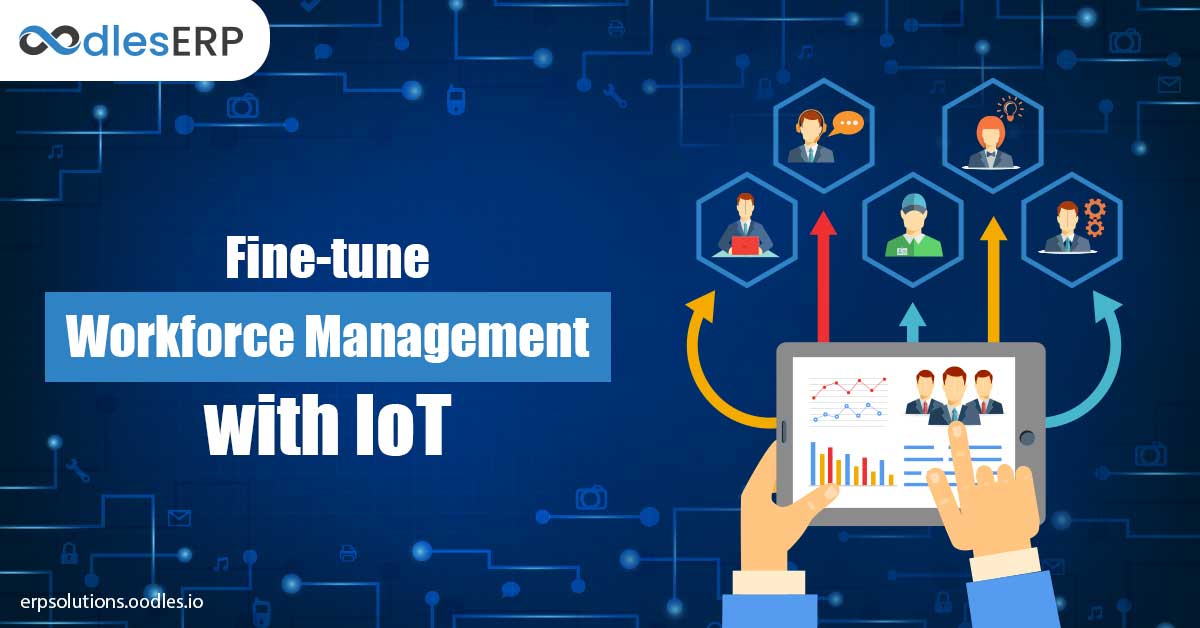 The workforce of any organization is the spine of all its operations that ultimately generate revenue and drive business growth. A smart, efficient, and well-formulated workforce management strategy is essential to amplify margins and improve the overall performance. A technology-driven workforce management system streamlines day-to-day processes like HR, training management, logistics, budgeting, forecasting, and analytics. Performance-based tools and software support enables firms to bring together all stakeholders on a single platform to supervise and streamline all actions. The internet of things(IoT) is one such technology that increases the efficiency of operations, thereby increasing workforce productivity. The applications of IoT range from remote health monitoring to asset management to environmental monitoring. An automated framework with such varied use can essentially aid the micro-management of the workforce to bring out the best work rate. Let's explore how an enterprise can fine-tune their workforce management with IoT.
Understanding IoT
Fundamentally, IoT is a network of digital devices, each with a unique ID and the potential to transfer data without human interaction. Embedded devices, sensors, wireless networks, machine learning, and real-time analytics are instrumental in manifesting systems where devices supporting an 'ecosystem' can be controlled using devices associated with that 'ecosystem'. An example is an automotive manufacturing enterprise where the manufacture of component parts is carried out across different geographical locations. Controlled by a central system, the existence of such a network is actualized by IoT devices that share data and implement decisions in real-time.
Architecturally, IoT ecosystems can be broadly classified into four layers- device layer, network layer, service layer, and content layer.
1. The cyber-physical system, sensors, and machines over the system form the device layer.
2. Data gathering and transfer occur in the network layer which consists of network buses, cloud platforms, and communication protocols.
3. The service layer processes and puts together data from the network layer using software applications.
4. The content layer is the user interface where information is perceived by a stakeholder on the driver dashboard.
Currently, a number of open source and paid for IoT frameworks in the market. They facilitate device management, cross-device interoperability, communication among software and hardware, data collection and analysis, and monitoring through the configuration of remote devices. A few examples of IoT frameworks are KAA IoT, Salesforce IoT, Oracle IoT, and Cisco IoT Cloud Connect.
Mobile workforce management with IoT
Mobile workforce management is the collective term for software and services that manage employees operating outside the company premises. Its primary purpose is the efficient distribution of the workforce across departments and office environments in an organization. Mobile devices, their acquisition, positioning, and management, in conjunction with the installation of mobile apps is the first step towards a mobile workforce. Once MWM is set up, managers can easily scrutinize employees and process and deploy essential software or resource person where required.
A cloud platform over wireless networks where managers can access the enterprise data is best suited for integrating workforce management with IoT. Mobile workforce management and IoT systems use the same ecosystem of cloud computing and communication protocols. While sensors gathering product data enable managers in resource deployment, embedded mobile systems can also track employee performance for the services assigned. Employees can log the start and completion of tasks, communicate with their supervisors and vice versa while being on-field as well be assigned tasks in real-time. Using a mobile application to access their task schedule as well as related product database streamlines operations and increases compliance.
As mobile workforce management and IoT are, therefore, used in integration, they provide flexibility and enhanced visibility in the organization. They also aid analytical tools to accurately predict profitable measures to be taken as regards employees and tasks assigned to them.
Benefits of Mobile workforce management
1. The data about the workforce, clients, and services is central to any enterprise's functionality. IoT brings together this data onto a mobile management system, aiding the workforce to become more effective and productive.
2. IoT integrates processes and generates a seamless workflow leading to the precise delivery of products and services.
3. Mobile workforce management aided by IoT provides marchine learning tools the big data that interpret real-time actions, and forecast future interactions. Predictive automation of mobile workforce management ups its efficiency as a system one more level.
4. It provides the opportunity to use services from remote locations.
5. Employee locations, time-stamps and key metrics of their work as recorded by analytical tools in MWM enables strategies for maximum output.
6. Connectivity together with easy and open communication makes the mobile workforce get past communication hurdles.
7. Interactive, user-level interfaces as dashboards chart out data in real-time enabling all-time visibility and scope of action.
Developing mobile workforce software solutions with Oodles
We are an ERP Development company with expertise in developing customized software solutions for our clients. Our custom development solutions enable businesses to automate, plan, collaborate, and execute their operations methodically.
Our Mobile Workforce Management services feature biometric integration, WFM overview dashboards, accurate forecasts, intelligent and automated scheduling, payroll integrations, and autopilot feature to automate your ERP requirements. Get in touch with our experts to create and upgrade your workforce management systems with IoT.