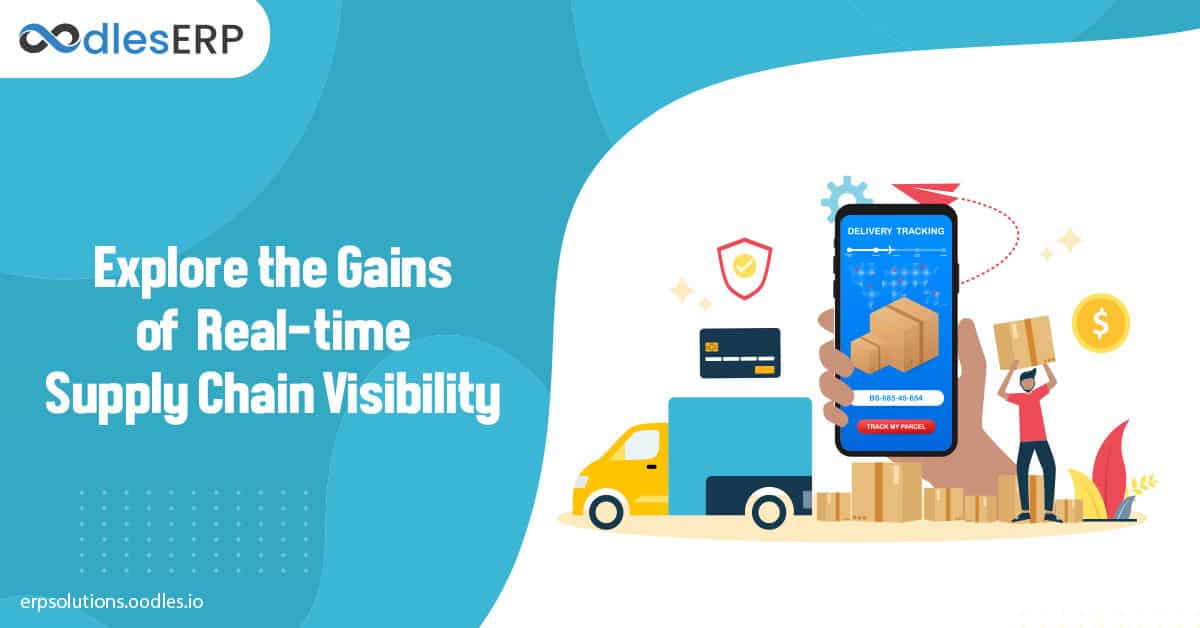 Developing a flexible, responsive, and adaptive supply chain application is essential to overcome the complex enterprise challenges in manufacturing, retail, and e-commerce industries. Deploying management strategies across an extensive network means companies are often playing catch-up with planning and production hurdles. Developing a supply chain application provides greater visibility into a company's inbound/outbound processes. It enables enterprises to track their day-to-day activities in logistics, routing, shipping, inventory, and warehouse management.  In this blog post, we highlight the benefits  of real-time supply chain visibilty.
At Oodles ERP, we receive several requests for cross-platform supply chain software development. Over the years, we have successfully completed several SCM development projects for startups and small-to-medium enterprises (SMEs) from across the globe. Our supply chain software development services enable businesses to build a secure and scalable supply chain that streamlines complex enterprise processes.
Key Benefits of Real-Time Supply Chain Visibility
1. Central Control and Easy Complete Access = Transparency
The supply chain forms an extensive network of suppliers, vendors, traders, warehouse managers, shipping companies, and retailers. The diverse levels of operation in supply chain management elicit added value or loss from efficiency or expense at each level. The advent of next-gen technologies has provided unmitigated visibility over the entire supply network, yielding better decision making. It enables businesses to focus on their core operations by automating complex supply chain processes.
Managers can immediately access real time data from any part of the SCM through a centralized supply chain software. Consequently, the allocation of products and services becomes smooth. The entire process is automated from acquisition of raw material to the production and sale of goods to minimize the overall expenditure. As a result, the whole system  becomes transparent, enabling businesses to ensure that their product quality matches the dynamically changing consumer needs.
Oodles' supply chain application development services provide greater visibility over the supply chain processes with end-to-end customizations.
2. Data Visualization at Its Best
As of today, various business entities like enterprises, shipping services, carriers, and customers expect real-time visibility into the supply chain. Setting up enhanced, round-the-clock data access requires customized tools for effortless functioning. These tools capacitate integration of data into different levels of the SCM, spontaneously presenting sizable data sets in a consumer-friendly way. For example, the movement perishable goods can be monitored on a mobile device through a simple quality checklist. This checklist is automatically updated every time the shipment is scanned at a warehouse or a shipping centre. Another role of data visualization tools is to build analytical dashboards and scrutinize inputs effectively. Assessing weekly and monthly progress and deviations, therefore, becomes hassle free.
We, at Oodles, provide 360-degree logistics and supply chain software development solutions to enhance interoperability with increased security, visibility, and traceability. Our software solutions enable businesses to redirect consignments, communicate shipment status and curb waste through an easy-to-use interface.
3. Integrated Information System
SCM software development is the foundation of an efficiently integrated and accessible supply chain system. Upon carefully analyzing the product shipment cycle, we discover several business functions and facilities that take part in the process. Communication between them using the right tools is vital for businesses to take stock of freight statistics. In order to build intelligent solutions and platforms, we need analytical and collaborative tools integrated with databases from each operation level. Handling the system becomes challenging as more and more real-time data comes into play.
At Oodles, we build intelligent enterprise software to overcome complex enterprise challenges and remove potential business hurdles. Consequently, enterprises achieve improved operational efficiency and better customer experience.
4. Compatible With Industry 4.0
In the course of the fourth industrial revolution, the survival of an industry is a correlative of an intelligent design. An AI-based supply chain software development solution provides a smart way to manage SCM  processes with increased automation and interoperability. Gaining real-time visibility into the supply chain using IoT and RFID tracking yields a supply chain that accurately responds to the dynamic business requirements. Thanks to the use of machine learning in intelligent systems, responses are auto-optimized across the substantial data sets.
We provide fulls-scale SCM app development solutions using Industry 4.0 technologies like Blockchain, AI, IoT, and Cloud to drive significant enterprise growth.
5. Economy and Efficiency = Less Costs, Faster Service
Developing supply chain software enables enterprises to eliminate manual manipulation of data. It reduces labour and accelerates shipping services through automation. For example, attaching tracking tags to cargo aids in radio frequency identification. RFID tags consist of a radio transmitter, transponder, and receiver that enable scanning these tags at each station. Live tracking of shipment at all levels, thus warrants a competitive edge without extra inventory, risk or overhead.
Augmented with intelligent systems, the use of non contact, unique identification technologies  further translates into faster service and improved logistics.
6.Multi-nodal Support
A shipment tracked from procurement to final delivery provides the complete picture of real-time supply chain visibility. It includes processing of raw material into a finished good and the consecutive channels through which a product passes. Businesses can use diverse modes of shipping but require a single platform to view their progress. One advantageous feature of developing a supply chain management software is the integration of all multi-nodal networks into a single platform.
Every detail about the product that a business produces can be found at on e place. The resulting homogenized system is an unparalleled asset to Oodles ERP's supply chain management.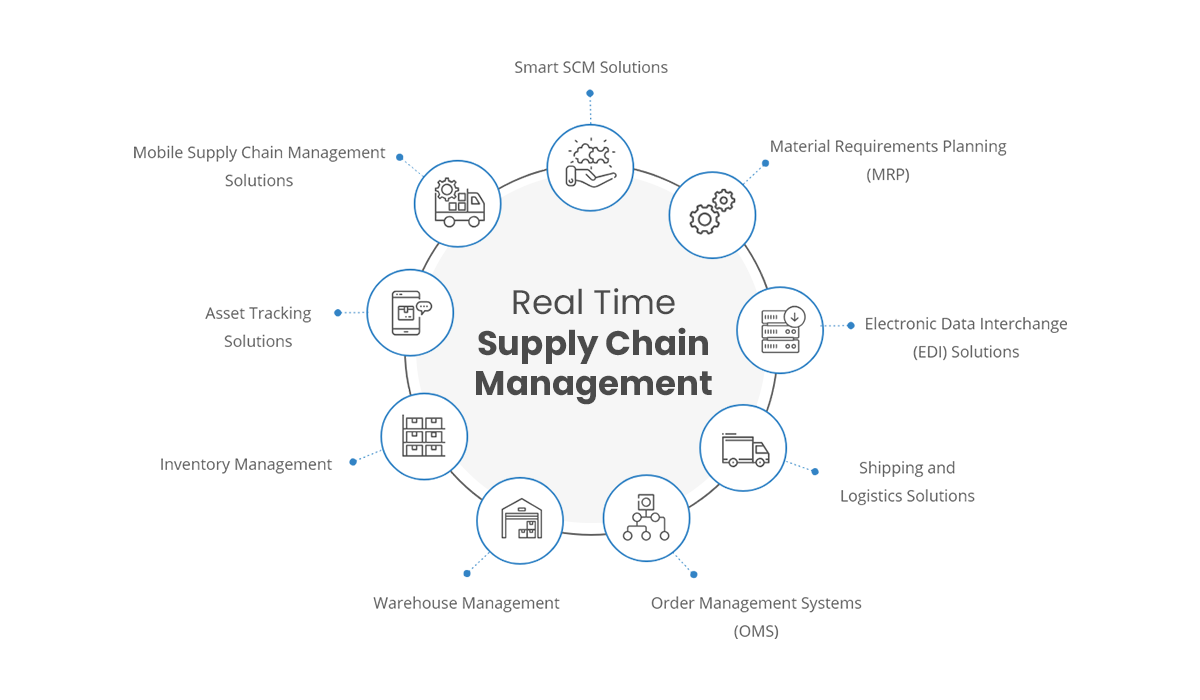 Avail Our Supply Chain Software Development Services To Boost Your ROI
At Oodles, our primary concern is meeting your business requirements with our data-driven development techniques. We customize ERP solutions to fill the gaps in your workflow to meet augmented system requirements. We provide on-the-go supply chain access with our end-to-end customized ERP development services.
Our tools consist of open-source platforms like Odoo and Ofbiz. Our SCM solutions include Electronic Data Interchange (EDI), Inventory Management Systems, and Order Management Systems (OMS). We use Odoo customization services and Odoo application development for enhanced agility, management, and customer satisfaction.