Since traditional times, the inventory management processes have always relied on human interpretation. Ordering inventory, controlling the amount of product for sale, stocks in hand, work in progress, and other important inventory management details were used to get written on paper and files. Such practices are prone to human errors and data redundancy. Yet, scads of companies keep on using these old-fashioned practices. But to make inventory management better, ERP Integration With Inventory and Warehouse Management plays an important role that further augments inventory and warehouse management.
Importance of inventory and Warehouse Management for your firm
Inventory is the most valuable asset to your company. Having control over the inventory is vital to get the centralized view of inventory management services. An efficient inventory management serves an important purpose that is to determine the health of the supply chain as well as the financial health of the balance sheet. Every company faces numerous challenges while managing inventory and warehouse processes such as keeping track of all of the inventory, orders, vendors and more. But ERP integration with  Inventory And Warehouse Management will give you the capability to control and plan inventory more effectively.
Overall, Integrating ERP solutions with Inventory and Warehousing management processes helps your company to plan production effectively, minimize labor costs, reduce human errors that are resulting from manual work.
Here are the benefits of ERP Integration With Inventory and Warehouse Management :
1. Minimizes Redundancy in data
If you are storing information in multiple databases then there might be a need to reconcile data. The cases of data redundancy can happen as a result of discrepancies in inventory numbers provided by inventory and warehouse management or an ERP system solution. Now with this, would you be able to take right decisions? Making decisions based on false data can prove to be costly on many levels for your business. However, the integration of an ERP system with your inventory and warehouse management will provide you with updated inventory information and accurate data directly into the ERP system. Hence, it gives everyone the power to access accurate data in real-time whether you are in office or warehouse.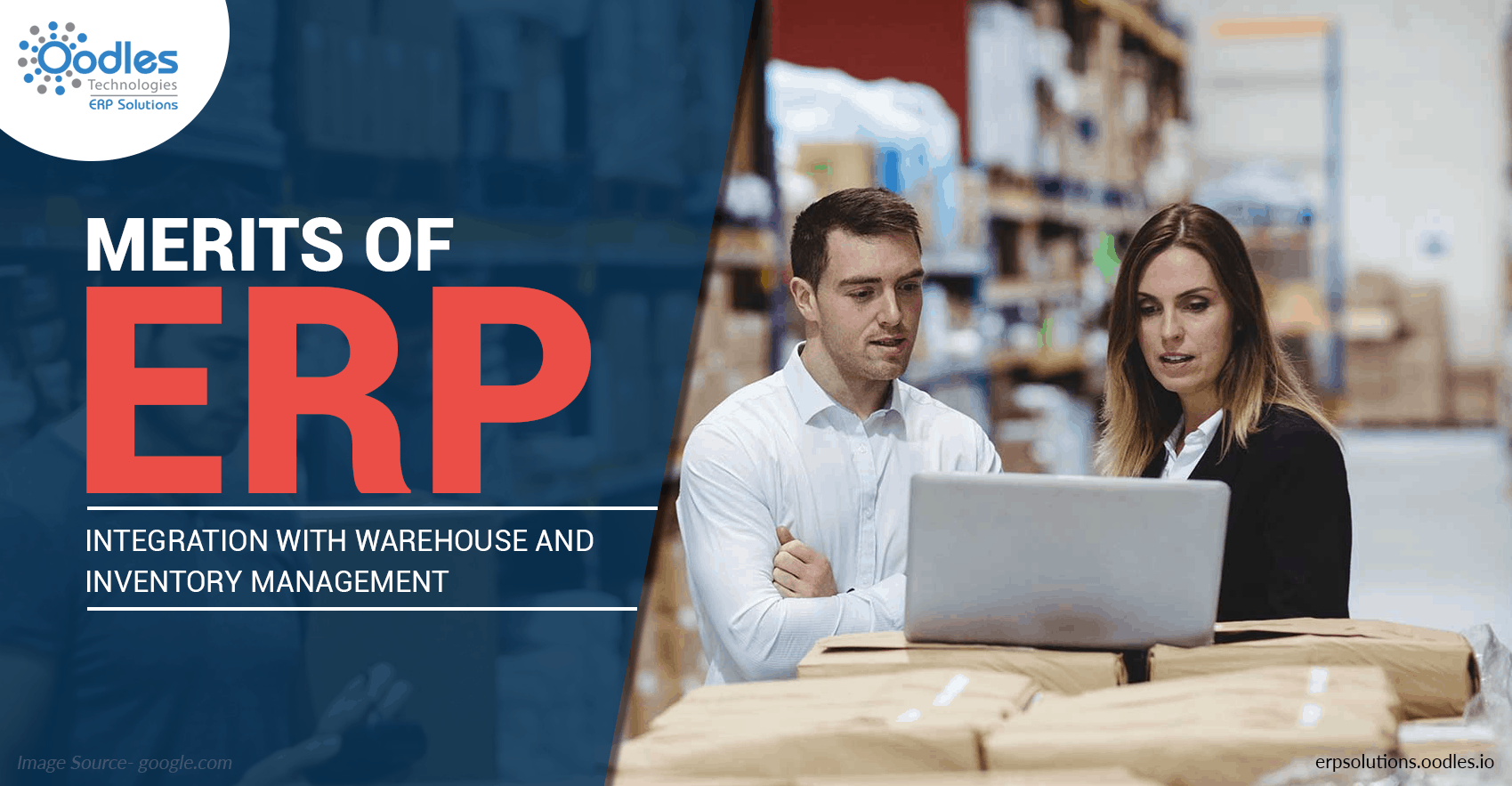 Merits Of ERP integration with inventory and Warehouse management
2. Optimised inventory
What stock quantity is on hand? Where is it? Is it at the right location on right time? When you have produced stock quantity in excess or inadequacy, both can do certain damage to a business. Thus, it becomes essential to have the right mix and the right amount of inventory in hand. Inventory management should work on time to handle short-lived products. ERP integrated inventory and warehousing management solutions are what you need for a healthy supply chain as it allows to plan production properly. It guarantees that the recorded inventory is accurate at any point in real time and thus, decisions regarding purchasing of products can be made tactfully. You can avoid unnecessary wastages as you know when to buy a product.
3. Improved and Accurate Financial Reporting
Inventory and stocks, in all of their phases, are a significant part of financial reports. Whether it is a finished good or raw material, all kinds of inventory hold a monetary value. ERP inventory management system  and warehouse solutions make sure that your annual reports and tax returns are accurate. Fully integrated ERP inventory solutions can help you determine that the recorded monetary value in your books matches the physical value in your warehouse. Integrating the transactions into your inventory system with your back-office chart of accounts can be the only method to ensure the accuracy of financial reporting.
Stop using outdated methods for inventory and warehouse management processes. Now, manage your surplus inventory better, achieve high-level tracking of inventory, get accurate and up-to-date data in real time, and more, all these features you get when you use our ERP Warehouse and Inventory management Solutions.
Tags:
ERP inventory management system
,
inventory management services
,
inventory management Solutions