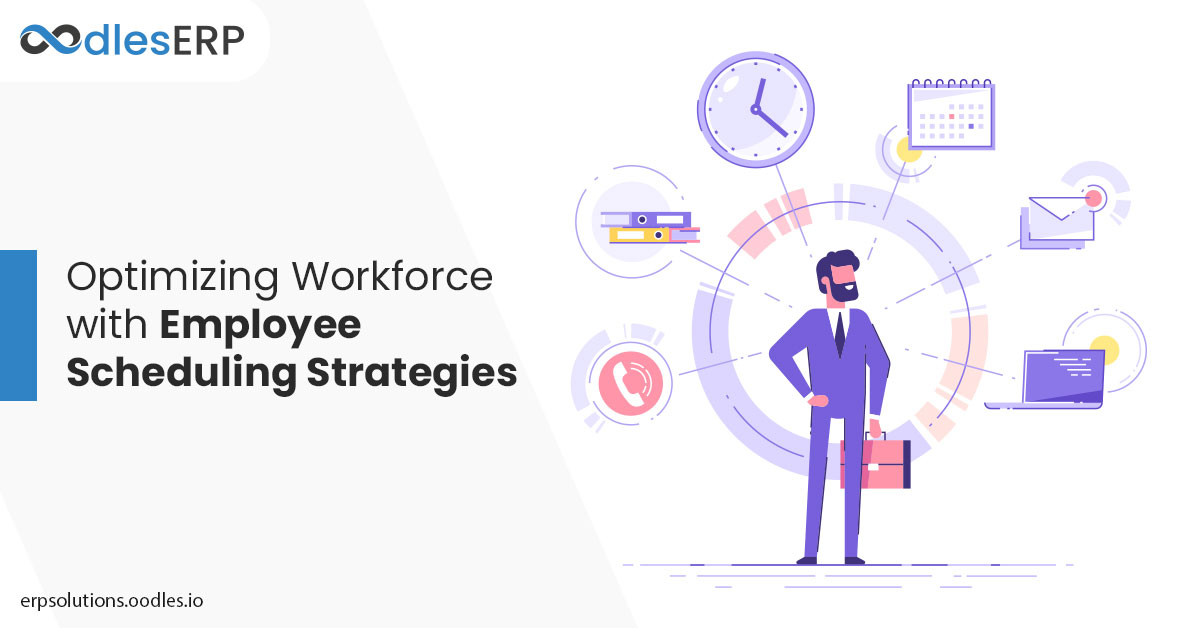 The importance of strategic workforce scheduling continues to grow in every business vertical. Automatic scheduling systems enable business associates to create and manage an effective schedule by taking into account the business requirements, employee requirements, and scheduling rules. Let's explore how employee scheduling strategies can optimize the workforce and increase productivity. 
We program the workforce management system to fulfill big and small workforce management requirements for different business verticals. Our custom workforce solutions focus on improving organizational efficiency by simplifying HR administration and payroll activities. 
Key Steps to Create Effective Employee Scheduling Strategies
Determine Employee Requirements
To create effective employee scheduling strategies, it is critical to understand the labor resources that can meet the goals of an organization. Here are some key scenarios to ensure resources are allocated in the right way.
Identify Trends to Apply to Current Planning Efforts
Reviewing data from past scheduling periods enables managers to anticipate employee requirements and create schedules fairly.
Determine Resources on the Basis of Location and Shift Duration
There are numerous ways to define a particular location. Managers should categorize locations clearly and consistently. Managers can organize resources for each role in many ways including the use of a spreadsheet, the grid on a whiteboard or online scheduling software. 
Define Required Qualifications for Every Shift
If business managers have a plan for qualifying people for shifts, they can schedule the right employees at the right time. 
Integrated Time and Attendance
Using workforce management software to track time and attendance improves the efficiency of the workforce scheduling processes via automation. 
Assess Resource Pool
Once the organization accesses the exact requirements, they can access whether their current labor resources are able to match the requirements. In addition to the hourly workers, managers may need to factor non-personnel resources at this stage. Check out the key factors before making any assessment. 
Identify the upcoming event that can impact employee availability. For instance, if a three-day weekend is approaching, the labor pool can be smaller than usual.
Accurately predicting resource requirements is critical. It can get complicated when non-personnel resources, fluctuating demands, and employee needs are involved. Workforce scheduling software is a suitable choice to deal with complex scheduling environments. Business managers can use algorithms of Shiftboard's demand planner to forecast resources based on historical patterns.
Define Scheduling Rules
Regulations, policies, and processes are considerable factors for making a work schedule. Certifications, seniority, locations and overtime status are common factors that need to be reflected in the hourly schedule. 
Assigning Employee Shifts
Assigning employee shifts can be time-consuming depending on the scheduling complexity, workforce size and level of automation. Here is a key criterion to maximize the results.
Approach: Bottom-up scheduling that enables staff to choose open shifts they are qualified for, is an effective approach. It can reduce scheduling effort and increase employee satisfaction and retention. 
Scheduling Rules: Apply the defined scheduling rules. Managers may consider seniority, overtime and other rules specific to the organization. 
Qualifications: Managers should ensure that employees have the defined skills and competencies to meet the specific shift requirements. Scheduling employees with expired credentials can lead to significant legal risks and hefty fines. 
Automating Shift Assignment: Assigning shifts is a time-consuming part of the scheduling process. Employee scheduling software can make this process easier and efficient. It has the ability to auto-assign shifts based on a variety of rules. 
Preferences: Taking employee preferences into account can reduce change requests. It improves employee satisfaction and minimizes absenteeism and turnover. 
Choosing the Right Workforce Management Software with Oodles
Efficiently tracking time and attendance, creating best-fit schedules, measuring productivity and administering absence and leave is essential to manage and retain a high performing workforce. Choosing the right workforce management software is critical for creating employee scheduling strategies. 
We are an ERP development company that provides custom workforce management solutions to drive business outcomes by engaging employees, controlling labor costs, minimizing compliance risks, and increasing productivity. Our workforce management development services include automated attendance tracking, applicant tracking, absence management, fatigue management, automated scheduling, and payroll integrations. 
Get in touch with our ERP development team to avail the benefits of employee scheduling strategies!