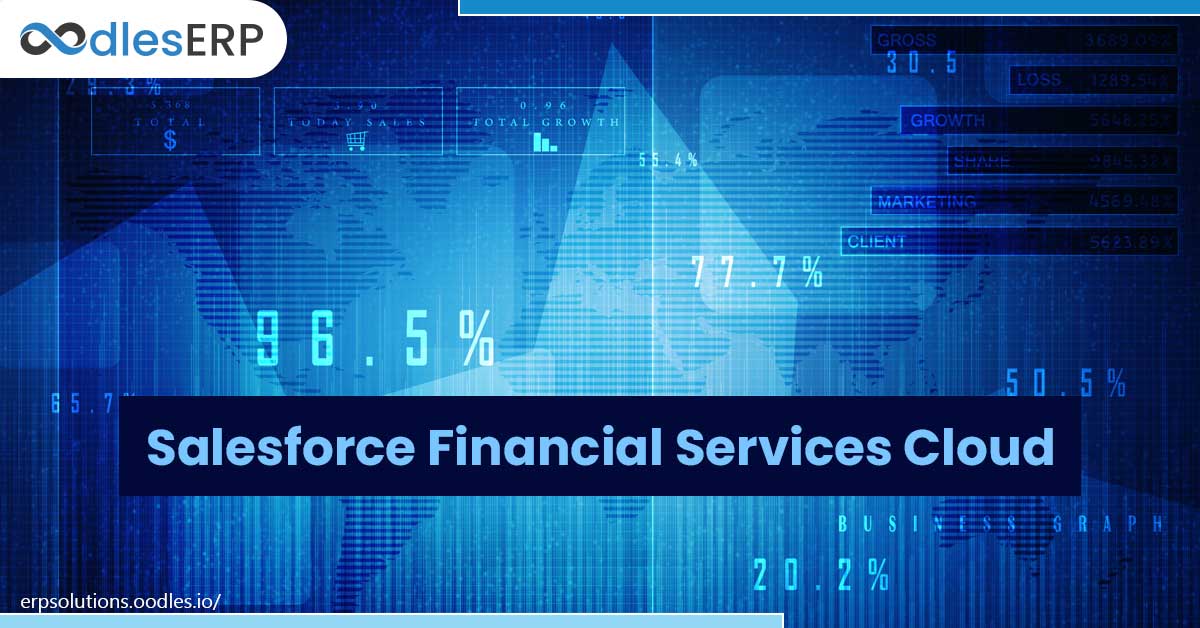 One of the most remunerative sectors in the industry, wealth management is of critical importance to affluent clients. Even with high prospects of growth and return on equity, wealth consulting and investment products face several disruptions while furnishing high achieving assets for their clients. As wealth management businesses witness a wave of technologically aware investors, new methods for client relationship and risk management have emerged. WM firms now employ software solutions with advanced analytics and a combination of human-machine advice.
Salesforce Financial Services Cloud is one such high-touch CRM and wealth management software with robust and secure services architecture. At Oodles, we provide certified salesforce development services to WM firms for building valuable client relationships with Salesforce CRM and Financial Services Cloud. Let's get an insight into the features and benefits of the Salesforce Financial Services Cloud for client relationship and wealth management.
Features of Salesforce Financial Services Cloud:
    >Salesforce Shield capabilities
Part of the Salesforce platform, the Salesforce financial services cloud comes with Salesforce Shield capabilities of platform encryption, event monitoring, and field audit trail. It provides three-fold security for business data by:
1. Native encryption of sensitive data across Salesforce apps with encrypted data permissions for authorized users,
2. Providing access to all data interactions with identity and location tags
3. Audit trail backed by Big data for regulatory compliance, audit, governance, and customer service
    > Einstein
The Salesforce financial services cloud platform uses an AI algorithm called Einstein. It manages all the infrastructure, modeling, and data required for forecasting models across Salesforce applications. Using technology for image recognition (Einstein Vision)  and natural language processing (Einstein Language), it aids the design of AI-powered application. Along with Einstein Prediction Builder, they contribute to creating custom AI models.
    >Einstein Analytics
Einstein Analytics is Salesforce's AI (Einstein)-powered advanced analytics tool. It comes with the ability to:
1. Manage Big data
2. Query data with Salesforce Analytics Query Language (SAQL)
3. Build intelligent customized apps in multiple languages
4. Pull real-time insights from client data dashboards
5. Utilize our APIs and SDKs to enhance your app
6. Connect to external data sources to see all of your data in one place
    >Business to Client Data Model
Salesforce bases its data model on a structured and flexible B2C approach. It's an amalgamation of different data models and can be, therefore referred to as the financial service cloud-managed package data model. It comes with quick access to tear sheets, financial accounts, and more for clients as client financials and relationships are modeled by custom objects. It enables wealth management advisors and firms to collaborate with clients on financial goals with personalized service in real-time. At Oodles, our developers smoothly build client models with our top-notch Salesforce Implementation Services.
 Benefits of Salesforce Financial Services Cloud

    > Defined Client Relationship Management
With the best networking and analytical tools in the industry, the Financial Services Cloud models client base to ensure promisings leads. Managing client models and their relationships makes it easy for wealth management firms to maintain client relationships based on high performing assets. the Financial Services Cloud provides real-time access to reports and dashboards for communication as well as general access to the client, thus ensuring real-time client engagement.
>Multiple layers of security
Equipped with Salesforce Shield, the Financial Service Cloud provides three layers of security. Platform encryption encrypts critical business data and allows encrypted access with authorization. Events Monitoring lets the admin view performance, security, and usage data on a data visualization application. With granular details of user activity, the Events log file helps safeguard data by rapidly identifying abnormal behaviors. With Field Audit trails, companies can create forensic-data level audit with years of history.
  >Manage Regulatory Compliance
The financial services cloud automates keeping up with compliance regulations with an option to set up alerts for new standards. All its security and data access measures meet internal and external regulatory standards.
>Customizable Mobile application
The Salesforce Financial Services Cloud allows developers to build intelligent, customizable applications in their preferred programming language. It provides templates for dashboards, wizards for interactive widgets, and layout builders for optimizing dashboard devices. These applications can be both web-based and mobile.
Closing Remarks
The Salesforce Financial Services Cloud, with its integrated dashboards and Einstein AI, assists wealth management businesses to build and maintain valuable relationships with affluent clients.
We are a Salesforce development company that provides Custom CRM development services. Our certified salesforce development services enable clients to maximize their sales benefits by implementing the Financial Services Cloud. Get in touch with our experts to avail our Salesforce development and implementation services.