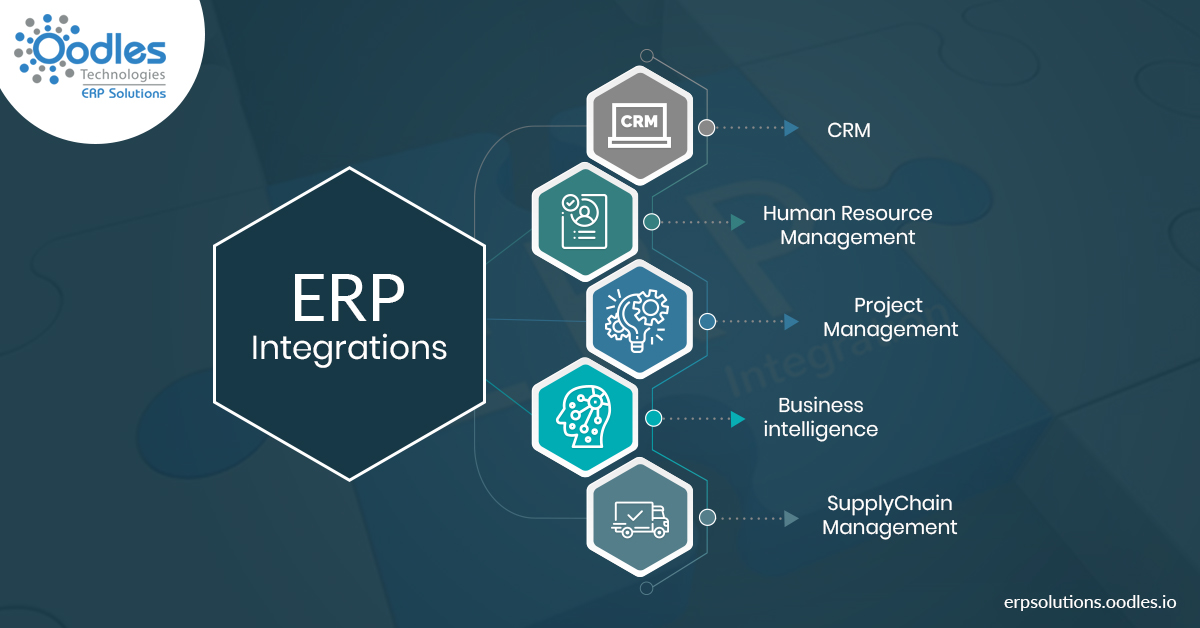 If you think that using only the ERP system is what you need to streamline your business operations and boost productivity, then you're heading in the wrong direction.  ERP integrations are one of the vital reasons behind the smooth running of a business and its operations. Companies often face most problems in ERP integration with other systems to meet their unique and growing demands. ERP system has a comprehensive database that stores information and enables the sharing of this information. In organizations, there are different kinds of systems working separately. During ERP implementation, there comes a time when these systems need to have interaction with legacy or 3rd party systems. Without interconnecting these systems, there will be inconsistent data flow. The integration of ERP system with other systems help make your business operations run smoothly and efficiently.
ERP integrations are done with the sole aim of bringing one ERP system with another system to have consistent data and automating various tasks that reduce man-hours.
Also, ERP software integration allows employees from other departments (Sales, HR, E-commerce) to have access to information from a single database. This saves time spent on finding information as all of it will be available on the single location.
For better utilization of your ERP systems, integration with third-party systems is ideal for more smooth operations.
Below are the most important ERP integrations to be adopted by a company:
1. Human resources
HR department handles and manages most extensive back office needs and operations regarding all employees in the company. ERP and HR system integration will ensure efficient workflow in the organization. Interconnecting HR software capabilities with the ERP system can help you keep track of all back-office tasks.
2. Business Intelligence
Companies make use of Business Intelligence (BI) tools to leverage big data and cloud computing for simplifying complex data analysis and drawing out meaningful metrics. It helps to find out useful insights out of massive data that make your business do excellent business decisions and practices. Thus, integrating ERP solutions with BI enables organizations to have access to insights at any time and or any data.
3. Supply chain management
Businesses' success inextricably depends on the performance of its supply chain processes. Supply Chain Managers need to interact with numerous suppliers and partners in order to obtain the raw materials and resources needed to bring finished goods to market. Integration of ERP with SCM software will help to remove inefficiency, increase speed and improve customer satisfaction. ERP and SCM integration provides greater visibility into the supply chain and in turn, reduces wastage of material because waste is easily identified.
4. CRM
The most important thing to successfully run a business is its satisfied and happy customers. So, it's also vital to provide excellent customer services. A business should have proper communication with its customer base to solve their any query and provide them with better services. Without any doubt, CRM and ERP integration are one of the most common integrations to enhance your customer experience. Therefore, integrate your CRM with ERP to drive more sales and convert your leads into buyers.
5. Project management
Several ERP systems come with a few project management solutions. This integration is so effective because it enables you to manage and access all of your business tasks, processes, and workflows under one location. Your business team can see all projects data at any time, check their progress, and know everything about them.  So, it will save time and make your employees work speedily.
Read Next: Top Questions To Ask Before Implementing ERP Systems