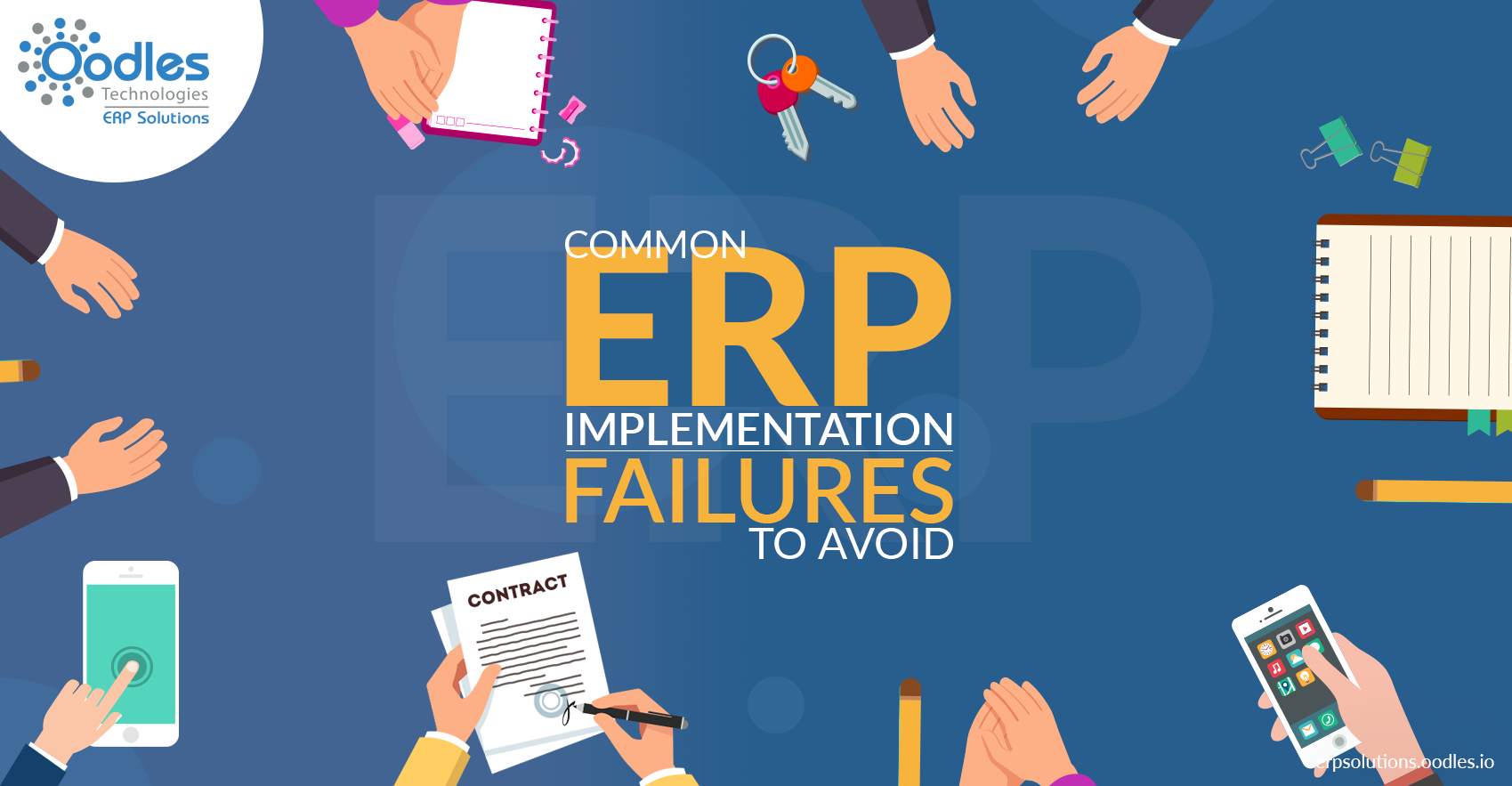 Implementing a new ERP system is a complex process, especially if the system is designed to meet specific business needs and demands. ERP implementations are not only a costly endeavor but also take much longer time. That's why ERP implementation should not be undertaken lightly. There are a lot more things to deal with when you decide to implement an ERP software to streamline your business processes. Several ERP implementation projects fail eventually and do not deliver what is expected of them. As estimated by Gartner (IT market research organization), between 55-75% ERP IT projects fail to meet their targets. Why are ERP implementation failures common to see?
In the following piece of content, I will share some of the most common ERP implementation failures that happen. And how you can avoid it to ensure the success of your ERP system.
Common ERP implementation failures and how to ensure their success:
1. Leadership support and good project management
The success of ERP implementation depends on effective project management. Besides the fact that its implementation is costly, it can be a highly tensed work, that needs to be done successfully by top-level managers. Also, other problems coming in the deployment process should be solved within timeframes. A lack of leadership buy-in mostly results in the failure of ERP implementations. Thus, it is essential that project managers or top management give full support to deal with all of these and take responsibility for realistic project timescales.
2. Understand what you want from your ERP software
It is imperative that you select a right ERP system for your business needs to prevent ERP implementation failures. ERP market is flooded with a lot of ERP software solutions. With so many options, a buyer can get easily confused. Some systems are designed to focus on entire industries and others parts of specific industries.
To choose the best ERP, businesses should first need to consider an ERP consultant. An ERP implementation expert company can help you with all the questions you have in your mind and get clear answers on that. What is your end-goal? Are your goals realistic? If you deploy ERP, to what extent your business will grow, short term or long term? There should be complete clarity on what you want your ERP to do for your business.
3. Establish effective Change management Techniques
A new ERP implementation project will ensure success when your users or employees understand what benefits a new system can provide for the company and for their lives. You need to explain your employees about new objectives of a company and how they are interrelated with it. What opportunities can arise for their business with an ERP implementation? Lastly, identify what mostly impacts your user community. And most importantly, they must be knowledgeable about an ERP system.
4. Trust only Real ERP experts and give extensive training to users
An ERP system has a lot of existing complexities. Those who are implementing an ERP software must be highly skilled and knowledgeable. Thus,  for successful ERP implementation, you need to have expertise that pays attention to only products your company is going to implement.
It is impossible to prevent ERP implement failures when your employees and users do not have understanding and proficiency to operate the new business software. Lack of expertise can cause improper operations by the users. If you have a team of staff who is capable enough to face any challenge and handle any issues, it will help you to ensure continuous operability. Thus, it is important to have a well-trained staff.
We, at Oodles technologies, are ERP experts in providing efficient and customized ERP software solutions. Are you too facing challenges in ERP implementation? We are here to help you with our Expert ERP consultant services. Contact us.