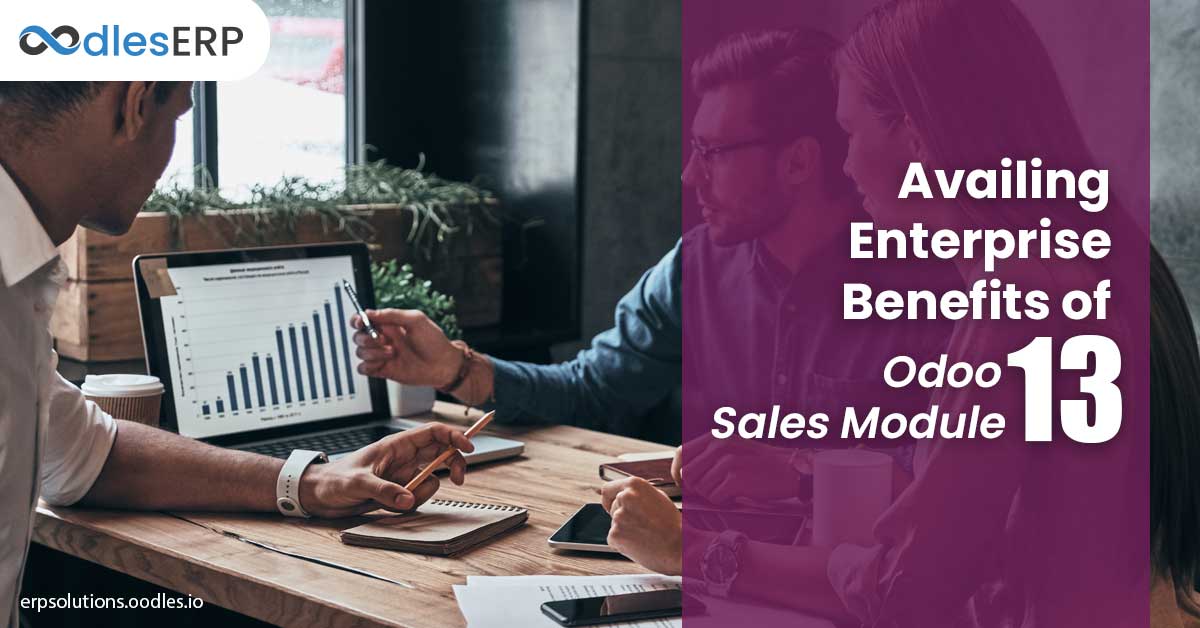 Odoo is an integrated business application platform with about 30 core modules and more than 3000 community apps. Integrating Odoo 13 modules accelerates Enterprise Resource Planning (ERP) software development, custom suited to business requirements. Odoo sales module improves the hierarchical management of the sales orders by automatically generating quotations, invoices, and sales reports. Each module that Odoo's platform integrates is interconnected and responsive to changes in related modules. At Oodles, our developers integrate Odoo 13 Sales Module into your custom-designed ERP software to streamline your sales process. A powerful stack of 10,000+ Odoo supported applications back our Odoo development services. 
Below is a step-by-step process that we follow to configure and integrate the Odoo 13 sales module into enterprise sales processes.
Configuring Odoo13 Sales Module
At Oodles, we undertake Odoo Application Development with all key features in Odoo for a fully customizable development for your business. Odoo13 Sales module features a number of configurations that ensure a streamlined sales-flow from quotations to delivery. Let's take a look at how to configure some of them.
1. Creating quotations
Go to Sales
Click on Orders > Quotations
Click on Create tab
Fill up all the required fields. Assign products.
Under the Order line tab, fill in the quantity of the product, unit price, and taxes.
<Save>
2. Pricing
Go to Sales > Configuration
Click on  Settings > Pricing
Under 'Pricing' check 'Discounts' and 'Pricelist' boxes.
Once activated, Pricelist provides alternatives like single sales price per product, prices with dependables like customer segment and currency, and advanced pricing based on formulae.
Fill in the apt details, <Save> and view changes reflected on Accounting and Warehouse modules as well. Any time a sale is confirmed, the Sales module can yield the invoice.
3. Set up sales margin
To set up sales margin, go to
Sales > Configuration
Click on Settings tab > Margin > Check 'Display margins on quotations and sales orders' option
<Save>
4. Manage Order Upsell
In order to manage invoicing policy on upsells, go to
Sales > Invoicing > Click on Orders to Upsell menu and select from the list.
<Save>
5. Enabling multiple address fields
To allow different addresses for the customer, invoice and delivery, go to
Sales > Configuration
Click on Settings tab > Address, check the 'Display 3 fields..' option
6. Delivery method
For configuring a delivery method, go to
Sales > Configuration
Click on Delivery methods tab > Create
                    Fill up the required fields.
Label it active before publishing on the website.
<Save>
 7. Next activity
Odoo13 sales module allows to set up succeeding activities for openings and leads in the pipeline. Just go to
Sales > Configuration
Click on Leads and Opportunities
Go to Activities > Create
Supply the given fields(Number of days, Sales team, Description, Recommended Next Activities) with relevant data
<Save>
8. Sales reports
For looking at the sales report, go to
Sales > Reporting
Click on Sales Orders
With the aid of various filters in the module, you can observe and evaluate sales over a period of time. It also supports the provision for grouping and adding new filters.
<Save>
Odoo 13 vs Odoo 12
The upgraded Odoo 13 has multiple additions and alterations in its interface and tools:
i) Odoo 13 has a new widget- Calculator.
It assists in all arithmetic operations for sales and purchase orders.
ii) Smart buttons are now placed at the top of the window.
iii) There is now a new smart button called 'Customer Preview'.
iv) The sales module now has a new tab called 'Customer Signature'.
v) Odoo 13 has the sales coupons and promotion module in the community edition. It was in the enterprise edition in Odoo 12.
vi) Invoices for successful payments can now be easily identified with a green ribbon.
vii) A new tab is introduced in the Purchase module- 'Orders and Control'.
viii) The Purchase tab has been removed from the Purchase module. Instead, the 'Products' tab is introduced.
With a wider scope of Utilization than most earlier versions of Odoo, Odoo 13 is invariably the ERP platform to choose.
Implement Odoo 13 Sales module with Oodles
We are an ERP Development Company with the goal of streamlining enterprise operations to maximize growth and profit. Our Odoo development services range from end to end ERP implementation to developing custom modules, and providing maintenance and support. Overcome all operational hiccups in Sales with our expertise in integrating the Odoo 13 Sales module int your ERP. Get in touch with us now.