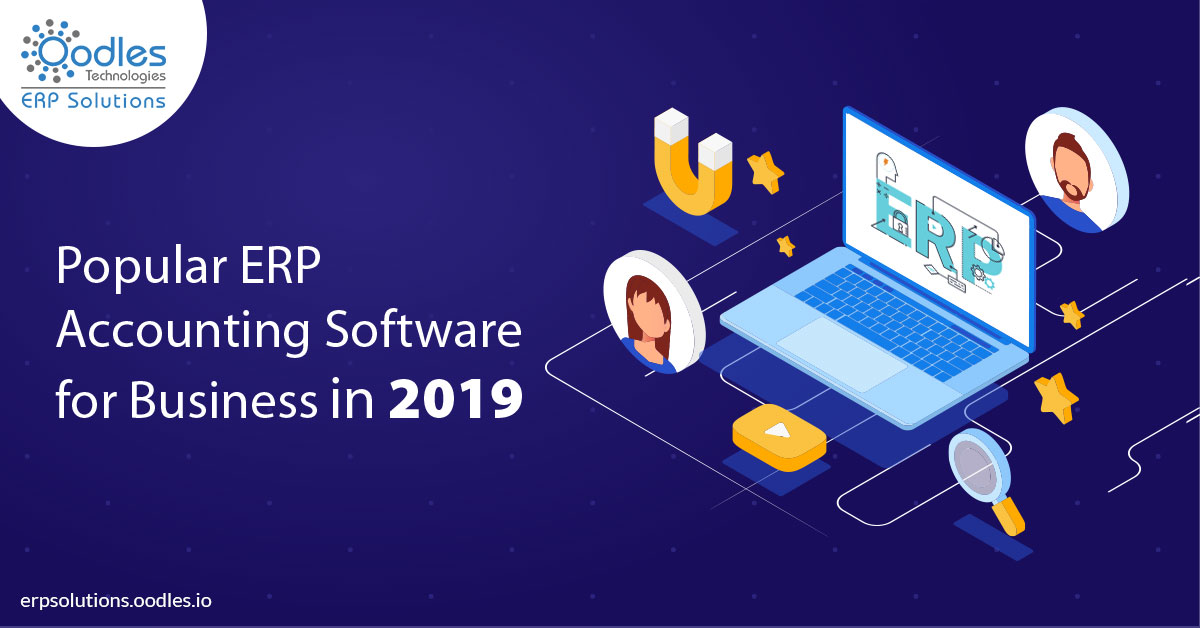 ERP Accounting Software for Business: An Overview
Accounting management is an important aspect of any business. It is the key area that drives your business forward. Nowadays, most of the ERP systems offer basic accounting software as an entry-level package. But as the business grows, the requirement for automating processes and recording data also grows. Now for smooth functioning, specific modules are added into ERP. Accounting management is one such module of ERP, specifically designed to deal with financial management, budgeting, and other things. Here, in this blog, you will come across some of the popular ERP accounting software for business in 2019.
Accounting software is specifically designed to manage accounts and perform arithmetic operations. The main goal of accounting software is to meet the internal and external financial expenses and maintain a record of transactions.
Features in ERP Accounting Solutions
It not only keeps track of your finances but also your bank transactions as well as the investments. It generates reports which save time and money of the company.

Gives a detailed insight into the entire business and its financial status.

ERP accounting solutions offer high security of data.

It connects different departments and enables communication for a smooth workflow.

Accounting software automatically formulates reports and invoices without any manual efforts.
Advantages of Using ERP Accounting Software
Gives you better control of processes

Enhances communication and collaboration in all aspects of business

Reduces resource inefficiencies

Minimizes cost and enhances productivity

Improves customer satisfaction

Offers flexibility and control

Provides multiple user options which keep your chartered accountant updated

ERP accounting software comes with well-explained instructions which give details of how to store data and other features.
Best Accounting Software System for Business in 2019
1.) NetSuite ERP
This is a full-fledged accounting management software which has the ability to maintain all the data on the cloud. It is a unified platform to streamline all back-office processes such as e-commerce, accounting, and CRM. It offers a lot of features to make accounting and financial management simple. Some of these features include:
Robust automation and scalability features

Automates processes such as accounting management, billing, and revenue management

Allows users to customize their view of key performance indicators and generate reports
2.) FreshBooks
It is one of the leading choices in accounting software for business in 2019. It ensures business decisions are made on actual business data and insights. This is a best-suited solution for small businesses and freelance accountants.
It is used by more than 5 million users to streamline invoicing and time tracking. The pricing is affordable and it seamlessly integrates with other business applications. It also helps in collecting payments and automating the recurring billing process to accept PayPal, Amex, and Google Checkouts payments. Let's have a look at its brilliant features:
Direct payment gateways

Invoice functionalities

Payment claims

Generate insightful tax summaries and reports

Overdue payment reminders

Delay fees
3.) Zoho Books
This is one of the best online accounting software that helps you manage the finances flowing in and out of your business. It keeps a check on expenses and helps you make more informed decisions for your business growth. It easily integrates with Stripe to make payment reconciliation simple. Some of its features include:
Integrates with the accountant in real-time

Automatic  payment reminders

Track retainer invoices

Automatic bank feeds

Mobile optimization
4.) Horizon ERP
This is one of the best ERP accounting software suited for small businesses. Whether it is accounting, billing or inventory management, it handles everything easily. It is a complete solution for businesses that handle thousands of invoices every financial year. It can maintain and track more than 25 thousand customers and ledgers simultaneously.
5.) Xero
This accounting software is specifically designed for small businesses to manage real-time financial data anytime and on any device. It helps to track and manage revenues, expenditures, wages, payables, and cash flow. It has connections with more than 5000 financial institutions and banks across the globe. Here are some of its amazing features:
Automatically import and categorize their credit card, PayPal and banking transactions

Reconciles bank transactions automatically

Real-time currency exchange updates

Custom invoices

Multiple languages

Multiple currencies
6.) Sage 50cloud
It is one of the best suited online accounting software for small to medium-sized businesses. It helps them manage their finances and handle taxes, cash flow, expenses, financial data, invoicing and so on. Sage 50cloud allows you to access and store data in the cloud. You can track purchases and pay bills through this software. Have a look at its additional features:
Expense management features

Data management

Credit card processing

Real-time access to accounting books
Closing Thoughts
ERP accounting software solutions will not only help businesses with their finances but at the same time streamline the process of tax records and documents. Choose accounting software that meets the demands of your business. You can even go for cloud-hosted solutions as you don't have to install, update or maintain anything.