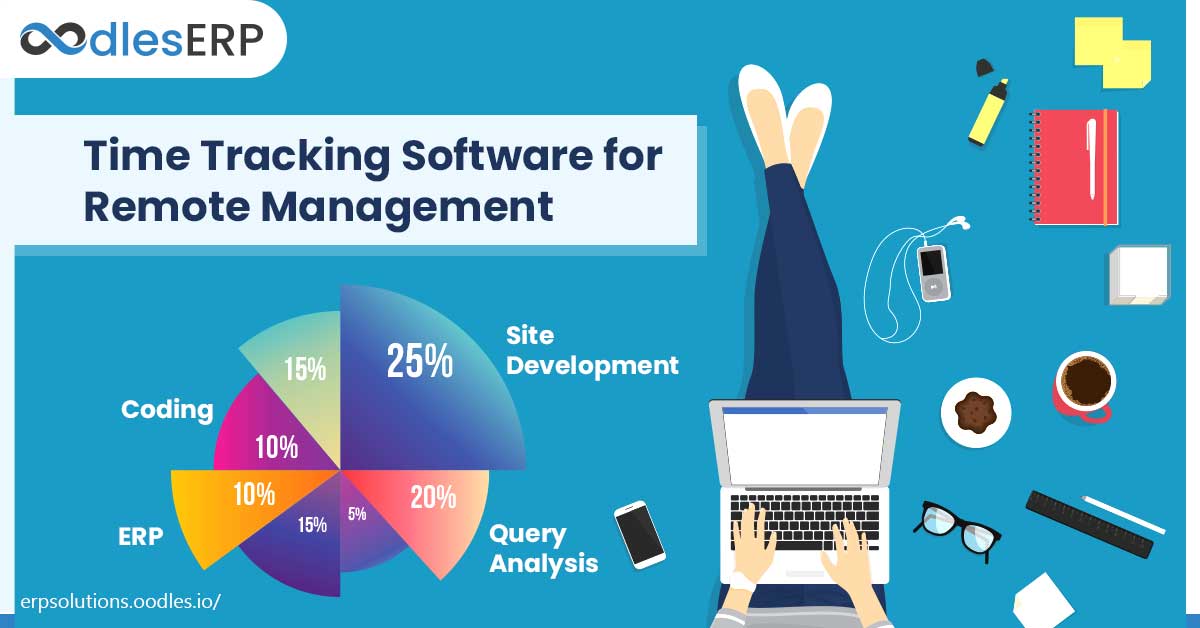 Monitoring remote work through time tracking is now a prerequisite for enterprises across the world, following WHO guidelines for limited exposure. With teams distributed over geographical boundaries, it's essential in order to establish trust and accountability between employees, managers, stakeholders, and clients. It saves them the hassle of micromanagement and enables them to focus on core operations. At Oodles, we furnish enterprises with custom development services for employee time tracking software to remotely manage the workforce. We design intuitive, enterprise-wide tracking applications that enable business managers to ensure transparency and improve decision-making using data-driven techniques. Let's take a look at 6 ways in which a time tracking software makes remote management easy.
1. Real-time Monitoring
Today, attendance tracking software comes with an ability to monitor work hours in real-time. It implies that managers and stakeholders can access data about running tasks, work hours, and see reports through a dashboard. It allows them to exercise active control over workflows, thereby establishing central control over operations. Our development team at Oodles designs tracking systems with audit logging options that save all data interactions and allow access to the state of business data for any date, at any time.
2. Hierarchical Access Control
As more and more businesses employ time tracking systems, it becomes important to safeguard sensitive employee data. For this purpose, At Oodles, we design a custom role-based security system that exclusively grants access rights to the employees of the company as per their hierarchical position. We also use Google authenticator's two-step verification system to validate users of attendance management software.
3. Shift Planning
One of the major benefits of time and attendance tracking software is effectively planning shifts for employees as per their work hours and business strategy. With a customized employee scheduling software, managers can easily create, share, and edit schedules in real-time and get an in-depth business overview. 
4. Effective Project Timelines


It's extremely important for managers to make sure projects don't go over intended timelines and revenue. In order to ensure this, time tracking software allows them to view employee progress and decide further resources directed to the project. Consequently, projects are completed before deadlines and remain functionally productive as well as profitable.
5. Better Resource Allocation
Employee time tracking systems let manager view completed and current tasks of workers, and to assign new tasks as per the availability. It also helps them gauge employee efficiency and skill as per the time spent on a particular project. This feature enables them to allocate financial and human resources in the most profitable manner. 
6. Data Security and Compliance
Time and attendance tracking systems ensure compliance with legal payroll regulations and send instant alerts to curb unauthorized actions. Be it GDPIR in the European Union or HIPAA in the States, their geofencing capabilities aids them to comply with regulatory norms in any geographical location. At the same time, data pulled by your employee attendance tracker software is encrypted across all applications in the ERP. At Oodles, our services include creating encryption keys and encrypting data permissions to steer clear of unauthorized access.
We are an ERP Development Company that employs next-gen technologies to yield the most suitable and profitable solutions for business operations. Our services range from SaaS for CRM to WFM and SCM. Our development services integrate ERP software with time and attendance tracking systems for the streamlined functioning of the workforce. Get in touch with our experts to benefit from our custom development service for effectively remotely managing your workforce.