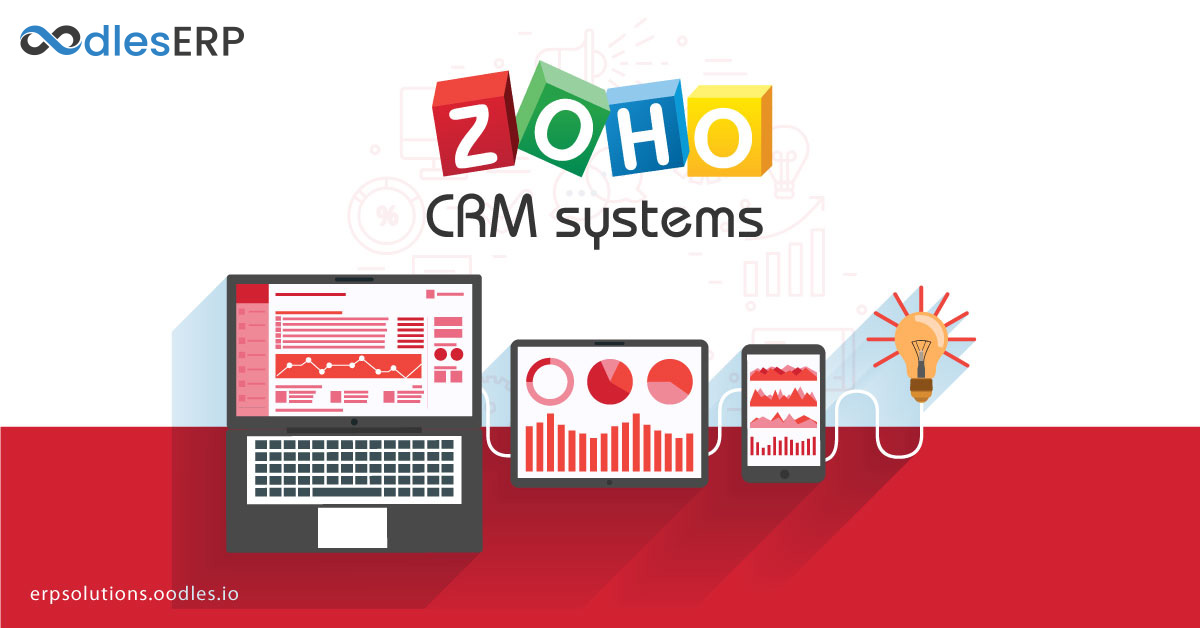 Zoho CRM Development For Small Businesses
Zoho CRM is known to be the best CRM system for small businesses. It is not only easily affordable but also designed excellently. It contains a large number of remarkable features and customization options for serious business users on a shoe-string budget. Zoho CRM for small businesses has an easy implementation process. Also, these CRM systems make an ideal choice for small as well as medium-sized businesses as they are the most reliable CRMs in the market. It has exceptional tools for sales pipelines management, purchase control, lead management and account management. On top of these, it also provides excellent support for doing follow-ups effectively, CRM workflow management and website integration with forms.
There are a few other exceptional features offered by Zoho  CRM for small businesses:
1.  Sales forecasting reports
2. Sales tracking
3. Sales productivity tools
4. Reports and dashboards, a document library
5. Scoring rules
6. Call center connectors
7. Capacity for a huge 100,000 records
How compatible is Zoho CRM?
To your surprise, Zoho CRM  integration services are compatible with most of the third party online platforms. For its implementation, you don't require an IT degree. It is easy to use, deploy and very affordable software.
What about Zoho CRM interface?
The UI of Zoho CRM consists of user-friendly menus and familiar drop-down menu layouts with clean design and visual notifications.
Zoho CRM provides a lot of ways to manage customer accounts. It enables you to track all accounts from a distributed database. You can see these accounts as per according to products, locations, etc. Moreover, it helps to track customer buying history to make upselling and cross-sell opportunities.
Now let's check out the key benefits of Zoho CRM for small businesses:
Customization options
Zoho offers many customization options to its users on the enterprise level($35/month). So, users can add conditional fields, custom buttons, and change page layouts and more. At the enterprise level which is $100/month, it can provide access to a higher level of customer support and a sandbox for dev testing. You can also integrate it with a number of social media tools and third-party apps.
Also Read: How CRM Software Is Crucial For Sales Processes Success
Important real-time data
Using Zoho, users can make use of historical data and can distinguish and target inactive leads to realign your customer messaging. It presents a complete business view where you have quick access to all the relevant customer data on a common window. Here, you don't need to make the search for it. There is a Notes Section that demonstrates the time and content of past conversations for more personal and logical communication. This overall helps in making clever business decisions.
Makes the maximal value of social media
A higher number of customers nowadays are from facebook and twitter sites. So, it is necessary to invest in a CRM that connects our products/services with these platforms. With Zoho CRM, one can keep track of the customer's behaviors from these platforms. It can also make categorizations for leads and contacts.
Mobile platform
Zoho CRM application can be accessed on mobiles (Android/iOS). So, users can better keep control of customers from remote locations. Sending invitations, accessing sales records from a smartphone, all are possible.