Smart applications or machines are steadily becoming popular, helping people to make quick and better decisions. Machine learning is the latest technology which is making computing processes more efficient and reliable. There are so many real-world examples of machine learning and AI including Siri, Google Map, Amazon echo, facebook, etc. These AI applications have made us live differently than ever before. AI's potential is not just restricted to Facebook's ability to find you out in a group photo. Machine Learning integration with an ERP system solution can be a game changer. Many companies are identifying AI's capabilities to improve ERP system solutions.
Let's take a look at the ways how integrating machine learning with an ERP system solution can improve things for enterprises:
1. An Analysis that finds the answer to deep problems
Integrating ERP enabled system with machine learning capabilities can let you find the root cause of any issue or problem of various business operations that aren't easy to find by using humans means. And it does this based upon existing previous problems. For instance, a technical expert can solve maintenance issues more conveniently by discovering the potential hazards. With Predictive analytics, a technician will be able to improve maintenance and repair with accuracy to the component level.
2. Predictions
Machine learning integrated with an ERP system solution will give the most accurate predictive analytics reports. Most of the organizations integrate machine learning tools into their existing ERP systems for forecasting.
Predictions play a vital role in making you fully prepared for the future events. For example, it lets you know that you will need more tents for your supporting goods at early days of summers. By making use of historical data, it can tell you which weekend you will make most sales of tents. Which model will be the best sellers? All these insights, indeed, help companies to prepare better for the things like avoiding running out of a product.
3. Production volume and its quality
ERP and Machine learning can also help you in improving your business production capacity. In production departments, problems might come related to products, like issues with finished products and services. However, machine learning is capable enough to go deep and ascertain the cause of those problems. What leads to this problem? Is it a workflow issue or a process? Any malfunction or a programming issue? Here, ML powered ERP systems can assist you in identifying such issues. With it, you can improve the quality of your products and services.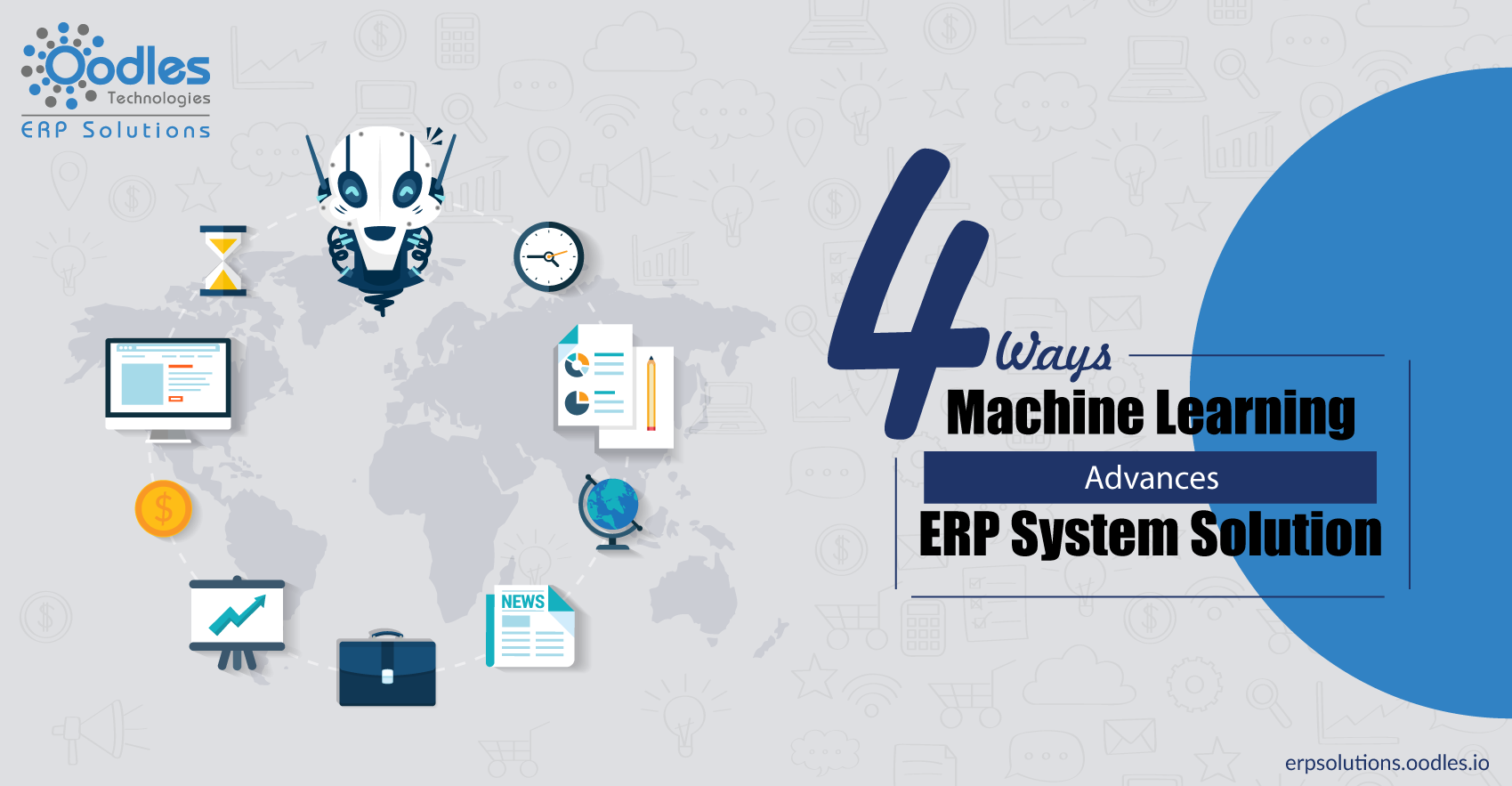 4 Ways Machine Learning Advances ERP System Solution
4. Recognize new opportunities out of data
ERP software accumulates a huge amount of data. Many companies find it hard to make use of this data for their benefits. Machine learning tools can be used to identify opportunities within that data. ERP enabled machine learning software systems can provide insights and useful patterns by which you may get an opportunity to improve inside sales and services. The extracted predictive data analytics can be very useful for attaining new goals as well.