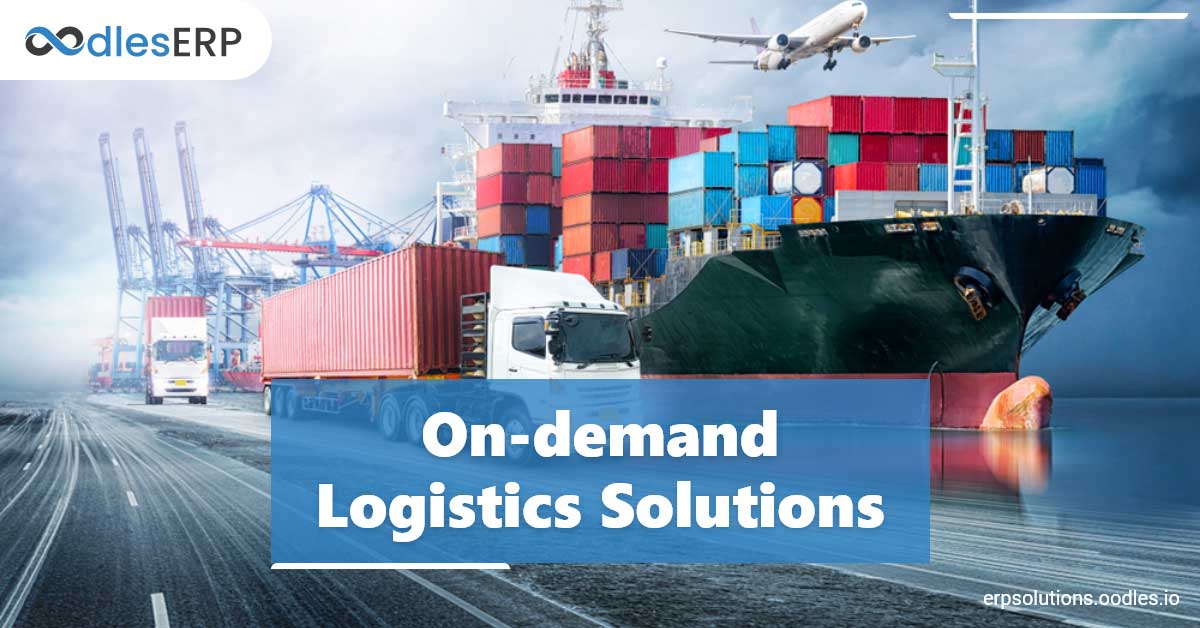 Supply chain logistics form the backbone of manufacturing, distribution, and retail enterprises. The flow of materials and data across the supply chain needs to be as efficient as possible for effective management and coordination at every stage of the value chain. A smart network equipped with IoT sensors and well-integrated SCM software allows firms to store and access data in real-time. Thus, logistics management software development for the supply chain facilitates smooth inventory, warehouse, consignment, and fleet operations. 
We, at Oodles ERP, provide custom development services for logistics and supply chain management software to address varied business requirements. Our supply chain software development services streamline inventory management and warehousing with increased security, agility, efficiency, and better scalability. Let's take a quick glance at the features and benefits of smart on-demand logistics solutions for the logistics industry.
The Significance of ERP In Supply Chain and Logistics
An ERP-based supply chain solution facilitates automated order processing, efficient inventory tracking, and improved logistics with the availability of advanced analytics tools. As a result, it smartly optimizes the current and future investments of business and drives profitable returns. Here are the key benefits of logistics management software development for enterprises.
Also read 5 Ways to Make a Distribution Channel More Efficient using ERP solutions
Faster Order Processing
The success of an eCommerce or retail business relies on the rate of order fulfillment as well as the pace of order processing. Logistics plays a crucial role in accelerating the order fulfillment cycle as it enables managers to centrally track inventory/warehouse data and in-transit shipments. ERP-based logistics software streamlines the supply chain activities and enables enterprises to establish good relationships with suppliers and manufacturers alike. 
Seamless Transportation and Shipment Tracking
The main function of a logistics management software is to facilitate seamless transportation of goods and provide real-time tracking updates to warehouse managers. It bridges the gap between manufacturing and supply chain processes while also ensuring the timely delivery of products to end-users. An ERP-based logistics software enables drivers to pick up the shortest route towards their destination to avoid traffic jams. As a result, it eliminates uneven delays, accelerates the order fulfillment cycle, and ensures maximum customer satisfaction.   
Better Inventory Tracking and Management
The efficiency of a supply chain depends on the way an enterprise manages its inventory. In the absence of an effective inventory management system, it is difficult to keep track of the stock levels. As a result, it leads to frequent stock outages and causes uneven delays in shipment. 
An inventory tracking system, on the other hand, tracks every single stock movement and streamlines the inventory data. It automates complex inventory management tasks and thus eliminates the chances of human errors. It further ensures seamless access to the inventory data across a wide range of devices. Besides, the warehouse managers can opt to have auto-replenishment of goods to ensure they never fall short of the required inventory. 
We, at Oodles Technologies, have vast experience in building enterprise-grade inventory tracking systems to efficiently manage inventory and warehouse operations. Our development team seamlessly integrates your inventory management software with logistics to accelerate order fulfillment and improve customer experiences. Our end-to-end warehouse management development services enhance enterprise productivity and improve business workflows with increased security, scalability, and operational efficiency.  
Reduced Overhead Costs
Several small-to-medium enterprises refrain from investing in logistics and supply chain management software to avoid overspending and to control their expenses. However, the investment is worth the benefits it delivers and the returns you get in the long run. Implementing an effective logistics strategy can significantly reduce the overall expenses associated with supply chain, inventory, and warehousing. By automating the supply chain processes, it boosts productivity, improves process efficiency, and significantly increases the ROI. 
Improved Customer Service
For an eCommerce company to sustain in today's cut-throat competition, it is essential to deliver maximum customer satisfaction. A comprehensive logistics management software renders automation across enterprise processes and enables enterprises to augment their upselling and cross-selling efforts. With features like auto pick-up, auto-replenishment, real-time analytics, and freight tracking, it ensures timely delivery of products to their end customers. As a result, it enables enterprises to significantly improve their customer services and aids in establishing healthy customer relationships. 
You may also be interested in reading Warehouse Management Software: Development Time, Cost, Features, and More
Conclusion
Developing a full-fledged enterprise logistics software also gives you the opportunity to introduce transformative technologies into the supply chain. For instance, you can integrate your logistics management software with Industry 4.0 technologies like cloud, IoT, AI, and Big Data analytics. It gives you more flexibility and provides valuable insights into enterprise data as well as customer behavior. Subsequently, you can work on improving your marketing strategies to attract new customers, retain the existing customers, and maximize your ROI.
Why Choose Oodles ERP For Supply Chain Software Development?
We are a 360-degree ERP development company that provides complete solutions for logistics and supply chain management software development. Our development team has vast experience in using open-source platforms like Odoo, Ofbiz, and Opentaps to build enterprise-grade logistics solutions that are easy to scale. Our end-to-end logistics management software development services enable enterprises to boost their productivity and maximize ROI with intelligently-driven supply chain processes.