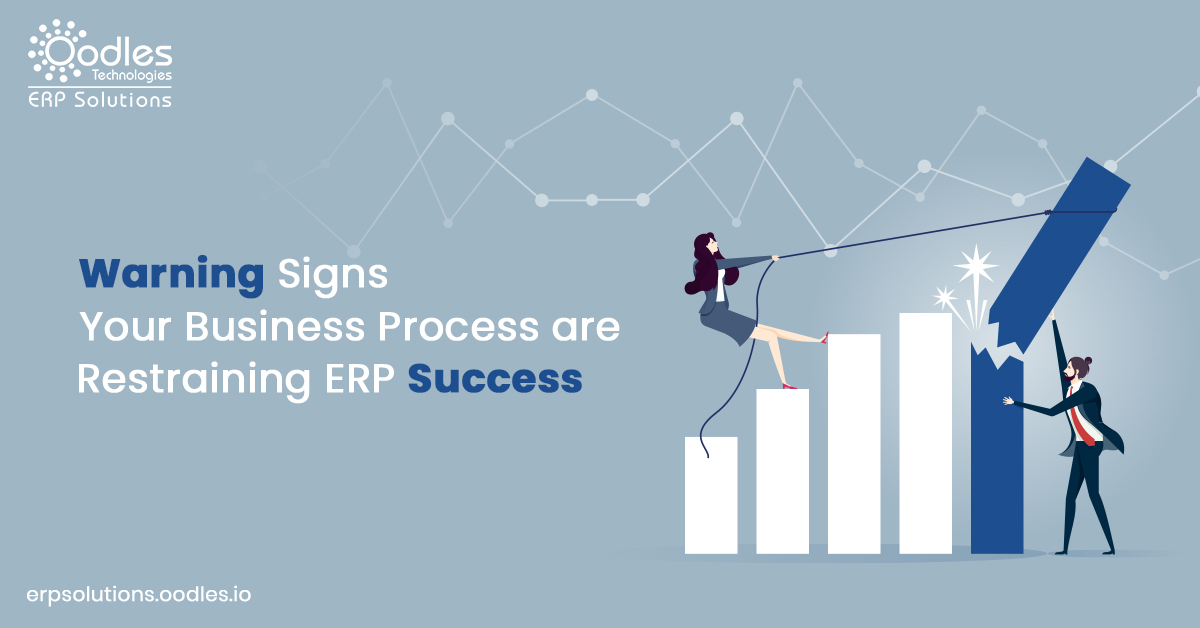 ERP Success: An Overview
Digital transformation is not only about marketing transformation, but it's also about complete business transformation. It is a new journey for any organization. No doubt, ERP systems have given new growth opportunities to business. But, at the same time, you cannot ignore this fact that implementing a new ERP system is one of the most challenging endeavors for any business. To stay ahead of the competition, you continuously need to invest in your ERP system.  But, before that you need to look at whether not upgrading to a new ERP system is curbing ERP success or the real problem is lying in your business processes.
Warning Signs that your Business Process is Curbing the ERP Success
1.) Frequent Inventory Adjustments
Accurate inventory is one of the basic requirements for the successful functioning of the ERP system. If you maintain accurate inventory records, it will reduce cost, improve order fulfillment and customer satisfaction.
Here are some practices you need to adopt while going live with a new ERP system:
Cycle counting to track and report inventory record accuracy on a daily basis

Root cause analysis of inventory record accuracy

Corrective actions to restrain failure recurrence
You can even check the effectiveness of inventory by analyzing system write-on and write-offs. You need to measure both the number of adjustments and their magnitude in terms of value.
2.) Reports Demand Manual Intervention
Most of ERP systems are now equipped with reporting and business intelligence feature but still, there are some reporting issues that can only be solved when you upgrade your ERP system.
For instance, if you are running monthly key performance indicator reports then repetitive reports will be easily automated. The problem will arise when the month-end happens over a weekend. Now, the organization will have to wait until Monday for the final production of the weekend.
This way either the report will be delayed or manually adjusted.
An incomplete population of fields used in the report also leads to manual manipulation of reports. It is important to review all the routine reports. If there is some technical problem then upgrade your ERP system and if the problem is because of organizational behavior, fix it.
3.) Unreliable Customer Order Delivery Promises
ERP systems are trustworthy when it comes to the delivery of goods to customers in a reliable manner. So, if your organization is not able to achieve customer satisfaction in spite of the ERP systems, then it's time for you to address some of the underlying business processes.
You need to do a root cause analysis of your service failures.
For instance, you can check how many service failures have been caused due to the inability to produce a schedule or due to poor equipment quality. This way you will be able to improve your service performance.
4.) Unbalanced Inventory Levels
Balanced inventory levels are essential for ERP success. Now, the question is whether you need to upgrade the system or focus on the organizational structure and processes.
Too much inventory and obsolete inventory can lead to wastage of capital and, at the same time, little inventory can lead to missed sales opportunities and stockouts.
You need to do a root cause analysis to find out the exact struggle.
For example, if BOMs (Bill of Materials) is not accurate, it could lead to under-purchase or over-purchase of components.
Accurate demand forecast can also help you to set appropriate stock levels.
Closing Thoughts
No doubt new ERP technologies will take you to the road of success. But, you need to do a thorough analysis of your organization's readiness for a new ERP system.
For ERP success, it is not only necessary to keep the ERP system upgraded but it also important to focus on the underlying business processes.
Also Read- ERP System Integration: How To Make The Most Of ERP Solutions