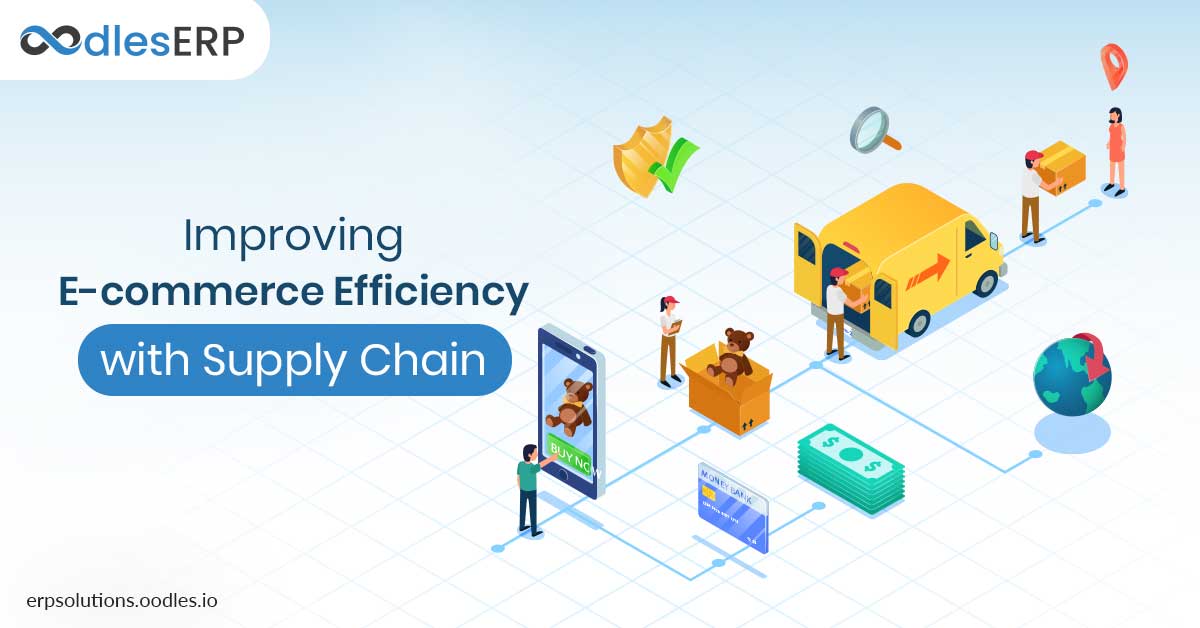 Rising customer expectations and amplified demand for same-day deliveries are redefining e-commerce retail supply chain operations. To maximize fulfillment capacities, e-commerce businesses are optimizing their logistics. Logistics is a critical component of the supply chain that manages the product lifecycle and structures the flow of products. Let's explore the benefits of optimizing the supply chain in e-commerce.
At Oodles, we provide supply chain development services to give businesses better control of their logistic processes and reduce overall costs. Our custom logistics and supply chain solutions enable businesses to enhance their delivery capacity and automate procurement management. 
Advantages of Optimizing Logistics and Supply Chain in E-commerce Businesses
Same-day Delivery
Demand and supply are a critical component in the e-commerce industry. If there are a lot of orders on a particular day, on-time delivery can become an issue. To avoid such last-minute hassles, e-commerce platforms should prepare themselves for quick delivery in advance and increase their logistics on special occasions. 
Customers nowadays demand same-day delivery of their products. Last-minute delivery solutions are ideal for e-commerce businesses that promise fast and same-day delivery. Retailers should ensure that their delivery process is well-equipped with accurate route plans.
Live Delivery Management with End-to-end Visibility
E-commerce logistics optimization enables the engine to automatically allocate the nearest and best-suited driver to ensure timely delivery. The same process is followed for return pickings of canceled orders. Live delivery management makes the process of order delivery and returns faster. 
The live tracking feature enables retail managers to get the information associated with the driver, vehicle, and product in real-time through a map. In addition, routes can be optimized to give real-time updates of traffic and weather to the drivers. Transparent supply chain in e-commerce businesses provides decision-makers clear visibility across the entire network.
Generate Revenue through Inbound Logistics
The current evolving market scenario requires retailers to gauge ways to optimize order fulfillment operations while keeping a tap on retail trends. Inbound logistics can be used in this process as it has a positive impact on customers. The timely delivery experience in terms of order fulfillment will drive conversions. 
How Brands are Optimizing their Supply Chain to Scale Operations
Amazon:
Amazon is considered a master of supply chain innovation. Its range of fulfillment services is so diverse that it is difficult to differentiate whether it is a third-party logistics provider or a retailer. Amazon operates under its vendor roof. It has established an innovative concept of vendor-managed inventory. 
Let's see how the process works:
The supplier picks up the items ar per the purchase orders from Amazon. The pallets are then moved into Amazon's fenced-off area of the warehouse. The employees of amazon sort the orders into outbound orders, packs and dispatch them to their destination (customers).
Zara:
Zara is one of the most successful global fast-fashion retail brands. It is considered as a leading supply chain operator. The majority of Zara's collection is designed and manufactured in-house. Its warehouses and suppliers are located close to the manufacturing plants. Zara's supply chain is dedicated to introducing new products without any hassle or delay. 
Zara has worked a lot to improve its supply chain processes. They manufacture products at a minimal cost and uses just-in-time logistics. In addition, they have a fast system for inventory replenishment. 
Managing logistics is a critical aspect of supply chain management. If a retail store doesn't know the whereabouts of the shipment, they may have to bear huge losses. The best way to manage logistics is to track the status of shipments. We are a shipping software development company that resolves shipping software issues. We provide freight quotes and integrate third-party shipping services with FedEx, UPS, and USPS by creating apps.
Nestle:
Nestle is the world's largest food and beverage company that has more than 200 brands and a presence in nearly 200 countries. Presently, Nestle is working on a new all-in-one inventory solution that integrates its warehouse stock across Alibaba's platforms into analytics-driven shared inventory. 
Nestle is looking forward to selecting an omnichannel strategy to fuse its online and offline customer journeys. In June 2017, Nestle took a new approach to improve customers' shopping experience. Within a short span of 19 days, the percentage of products providing second-day delivery increased to 70% from 30%.
Optimize Your Supply Chain in E-commerce to Meet Customer Demands with Oodles
At Oodles, we provide mobile supply chain application development services to enable businesses to design and implement a digital, transparent and end-to-end interconnected supply chain. We enable businesses to improve supply chain operations through advanced analytics, strategic data visualization, and rapid data ingestion. 
We provide the following supply chain development services that enable businesses to optimize their supply chain.
Inventory Management Software Development: 
We provide inventory management software development solutions to achieve operational efficiency. Our developers cover various aspects of inventory management including storage of inventory and placing orders.
Order Management Software Development:
At Oodles, we integrate and automate order processing with shopping cart systems and Point of Sale purchase.
Asset Tracking Solutions:
We provide asset tracking solutions for seamless tracking experience across mobile and desktop devices. Our tracking software enables end-users to gain real-time visibility of goods from RFID and barcode scanners.
Connect with our ERP development team to schedule a discussion!
To Read Next: Impact of IoT in Supply Chain Visibility