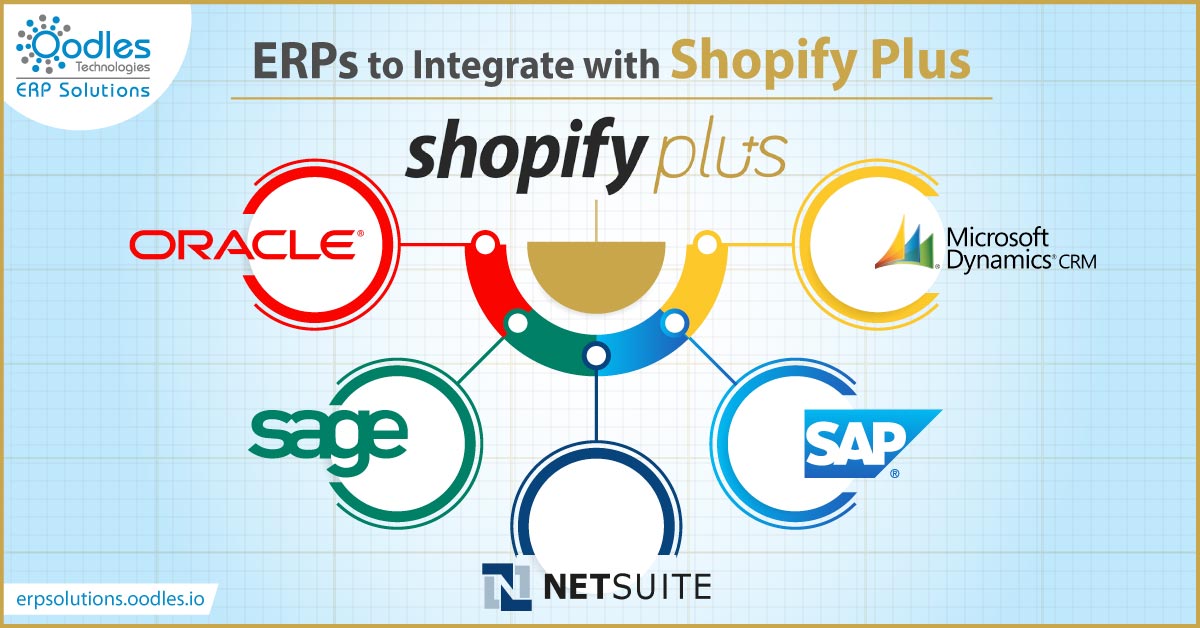 ERPs to Integrate with Shopify Plus: An Overview
E-commerce has dramatically changed the way brands reach consumers, making it faster and easier for them to make purchases on the fly while avoiding all the hassles of going to the store. Integration of ERPs with Shopify Plus is a big step to make the back-office offline and online processes more efficient, effective and profitable. So, let's dive in some of the most popular ERPs to integrate with Shopify Plus.
However, firstly, let's take a quick review of ERP and Shopify Plus.
ERP (Enterprise Resource Planning)
ERP, in simple terms, is a business management software of integrated applications used to manage and automate business processes related to finance, human resources, supply chain, procurement, and other services. Nowadays, ERP is a necessity to run your business smoothly by protecting your information and automating processes. Some of its biggest advantages are:
Improved reporting and planning

Total visibility

Improved efficiency

Improved collaborations and workflow

Cost saving

Streamlined processes
Shopify Plus
Shopify Plus is a cloud-based enterprise e-commerce platform aimed at high volume merchants. It is a platform priced for big brands. Shopify Plus works for the goal to 'make commerce better for everyone.' It not only reduces IT expenses but, at the same time, makes it easy to sell the products on major marketplaces and social networks. The amazing multichannel capabilities of Shopify Plus encourage customer engagement, increase brand awareness and improve sales. It is one of the best e-commerce platforms for high volume businesses. Some of its prominent advantages are:
High volume traffic

Scalability

Wholesale management

Fast servers and unlimited bandwidth

Priority is customer support
Popular ERPs to Integrate with Shopify Plus
1.) Oracle: Simple and Effective
Oracle provides cloud-based ERP solutions for an efficient and modern production system. It uses several cloud options such as Oracle financial cloud which has research reports, data sheets, and streamlined processes to your financial team. It is one of the best-marketed tools for mid-sized companies.
Benefits:
It includes new software packages and sales channels efficiently.
Automated data-entry encourages performance and gives you the chance to spend more time on other important areas of your business.
Better decision making based on real-time information and data
2.) Sage: Best Choice for Inventory Handling
Two popular options for order fulfillment and inventory management are Sage 100ERP and Sage 300 ERP. Sage 100 ERP is a good option for mid-sized enterprises while Sage 300 ERP is commonly used ERP in Canada. It is one of the best ERPs to integrate with Shopify Plus.
Benefits:
Inventory Counts

Transparent pricing information

Accurate order numbers

Product management is added to the purchase
3.) NetSuite: Solves your Business Challenges
One of the most popular ERPs is NetSuite and what makes it different from others is its financial planning area. It offers 'what-if' financial projection tools and reports that navigate continuously changing online business field.
Benefits:
Offers financial management tools for linking into your accounting tools

Smart and intelligent data integration encourages business

Inventory management and supply chain is a bonus for online enterprises
4.) SAP ERP: Efficient Solution for Mid-size Businesses
SAP ERP, one of the most popular solutions, helps you capture all your business information into a single and scalable system. The financial management and accounting tools integrate your sales, accounting and purchasing data.
Benefits:
Increased employee productivity

Improved customer services

Elimination of human error and frequent data entry actions.
5.) Microsoft Dynamics: Full Fledged Solution for Growing Business
It is one of the superb ERP solutions for growing business ventures. It offers human resource and payroll function which helps you to track how much you owe to your staff.
Benefits:
Sales and service contracts are well managed

Financial management and accounting

Monitor performance with reporting features and business intelligence, loaded with analytics and real-time tools

Inventory, production and order tracking
Quick Review of Integration Benefits:
Free time and resources to focus on important areas of business

Improves customer service and increases the speed of data exchange

Removes manual data entry and other costly errors

Minimize deployment time
Closing Thoughts
Integrating ERP with Shopify Plus will help you manage all the e-commerce functions in a single place. It completely depends on the requirements of your business which ERP to choose for your Shopify Plus.