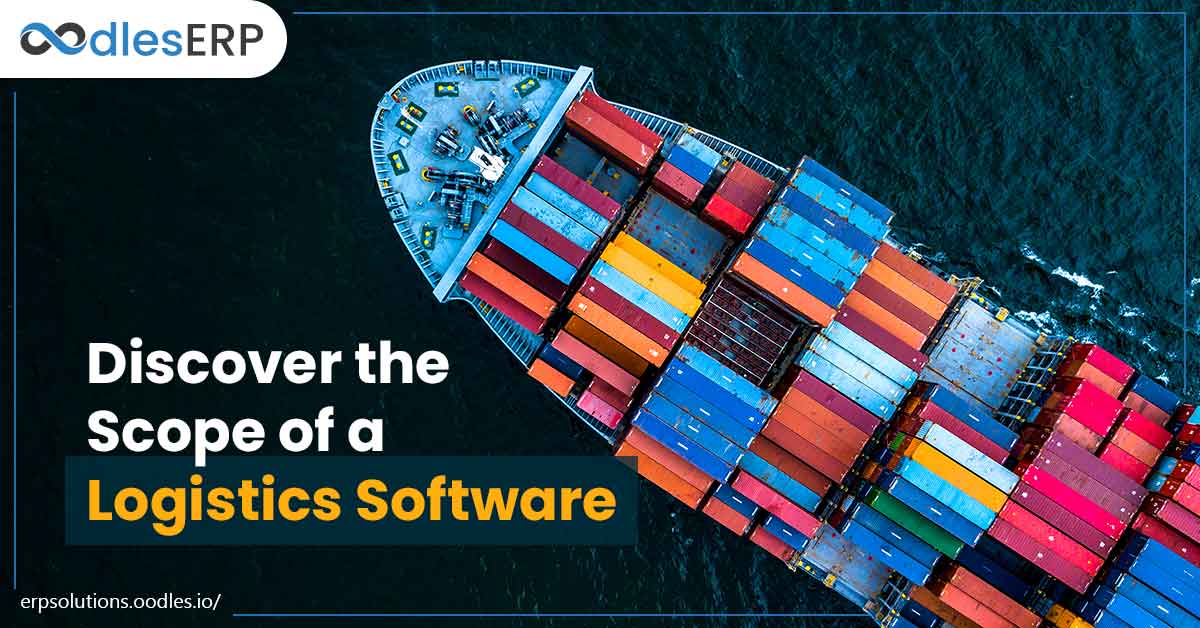 The flow of goods from source to consumer comprises the logistics of a supply chain. Logistics involves the production cycle, inventory, transportation, and final delivery of a product at the right place in time. Logistics management streamlines these operations by employing strategy and processes to manufacture, store, and ship goods while ensuring minimum overhead costs. Making use of a logistics software streamlines key processes like production, planning, packing, and shipping while ensuring the safety and quality of goods and services. A major benefit of using logistics software is a holistic view of products in an automated flow of inbound and outbound traffic. At Oodles, we offer custom supply chain software development services, including logistics software. Going forward, let's discover the scope of logistics software for the efficient management of the supply chain of an enterprise.
Significance of Logistics Software
                      In a constantly evolving market, the sale of commodities occurs through eCommerce as well as retail stores. Digitization of logistics is of the essence to handle the multifarious demands of various industries. It not only organizes the supply chain data but maintains its integrity and accessibility for smooth functioning and easy supervision of operations. A logistics software automates processes, forecasts market trends, recommends cost-effective procurement, fleet, and transport decisions. It supports a risk management system that makes supply chains resilient. Logistics software automates the processing of customer requests and purchase orders, inventory management, managing suppliers, sales, and distribution. Supply chain software development services from Oodles, like logistics management software make the supply chain processes faster and well distributed. Integrated with security features, it protects enterprise data from maleficent breaches.
Features of Logistics Software
Enterprises often integrate logistics software with their ERP system or simply use it to manage the entire supply chain. Let's take a look at some of the features of logistics software.
 Warehouse Management
It manages the transit of goods as per the invoice. It provides a clear view of the pick-up, dispatch, and delivery of products from the warehouse to the end-consumer.
 Inventory Control
Inventory management in a logistics software makes processing sales order easier with built-in real-time tracking of the state of goods with technologies like IoT. With its cloud database, records of data remain hierarchically accessible in a secure fashion.
 Building Sales Quotations and Invoices
A logistics management software builds sales quotations and invoices on receiving orders, looking after rates and contracts for distributors and clients.
 Scheduling and Routing
Efficient scheduling and route planning to incur minimum costs and deliver goods quicker form an important feature of a logistics management software.
 Fleet Management
It manages the in-house fleet from end to end for higher reliability and safety, and low cost through reporting features.
 Asset Management
Logistics software takes care of an enterprise's finances with its capacity to manage the general ledger, payables, receivables, and any other transaction. Thus, it also keeps the total cost of ownership in light, while managing available financial resources.
Benefits of Logistics Software
As logistics software caters to a wide number of operations in a supply chain, its benefits are numerous too. Here's a list of a few:
 Intuitive Design
As technological advances make it possible to build intelligent software, logistics software is powered by predictive analytics, mobility, and chatbots. They make the system self-learning and easy to use.
Integrated Applications
While logistics software can be easily integrated into the ERP, they are, in themselves a suite of applications that support different processes.
Central Control
It allows a central, role-based control over access to data and implementation of decisions.
Fast Shipment and Delivery
When routing and scheduling are based on AI-powered forecasting, shipment and delivery are free of operational hurdles.
Automated Operations
Automation of complex operations based on large datasets makes this software a go-to for managing supply chains.
Cost Control
By optimizing all resources and processes, logistics management software makes the supply chain cost-effective.
Custom Develop a Logistics Software with Oodles
 The tools and processes to make supply chains efficient are an integral part of management. Logistics software renders a single source of data and strengthen a supply chain's capacity to anticipate and manage risks and crises. We, at Oodles, are an ERP development company with the goal of maximizing the potential of enterprises with next-gen technologies. We integrate services like WFM, SCM, CRM, HRM, and SaaS into ERP software to enable businesses to centrally manage their resources. Contact us to build a custom logistics software for your enterprise.