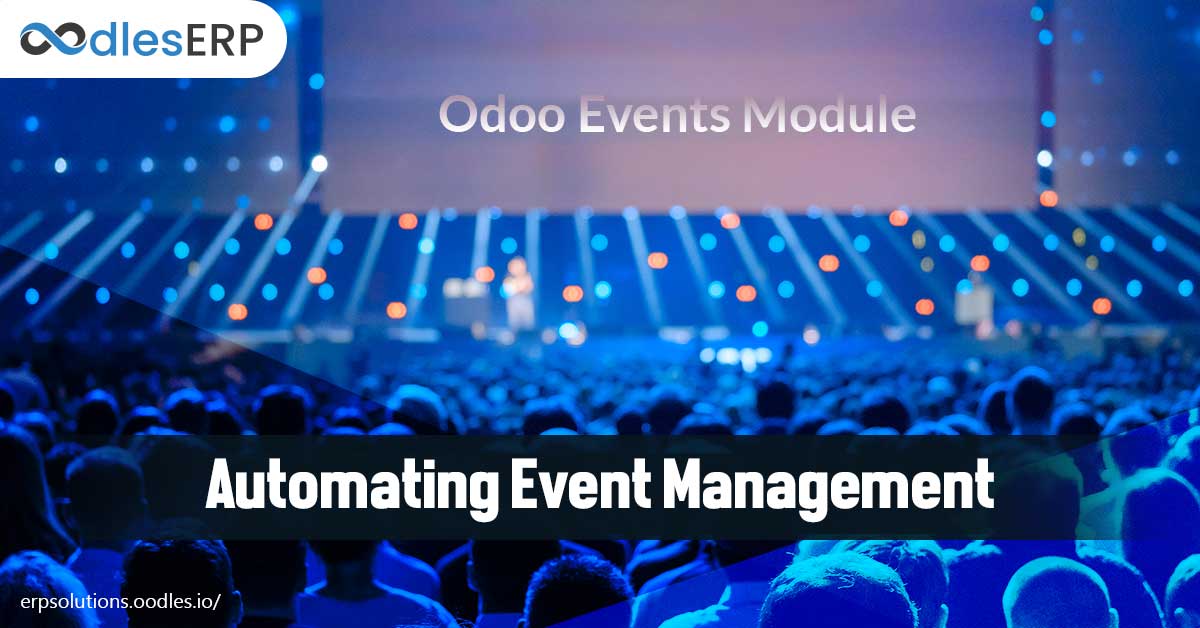 Odoo Events Module is a versatile event management module with the capacity to take forward various types of events. Be it conferences, festivals, seminars, webinars, charitable events or workshops, this core module can manage all types of small-scale and large-scale events. It encompasses tasks ranging from organizing calendar and selling tickets to obtaining sponsors and promoting the event.
At Oodles, our Odoo application development services include on-demand integration with the Odoo Events module to streamline your event management processes. At the same time, our Odoo customization services ensure that you have the right tools at your disposal for better operational efficiency.
Configuration of Odoo Events Module

Here's a step-by-step guide to configuring the Events module in your Odoo ERP software.
1. The first step is to go to Odoo apps. Set the installation of the Events module in motion.
2. Once the module is installed, click on Events. Start by creating a new event category under Configuration, then selecting location, communication, and visibility. This way you can fix the limit of attendees as well as the method of communication.
Events>> Configuration>> Event Categories

3. From the menu, register attendees. Odoo Events Module provides an option to confirm or cancel existing registrations.
4. Fill in remaining tabs in the menu like Mail Schedulers, Locations, and Sponsor types.
5. You will also find options as Track tags and Track Stages which are reporting tools that can be organized by date, organizer, attendees or category
6. Finally, the event can be published by clicking on the Publish on website button.
Benefits of Event Management in Odoo
1. Multifold Event Capabilities
Odoo Events module can practically manage any kind of event from conferences, classes, and webinars to festivals and exhibitions.
2. Smooth Organization and Coordination
Add proposals for speakers or topics to choose from. Let visitors browse the event schedule with quick filters. Get people more involved through a vote and validation option. Odoo's event module supports the dynamic organization of the event through well-coordinated parts.
3. Automated Sale of tickets
This module allows you to sit back as people register for the event and buy tickets online. All you need to do is pick a method of payment and add any special discounts to your event. It manages the whole guest list in one place.
4. Find Sponsors and promote partnering firms
Odoo Events, when coupled with Odoo eCommerce, lets you add new sponsors and promote them according to the percentage sponsorship they purchase.
5. Event Analytics
All Odoo marketing tools come integrated with Google Analytics. This provides you an all-round view of the event in real-time.
6. Search-engine optimized
The Odoo Events module comes with ready to use SEO. Without any extra configuration, you're furnished with keywords and tools to design and promote the event profitably.
7. Integration with Odoo Apps
The Events module comes integrated with other Odoo apps like website builder, CRM,  and email marketing.
Odoo Events Module, thus, is an extremely efficient event management system at our disposal. With marketing and business events becoming ineluctable parts of business strategies, it fastens the process of organizing data and people. At the same time, with its all-in-one sales and organizing capacities, it saves expenses and labour.
Make the most of Odoo Event Management module with Oodles
We are an ERP Development company with expertise in developing customized software solutions for our clients. Our custom development solutions enable businesses to automate, plan, collaborate, and execute their operations methodically. Once configured, Odoo Event Module streamlines event management and is very easy to use. Get in touch with our experts to configure Odoo Events module into an ERP software.