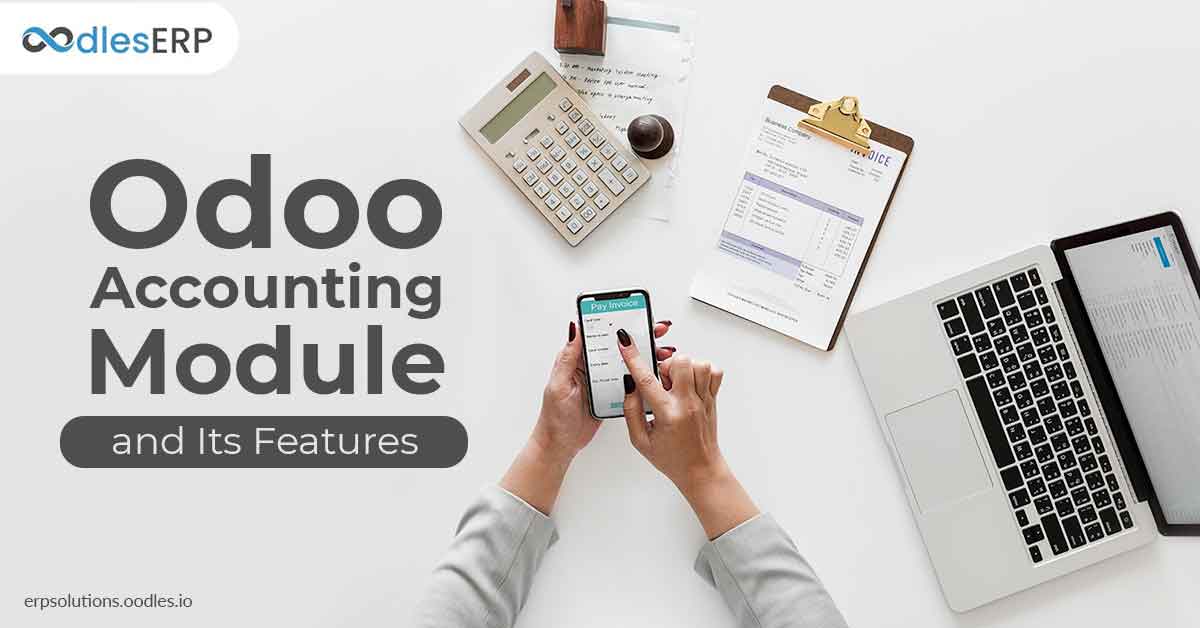 The purpose of the accounting module is to manage every financial or accounting activity including accounts receivable, accounts payable, bank balances, Fixed assets, etc. It includes various kinds of modules to make it easier to check double-entry & multi-currency support, invoice valuations, and more.
Following are the submodules:
Overview

Customers

Vendors

Accounting

Reporting

Configuration
2. Customers Menu:
Invoice: We can create a custom invoice by selecting customer, Reference, Invoice Date, Payment Terms, Journal & Company. Select your product and post.
Credit Notes: Credit notes generated by the vendor to the customer.
Receipts: By using this you can register the customer receipts & post the journal entries.
Payments: Here you can select a payment type for the customer.
Follow_up_Reports: In real-time, almost every sales & purchase is in credit mode and it is highly crucial to collect those payments without fail or any moment of delay. In the normal case, it is hard to find the customer whose payments are overdue and to follow up. Odoo provides customers proper follow-up reports.
Products: For creating a new product or can see the existing products.
Customers: For creating a new customer or can see the existing customer.
3. Vendors Menu:
Bill: here you can create a new vendor bill also you can give the reference bill, bill date &, etc.
Refund: Refund is the repayment of the finds from the original payee to the original payer.

Receipts: here you can add vendor receipts.

Payments: Registering the payment for the vendors.

Products: For creating a new product or can see the existing products

Vendors: to add new vendors or can see the existing ones.
4. Accounting Menu:
Miscellaneous:
Journal Entries: This included all journal entries for the transaction inside any company.
Journals:
Sales: Here you can see every journal related to your sales and their respective partner, invoice no., the product in each invoice, debit/credit amount.
Purchases: on this, you can create & see all the purchases in your organizations.
Bank & Cash: This displays all journals related to your bank & cash journals.
Ledgers:
General Ledger: This can display all the transactions generated in any organization from all the analyzed account details.
Partner Ledger: The details of the current open balances with any customer or vendor can be viewed in the partner ledger.
Management:
Automatic Transfer: here we can create an automatic transfer like Monthly IFRs rent expense transfer, Yearly Liabilities.
Assets: By using this you can keep track of your fixed assets like machinery, land, and building.
Deferred Revenue: Deferred revenue is a kind of payment that is received by a company.
Deferred Expenses: This is for the Deferred Expenses.
Action:
Reconciliation: This allows you to match the payment method to the corresponding invoice.
5. Reporting Menu:
Generic Statements
Profit and Loss: it is a comprehensive documentation of your total income and your total expense for a specific period of time.
Balance sheet: It reflects a company's assets, Liabilities & shareholder equity at a specific point in time.
Executive summary: It defines the business plans & financial reports of a company.
Cash Flow Statement: one can easily understand the changes in the balance sheet account & the income effect cash equivalence.
Partners Reports
Partner Ledger: here you can see the posted journal entries.
Aged Receivables: By using this submodule you can check the financial health of any company's customers. In this module the periodic report categorizes the receivables based companies accounting on the time duration & outstanding invoice details.
Aged Payable: It gives a reminder to the user to determine which invoice overdue for payment.
Audit Reports: This includes:
General Ledger, Trial Balance, Consolidated Journals, Tax Reports, Journal Audit & Assets Report.
6. Configurations Menu:
Invoicing: this includes Payment Terms, taxes, Fiscal Positions, Journal & follow up a level.

Payments: This includes Add a bank account, Bank Accounts, Saved Payment data, Payment icons, Payment Transactions.

Accounting: for this submenus are Chart of Accounts, Journal Groups, Product categories, Reconciliation Models, Account Tags, Account Group, Asset Models, Deferred Revenue Models, Deferred Expense Models,

Management: This includes Tax Report, Financial Reports.
We are a 360-degree ERP development company that provides end-to-end Odoo ERP application development services for diverse business use cases. We have successfully completed several full-scale ERP projects for startups and small-to-medium businesses from across the globe. For more information, contact us at [email protected].